You might have a habit of watching to Dailymotion videos every day! However, it makes you feel irritated when your internet speed isn't good enough. No one wants any disturbance in the seamless watching experience of a favorite online video.
But, there is a solution to avoid the same!
Yes, now you can download Dailymotion video for Android or iPhone device of your choice and any quality in advance. You can save it in your android gadget to be watched in your free and convenient time later without any hassles!
How to Download Dailymotion to MP4?
Well, no one can stop you to download Dailymotion to mp4 videos. You can have any video of your choice every time in your android device like a smartphone by using a capable Video Downloader for Android!
You can download and install iTubeGo free Android app. It can help you to save any Dailymotion video in an mp4 format file playable on any of your gadgets of choice!
What Is It Exactly?
You can download any playlists, audios, and videos from popular media streaming platforms. The iTubeGo video downloader supports Dailymotion, YouTube, and many hundreds of related websites! The App is powerful enough to help you save multimedia files from almost all websites that do not allow to download their content!
Also, the added convenience is the fact that the downloader is compatible enough to save Full HD and lower quality videos. Not only this, you can keep 320 kbps audio tracks, and can download Dailymotion videos of 4K resolution in your Android device from this App tool!
Additionally, the Dailymotion downloader can help you to manage your downloading's in case of bad internet connectivity or less amount of data left. It can be done by pausing the downloading in between and resuming it later from the same status. Isn't it cool? You can also take the better use of other settings and convenient options available in the Dailymotion downloader to make your job further easier!
Thus, Download iTubeGo YouTube Downloader for Android from here:
Steps to Download Dailymotion Videos
You can follow some steps to download the Android app and experience the potential of it for your multimedia needs. Here are they;
1) Download iTubeGo from the above link and install it on your Android. If your phone does not allow you to install APKs from third-party stores, you need to click Settings and switch "Unknown sources" to On in Security. This will allow apps to be installed outside of Google Play. iTubeGo is safe and virus-free and can be downloaded with confidence.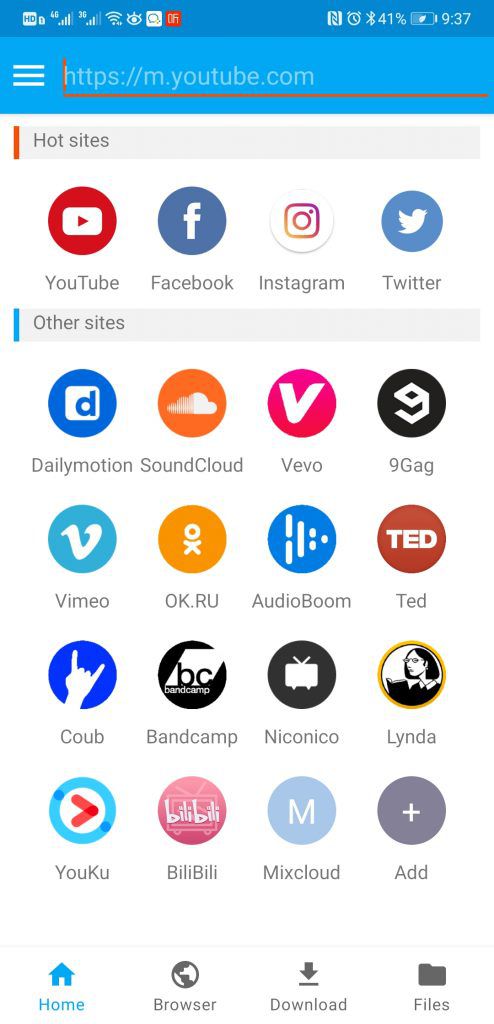 2) Open Dailymotion in buind-in browser or Copy the video URL to download Dailymotion to mp4 file.
3) Tap the Download button.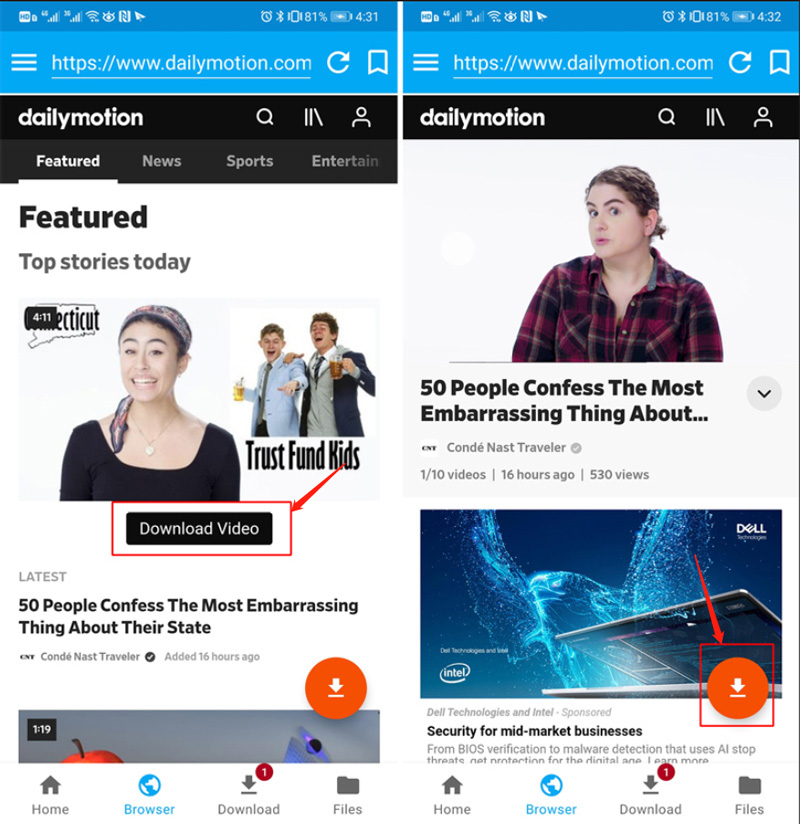 4) You can select your desired output format or video quality from setting option.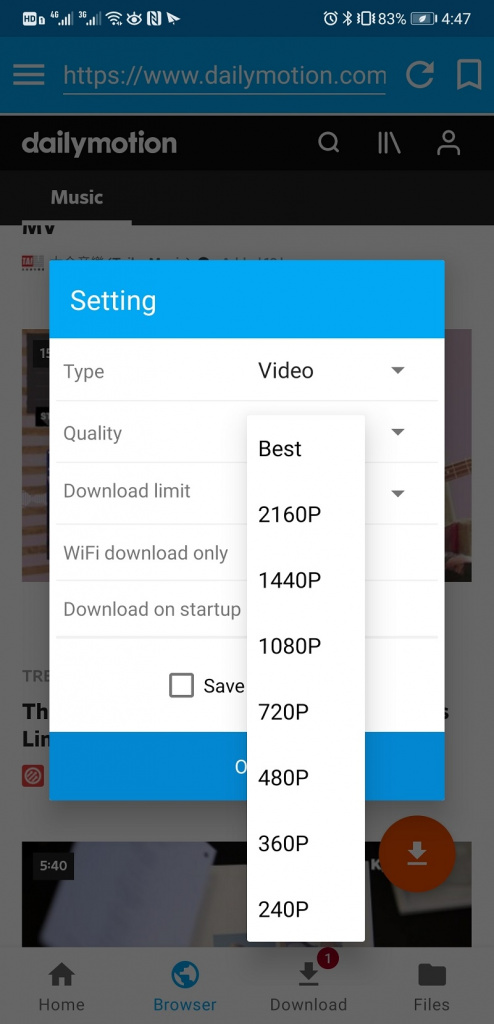 5) Once done, your Dailymotion HD mp4 video saved on your device.
Conclusion
No need to worry! If you are a kind of person whom which each MB of the internet data matters the most. You can save some of your these data for other purposes than streaming the same video again and again online!
You can download music as MP3 files directly from music websites, or convert videos to MP3. The App can manage well to download Dailymotion video on Android. Also, multiple audio/video files together of any size and format! Now you can download a complete YouTube Playlist.
The Dailymotion downloader can help its user to manage the files to enhance the download efficiency. It is 100% secure, and can be upgraded with time! So, for what are you waiting? Download Dailymotion videos now using iTubeGo YouTube Downloader! Make a library of 4k videos in any of android gadget!
(Click to rate this post)
Generally rated 4.5 (215 participated)