Audiomack is one of the most commonly used music streaming services by people all around the world. There are some limitations when it comes to downloading and playing your favorite tracks offline. That is why software developers came up with several applications (commonly referred to as Audiomack Music Downloader apps) that allow users to enjoy the latest songs even when they lack an Internet connection.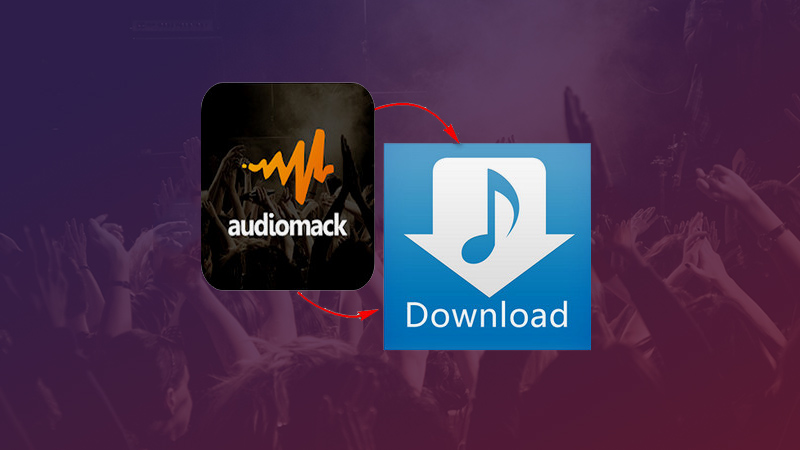 Let's find out which is the best software to download Audiomack songs.
Best Audiomack Music Downloader – Musify
Musify Music Downloader is one of the most popular Audiomack music downloaders available on the Internet. It features a user-friendly interface (supporting 9 distinct languages) as well as a built-in proxy to protect your virtual identity. You can use it to download music from over 1,000 different media streaming platforms. In terms of output formats, it allows you to listen to your favorite songs downloaded in the most popular filetypes, including MP3 and M4A. You can choose from different audio qualities (up to 320kbps). Last but not least, you do not have to register prior to downloading your favorite song.
You can download this Audiomack Music Downloader from below link:
Key Features:
Download audio files without losing any of their quality
Over 1,000 supported media streaming platforms including Facebook, Audiomack, YouTube, and more.
No account required to convert or download files
Unlimited conversions available into most popular extensions
You can download either the entire playlist or certain songs
How to Download Audiomack Songs Using Musify
If you want to download a song from Audiomack using the Musify app you only have to follow a set of simple steps.
Step 1

Copy the Song URL
Play your favorite song and determine its current URL. The URL is listed on the Address Bar of your Internet browser (at the top of the page). Copy the link using Right-Click + Copy or by pressing Ctrl + C.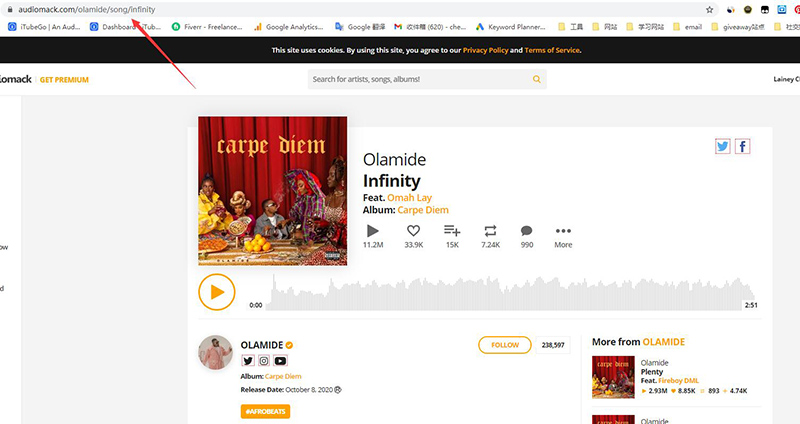 Step 2

Choose the Output Format MP3
Double-click on the Musify shortcut and access the Output Format setting. Make sure the MP3 checkbox is selected and then proceed to the next step to download your favorite song.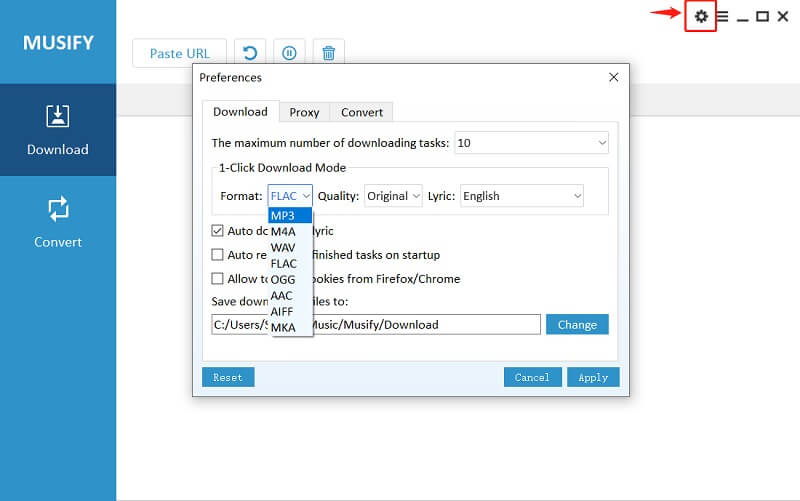 Step 3

Paste the Song URL
All you have to do is to click on the Paste URL button and the download process will automatically begin within a few seconds. The waiting time should not exceed a few seconds, thanks to the enhanced download speed offered by Musify servers.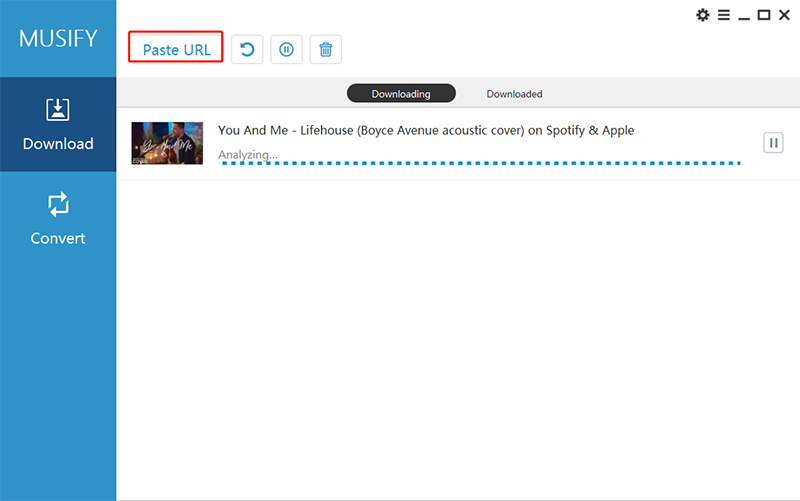 Step 4

Find the Downloaded Song
After the download is completed you can easily find the downloaded song in your Downloads folder. Double-click on its icon and the song will start playing. Make sure your media player supports the MP3 filetype. Otherwise, try downloading the sound using a different output format.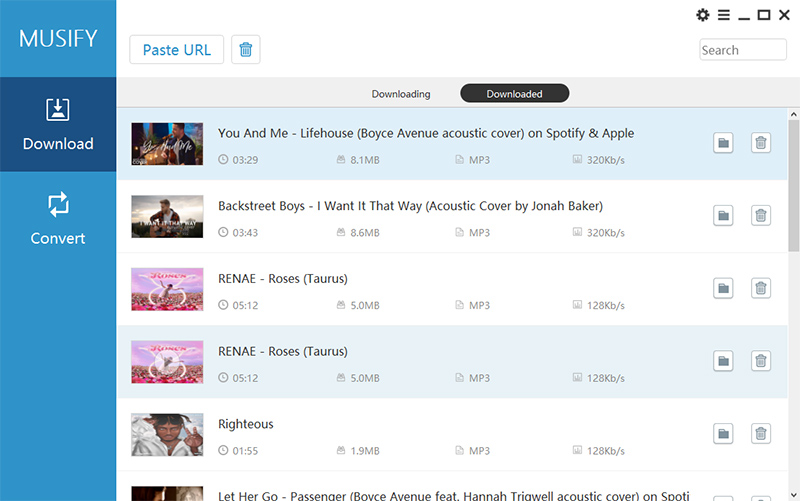 Other 3 Best Audiomack Downloader Online
Besides the most popular music-downloading app (Musify), you can also use one of the available Audiomack downloaders online. Below we have prepared a list including the most well-known Musify alternatives.
The most popular platforms that allow you to download Audiomack songs (Musify alternatives) are:
1. 9xBuddy
9xBuddy is an online music downloader that allows you to enjoy your favorite songs offline without having to struggle with ads. Also, it supports a wide variety of websites and can easily switch between different languages. However, it only allows you to download your favorite songs in MP3 format. It is one of the few freeware Audiomack downloaders that are available online without the need for a premium membership.

Pros:
Wide variety of supported websites
Supports different languages
No ads
Cons:
Limited output formats
Only download songs in MP3 format
2. Savieo
Savieo is another quite-popular online downloader that works for Audiomack and plenty of other websites. It is one of the easiest platforms to use if you want to rapidly download a video or song from one of the most popular media streaming websites. The list of supported platforms includes popular picks (such as YouTube, Vimeo, and 9Gag).
An interesting feature is called Recently Downloaded. This section allows you to see which videos were downloaded a few minutes ago by users all around the world. The bad news is that this website does not have a 24/7 Customer Support team that can resolve issues you may encounter.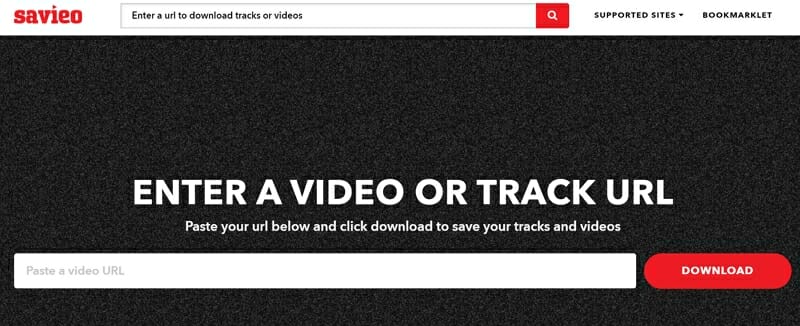 Pros:
Supports all kinds of media streaming platforms, like YouTube, Vimeo, 9Gag, etc.
Includes a Recently Downloaded section
Plenty of output formats
Cons:
3. Online Video Converter
Online Video Converter is a platform that is similar to Savieo and 9xBuddy. It is one of the simplest downloaders that work for Audiomack. All you have to do is to access the website, paste the song URL, and press the Go button. The download will begin within a few seconds and should not last more than one minute. After the process finishes you will be able to enjoy your favorite song even without an active Internet connection. Compared to Musify, when using Online Video Converter you can not download a complete playlist (or set of songs). You will have to download them manually and separately.

Pros:
One of the easiest online downloaders
Increased bandwidth allocation
Cons:
No Playlist Download supported
You have to download each song separately
Conclusion
In conclusion, there are plenty of tools that allow you to download tracks from the Audiomack music streaming platform. Each tool has its advantages and disadvantages. Thanks to its increased number of features, supported sites, and output formats, Musify is definitely one of the best Audiomack downloaders available on the Internet.
(Click to rate this post)
Generally rated 4.5 (215 participated)