No matter if you're professional, non-professional, kid, or adult; everyone loves to watch football matches. Or if you're a football player and want to master your football skills, you can find many videos online for epic skills and tricks of greatest football legends. So without any further delay, let's start exploring the best ways to download football videos from online video-sharing websites.
If you want to learn how to download soccer videos, then just keep reading this. Here, we'll provide you the most practical methods for football videos download on computer and mobile phones.
How to Download Football Videos on Mobile Phone?
For football skills video download, the best way is to store videos on your mobiles so that you can watch and practice the epic football skills on your own wherever and whenever you want. For this purpose, we're coming up with an app specially built for Android devices.
iTubeGo for Android is probably the best app to download videos for Android users. It is an incredible 100% free tool that allows you to download football videos from more than 1,000 online websites. With this Android app, you can batch download an unlimited number of videos in MP4 and HD qualities at a 10X faster download speed.
Steps for Football Videos Download with iTubeGo for Android
iTubeGo for Android is purposely designed to provide the easiest solution for video and music downloading. Now, let's check out how to download soccer videos on Android devices using this App.
Step 1

Install iTubeGo App's Latest Version on Mobile

In the first step, you'll have to download the latest version of iTubeGo for Android app from the official webpage. Then, open the installation file and easily install the App on your Android powered device.
Step 2

Locate the Football Video Online

iTubeGo for Android is an all-in-one app, which also has a built-in browser. You can use its browser to access and locate videos from online websites remaining within the app. For instance, if you want to download football video from YouTube, go to YouTube website from the iTubeGo's web browser and open the particular video. Next, simple press the "Download" button located at the bottom of the screen.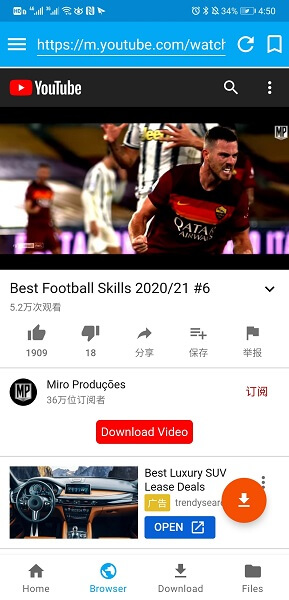 And if you've copied the football video's URL from any website like YouTube, just open the iTubeGo for Android App and it will automatically fetch the details from the copied link. It will then pop-up a prompt bow with the video details and a download button, you just need to tap that button.
Step 3

Configure the Download Options

Then, the program will provide you different download options to choose from. Select the required Download format and Quality in the respective fields.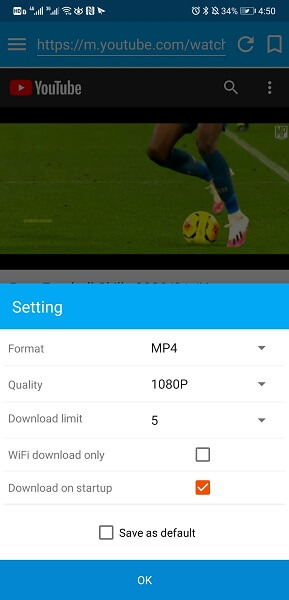 Step 4

Football Videos Download on Android Phone

After selecting the required download settings, tap the "OK" button and the football video download process will be started instantly. iTubeGo App also comes with a file manager that saves all the downloaded media with the program. So, you can easily access the downloaded football video from the "Files" section of the App.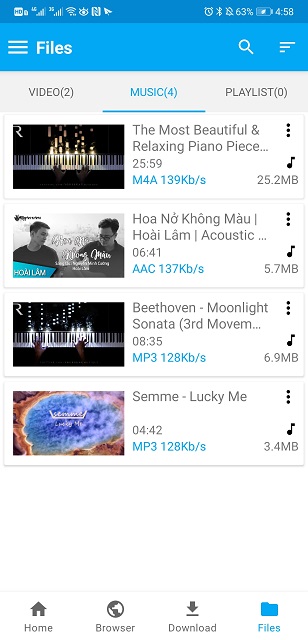 How to Download Football Videos on PC/Mac?
Now, if you want to download latest soccer news videos on PC/Mac, you would need to opt desktop based software. Below, we're going to introduce the best video downloading software that will do a great help to download soccer videos on desktop computer.
iTubeGo YouTube Downloader is a one-stop solution for all your video/music download conversion needs. It is the most versatile tool you can use for football skills video download or any type of videos from YouTube, Facebook, Vimeo, Instagram, and more than 10,000 other online video sharing platforms. The wide range of quality options allows you to download up to even 8K videos effortlessly. That's not all; its converter function enables you to convert football videos into more than 20 output formats.
Steps to Download Soccer Videos with iTubeGo Desktop Software
With its intuitive interface, iTubeGo YouTube Downloader can download football videos from YouTube or any other source in just a few easy steps.
Step 1

Download and Install iTubeGo Software on PC/Mac

To install this software on your computer, you'll need to download the latest version of iTubeGo YouTube Downloader from its official webpage. Once you've downloaded the installation package, use this file to install the software on your computer.
Step 2

Copy the Football Video URL

For football videos download with iTubeGo YouTube Downloader, you'll need to get the URL of the video that you want to download. Let's say if you're downloading video from YouTube, open the particular YouTube video on your web browser and copy the video's URL from the address bar.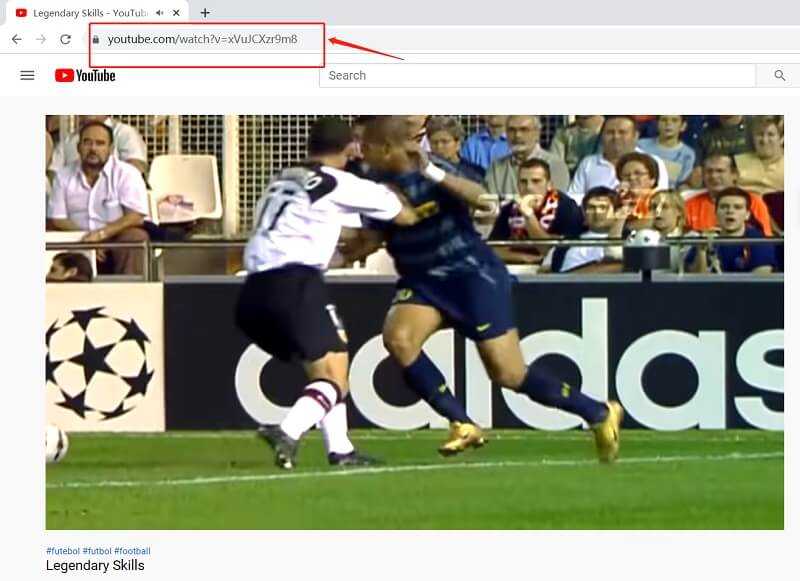 Alternatively, the online feature of iTubeGo software enables you to access the online video sharing websites and directly download the videos remaining within the program.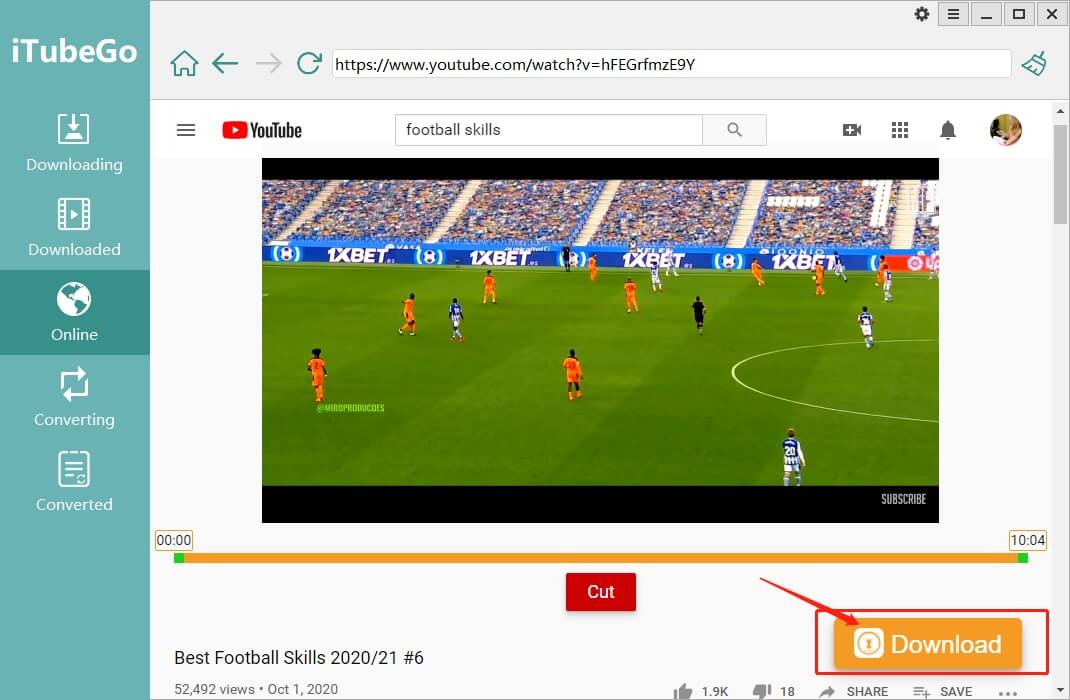 Step 3

Choose the Download Format and Quality

In this step, open the iTubeGo software on your computer and go to the "Preferences" section. Here, you can set the Download type and Quality. Set the type as Video and required resolution in the Quality field. The output format for video download will be MP4 by default, and if you want to download video in some other output format, you'll have to change it from the "Download then Convert to" section located at the main interface.
Step 4

Paste the Copied Football Video URL

Next, go back to the main interface of the program and click the "Paste URL". Once you've clicked that button, it will automatically start converting the video into the selected format and quality.
Step 5

Download Football Video on Computer

After converting the video into the required settings, the fill will be saved to your computer. To access the downloaded video, you can head over to the "Downloaded" section of the software.
Best Football Channels on YouTube
We're sharing some of the best football channels on YouTube, from where, you can get the most engaging and best football videos.
In Conclusion:
Now after reading this article, you know exactly what you need to do for football videos download. Whether you're downloading content from YouTube or any other source, iTubeGo provides the most reliable and powerful solutions through desktop software and Android App. Use these tools and start building your football video library!
(Click to rate this post)
Generally rated 4.5 (215 participated)