An amazing website on the internet which features a ton of funny videos that can leave you in fits of laughter is iFunny. Although the content of this website is wondrous, however, it doesn't support video downloading. There are various downloaders available on the internet that might claim to assist you to download video from iFunny, but only very few of them can actually work. Let us take you through various iFunny video downloaders, so you can find what works best for you.
Best iFunny Video Downloader Software for PC/Mac
The first and the most reliable method to download video from iFunny is via iTubeGo YouTube Downloader. It is a software for your PC that will assist you in downloading all types of videos from iFunny with ease. This is further ensured by its faster downloading speed and its Turbo fast mode, which makes it perfect for even downloading bulk of videos. You can get your video downloaded in a format that suits your preference and even get subtitles for your videos.
You can download the software for your PC by simply clicking the download buttons given below. Moreover, make sure to select the right button keeping in mind the OS of your PC:
Key Features
User friendly and free from all types of glitches
Supports innumerable online video hosting websites, including iFunny
Multi thread technology to provide the maximum reliability and performance
Downloads an entire playlist in a single click
Supports downloading videos in HD, Full HD, 4K, and even 8K video resolutions
Comes with a built-in browser and file manager
Steps to Download iFunny Video on Pc/Mac
Follow the step-to-step guide given below to download video from iFunny on your PC using iTubeGo YouTube Downloader:
Step 1 Once you have installed the software, find the video you want to download from iFunny and copy its link from the browser address bar.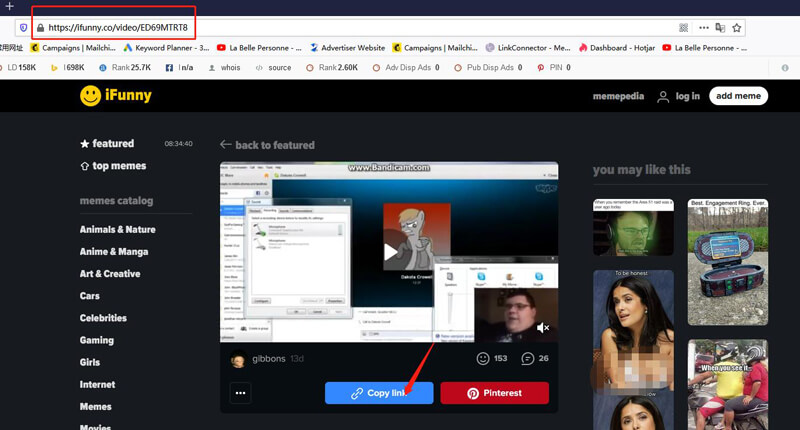 Step 2 In the second step, open the iTubeGo software and go to Settings or Preferences section from the top toolbar. In this section, you'll need to choose the download format to Video (Mp4) and other download settings as per your requirements.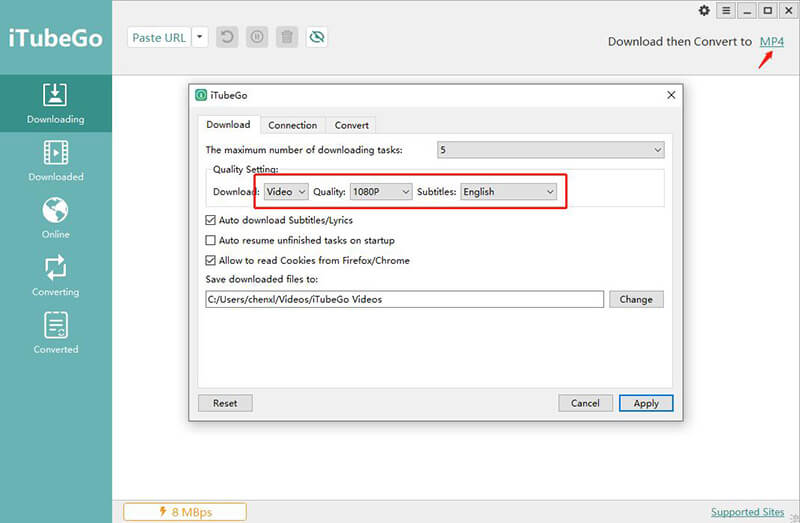 Step 3 Next, click on the Paste URL button and your iFunny video will start downloading at the same moment.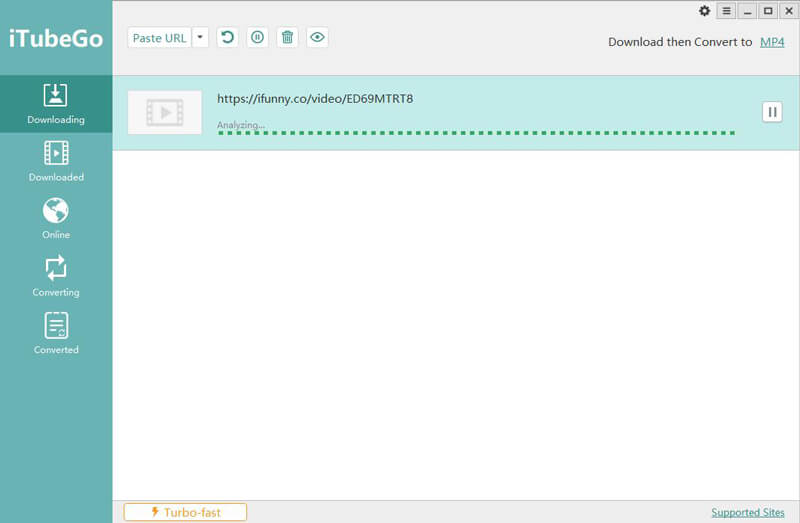 Step 4 Finally, once the downloading gets completed, you can find your iFunny video in the Downloaded section of the software.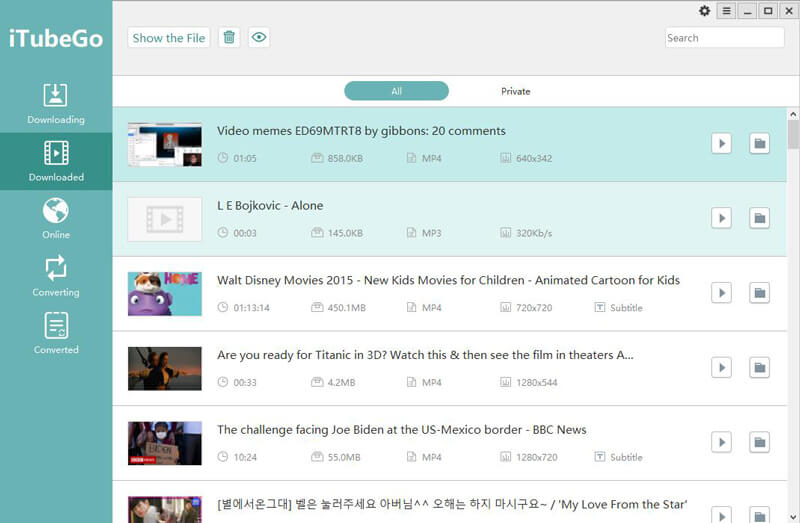 iFunny Video Downloader Online – TubeOffline
The next method works best if you don't want to install any software to your PC. In that case, you can download iFunny videos through a popular iFunny video downloader online, which is TubeOffline. Follow these simple steps to know how to download video from iFunny using online downloader:
Step 1 Go to iFunny website and find the video you want to download, and then, copy the link from the address bar of your browser.
Step 2 Open TubeOffline and paste the link in the box given and click Get video.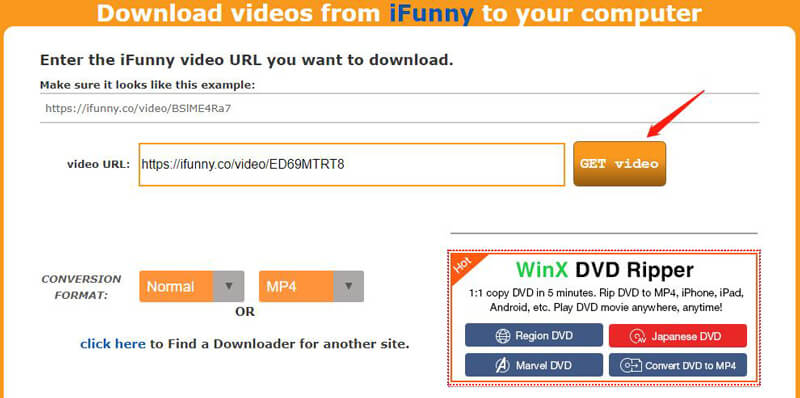 Step 3 Next, you will need to set the format to mp4 and the resolution for the video, and finally, click download to start the downloading process.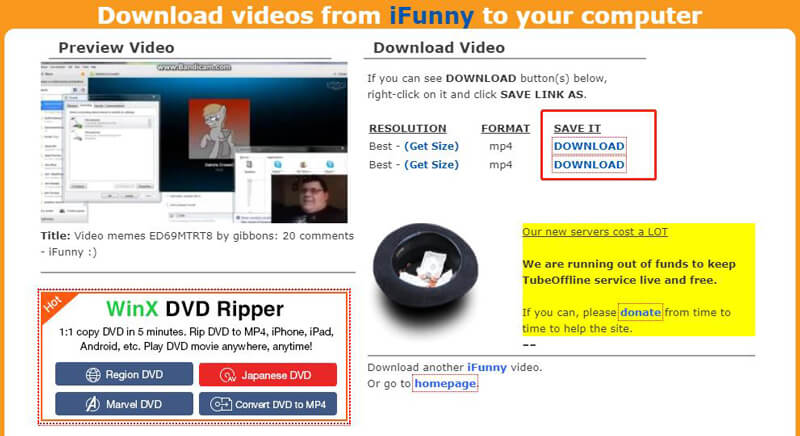 iFunny Video Downloader App – iTubeGo for Android
Are you looking for an app which can help you download iFunny video on your Android powered device? For this, you can look into one of the best iFunny video downloader app, which is none other than iTubeGo for Android app. It is extremely easy to use and comes at 100% free of cost. You can get the app through official website of iTubeGo for Android or simply refer to the link given below.
You can download iFunny video through iTubeGo Android app by following these steps:
Find the video on iFunny site which you want to download and Copy the link from the address bar. Launch the iTubeGo app on your Android phone. The app will automatically recognize the link upon opening the app and then tap the Download button. Instead, you can also search the required iFunny video using the built-in browser of the app. And then, click the Download button on the bottom of the screen.
In the next step, a dialog box will appear where you will need to choose the output format of the video to Mp4 and the required download quality.
Now, tap Ok and your iFunny video will start downloading. Once completed, you can find the downloaded iFunny video in Files section of the app.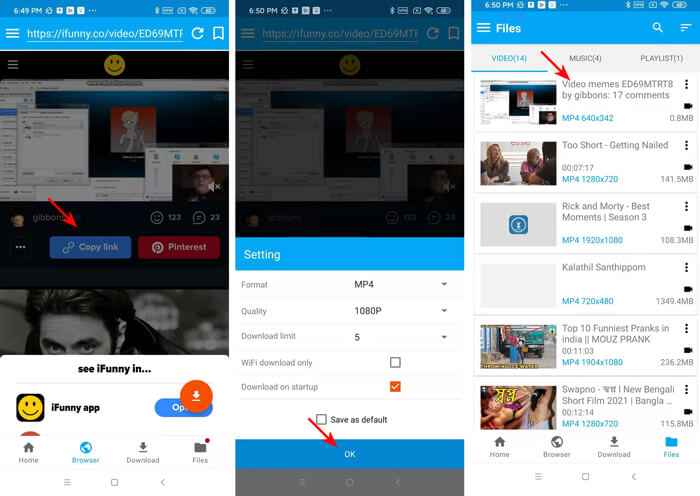 Download Video from iFunny on iPhone
If you want to download video from iFunny to your iPhone, you might be unable to get any solution for that. It's because Apple doesn't allow any apps on its App Store that can help you download videos. To get a solution for this, we have a recommended method you can check out to download the videos from iFunny.
The following are the steps you can you can follow to download iFunny video to your iPhone:
As a first step, you need to download Documents by Readdle app from the App Store. Once it has been downloaded, install the app and launch Documents by Readdle on your iPhone.
Go to iFunny site using the built-in browser of the App and find the video you want to download. Once you've found the required iFunny video, copy it's URL.
Then, open the built-in browser in Documents by Readdle and search for TubeOffline online downloader, which will assist in downloading the video from iFunny website. Paste the link in the provided box, and then, click on the download button.
Once the video has been downloaded in the app, next, you'll need to transfer it to Photos section of your iPhone for viewing offline.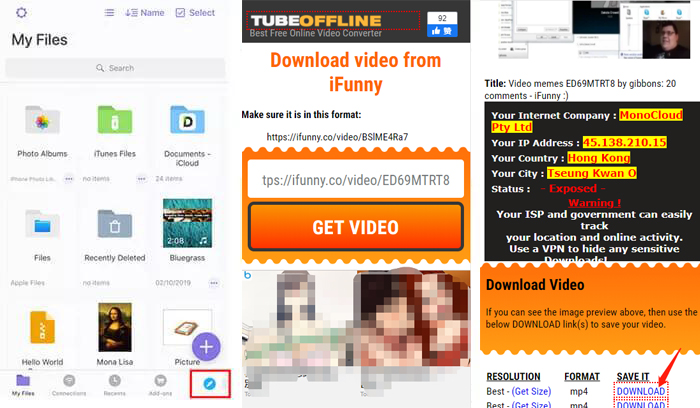 Note: To transfer the video, you need to tap on 'Downloads' folder where you will see the recently downloaded iFunny video. Tap on the icon with three dots beside the video, and then, tap Move. Lastly, select Photos and your iFunny video will be moved to your iPhone's Photos section successfully.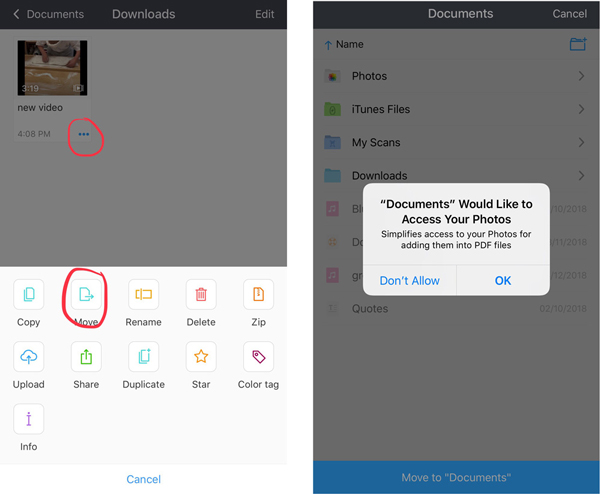 What is iFunny
It is a site with a vast collection of funny content including videos, memes and GIFs. There are more than ten million users in iFunny community. You can make friends and connect to them and make your own memes. Although you don't need to sign up to view most of the content but if you want to upload, chat or comment, you would need an account.
(Click to rate this post)
Generally rated 4.5 (215 participated)