Stitcher brings the opportunity to download your favorite episodes of podcast offline. You can listen to them anytime anywhere, especially at no-network location or when you're travelling. In this article we will be discussing the easiest ways to download Stitcher podcast on your smart phones (IPhone/ android) and on desktop computer (Windows/Mac).
How to Download Stitcher Podcasts on Smartphone
Formerly it was really difficult to listen to the news or your favorite shows offline on your phones but for smartphones, Stitcher has introduced an app which is available on both apple store and play store for free.
Steps to Download Episodes from Stitcher
Open the application on your phone and look for the episode you want to download.
Tap on the thumbnail of the episode and an information sheet will open.
Swipe down to select Download episode.
Tap on three horizontal lines on the upper left corner of screen and tap on Download to watch your downloaded episodes.
In download section, there are three dots in the upper right corner, tapping on them you will have an option to customize download settings.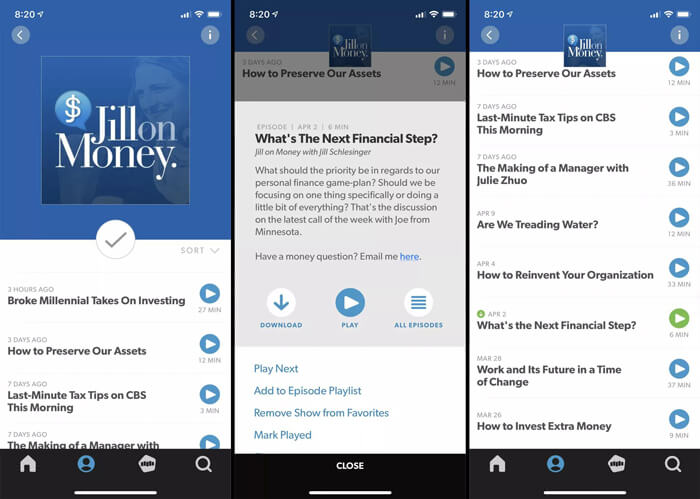 How to Get Stitcher Podcast Download on PC/Mac
Downloading episodes of podcasts online used to be a hassle before. You had to use online converters that had tons of ads and redirected users to malicious pages. Now here, we're going to introduce a desktop program that will download Stitcher podcast without any limitations: iTubeGo YouTube Downloader. With this Stitcher downloader, getting music or any other type of audios or videos from any source on the internet has become tremendously stress-free. It is the most influential and feature-rich multimedia downloader ever. iTubeGo can help you download any episode of podcast from Stitcher in a few easy steps.
You can download this stitcher downloader from below link:
Key Features:
Support more than 10,000 music and audio/video sharing platforms
Convert online content in more than 20 audio, video, and mobile device formats
Download highest-quality 320kbps MP3 audio files using this software
Without any restrictions, it downloads multiple Stitcher podcasts at once
Downloading content at 10x faster speed than any other similar tool available
Steps to Use iTubeGo to Download Stitcher Podcast
iTubeGo has a simple, easy and minimalistic interface that makes downloading songs, audio/video with it very easy. Here are a few easy steps to get the episode downloaded from Stitcher on your devices.
Step 1 Open your web browser and go to the Stitcher episode you want to download. With the episode playing, copy the URL being shown in the address bar of the browser.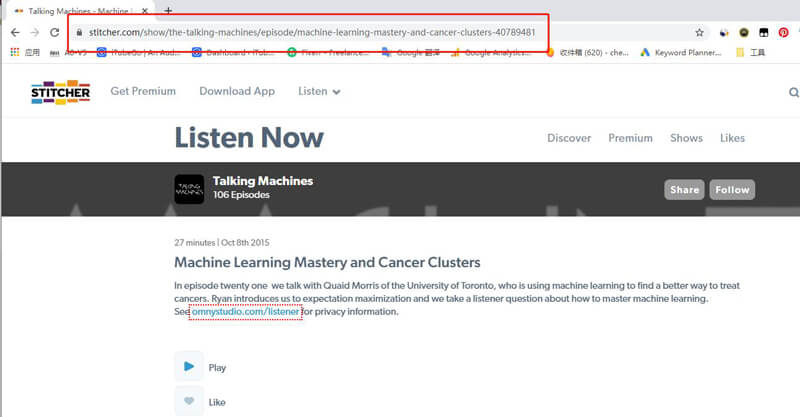 Step 2 Now run the installed iTubeGo YouTube Downloader and go to the tab "Settings or Preferences". Here, you can select the format you want to download the episode in. The default audio format of the program is mp3, which you can change from the "Download then Convert to" option located at the main interface.
Step 3 When you're done with selecting the format, head over to the main interface and click "Paste URL" button. It will automatically fetch the copied link details and begin the downloading process of Stitcher podcast.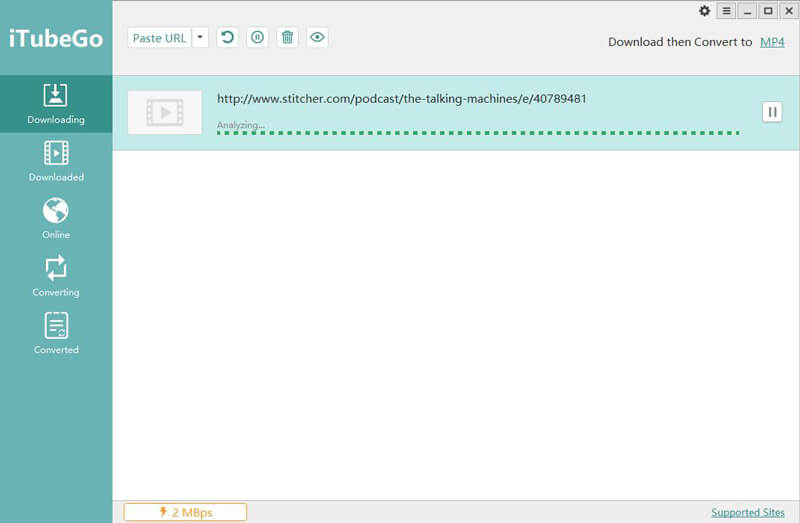 Step 4 After the download has completed, you can find the episode in the "Downloaded" section of the program.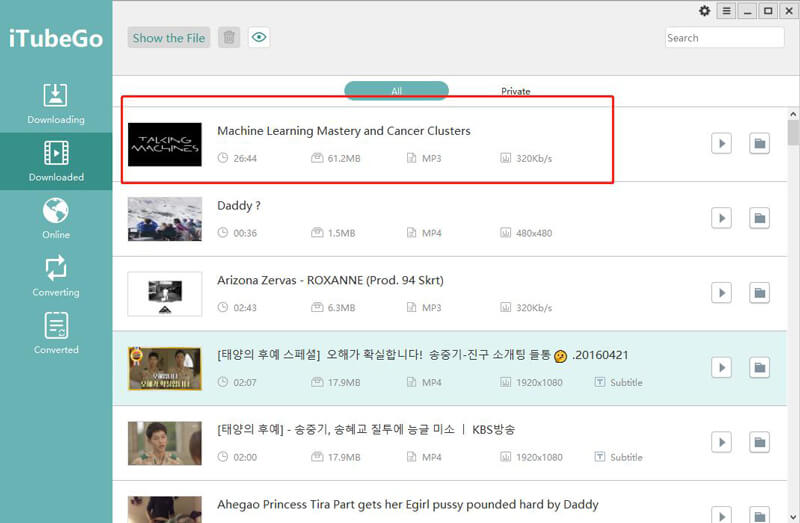 Other Online Stitcher Downloader You Should Know
In addition to the above-mentioned solutions, there are some online tools through which you can download your favorite episodes of podcast.
1. TubeNinja
TubeNinja is a 100% free online downloader that allows you to save audio/video on your devices for offline playback. Using this service, you can download and convert entire Stitcher playlists in just few clicks and that too without the need to install any third-party software or plugin. Unlike most of the online tools, TubeNinja provides sufficient downloading speed and can download Stitcher Mp3 content even if the source format is video.
Steps to Download Podcasts from Stitcher with TubeNinja
Copy the link of the Stitcher podcast you want to download.
Open your browser and go to Tubeninja online downloader.
Paste the link in the search at the top of the page .
Click on the Download button and let the page finish loading.
Select the quality of the podcast and the downloading will start.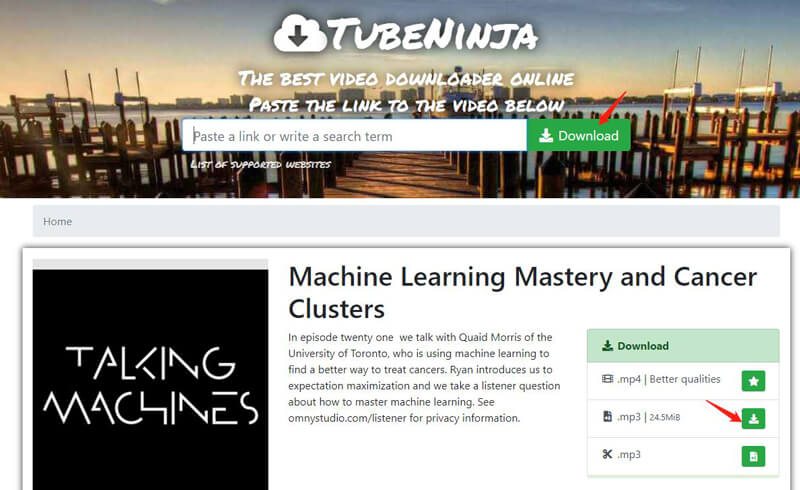 2. DownVideo
Likewise DownVideo is an online website that helps in saving audios/videos offline without any extensions or software on your devices for free. Now let's discuss the steps for downloading Stitcher content online with the help of DownVideo.
Steps to Download Stitcher audio from DownVideo
Copy Stitcher podcast URL you want to download.
Go to your browser and visit downvideo online downloader
Paste the copied link in the search bar and click on GO.
Select the quality and download the audio and the audio will be downloaded on your device.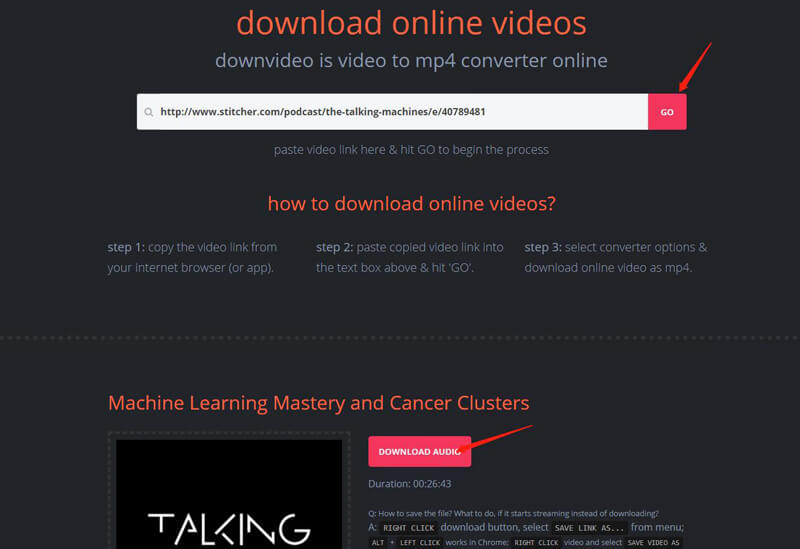 What is Stitcher
Stitcher is a broadcasting company that focuses in the making, monetization and distribution of podcasts. It's a home to all your favorite podcasts, from politics, true crime, sports, and comedy, providing access to more than 100,000 podcasts online. The Stitcher app is the easiest way to listen to podcasts on your devices i.e. smart phones, smart speakers.
(Click to rate this post)
Generally rated 4.5 (215 participated)