Today we'll explore three ways to download videos from Twitter. If you are looking for how to download videos from Twitter android, you have landed on the right page and we'll tell you the best ways to download videos from Twitter on android. After reading this article, you will be able to save video from Twitter android, and we will give you the link to the best Twitter video downloader available.
How to Download Videos from Twitter Android – iTubeGo
iTubeGo is a multiplatform, multipurpose video and audio downloader that is available for Windows, Mac, and Android devices. The iTubeGo for Android app makes downloading videos and audio all fun and games. iTubeGo android application can download videos from more than 10,000 websites and offers you the option of downloading videos in 4K and full HD resolution in a variety of formats.
Even if you want to download the audio from a video you can do that by using iTubeGo and selecting an audio format like MP3, M4A or WAV as the output. iTubeGo is ad-free and offers phenomenal downloading speeds unparalleled by any other tool in existence. Let's see how to use iTubeGo to download Twitter videos on to an Android device.
How to Download Twitter Videos using iTubeGo
Step 1 Get the App
First of all, you need to have the iTubeGo app, and it is recommended to download this program from the official webpage. Click here to download the apk file, and once it has completed downloading, run it to install the app.
Step 2 Locate the Video and Get its Link
To get and process the video URL, iTubeGo for Android offers different ways for the convenience of the users.
Procedure 1: Once it has been successfully installed, launch the app and through its built-in browser, navigate and open the Twitter video that you want to download. Then, press the Download button beside the video.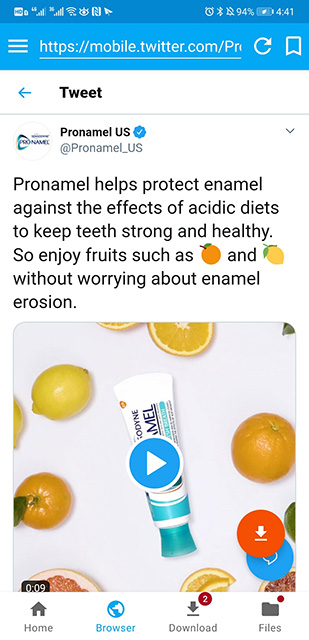 Procedure 2: If you want to directly copy the video link from the Twitter website, open particular Tweet with video from the browser or Twitter app. Press the Share icon and then select "Share Tweet via…" and "Copy Link" options respectively. In this way, the Twitter video URL will be copied, and once you open the iTubeGo app, it will automatically fetch the link. Press the Download button to proceed further.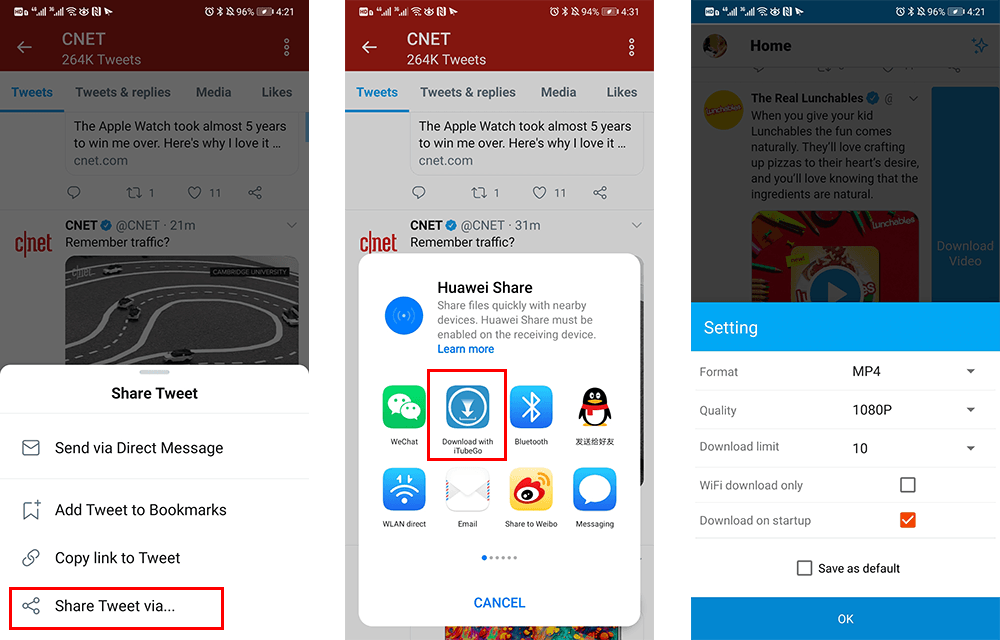 Step 3 Set Download Parameters
After entering the video's link in iTubeGo, it will analyze the link and provide you with a number of options of resolution and formats. Select the ones you need.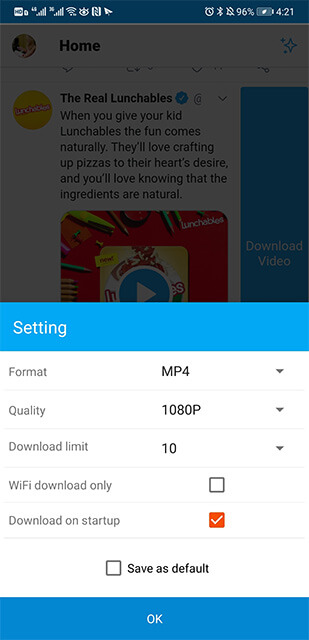 Step 4 Download Video
After you have selected the download parameters just hit the Ok button and the video will be downloaded and saved to your device.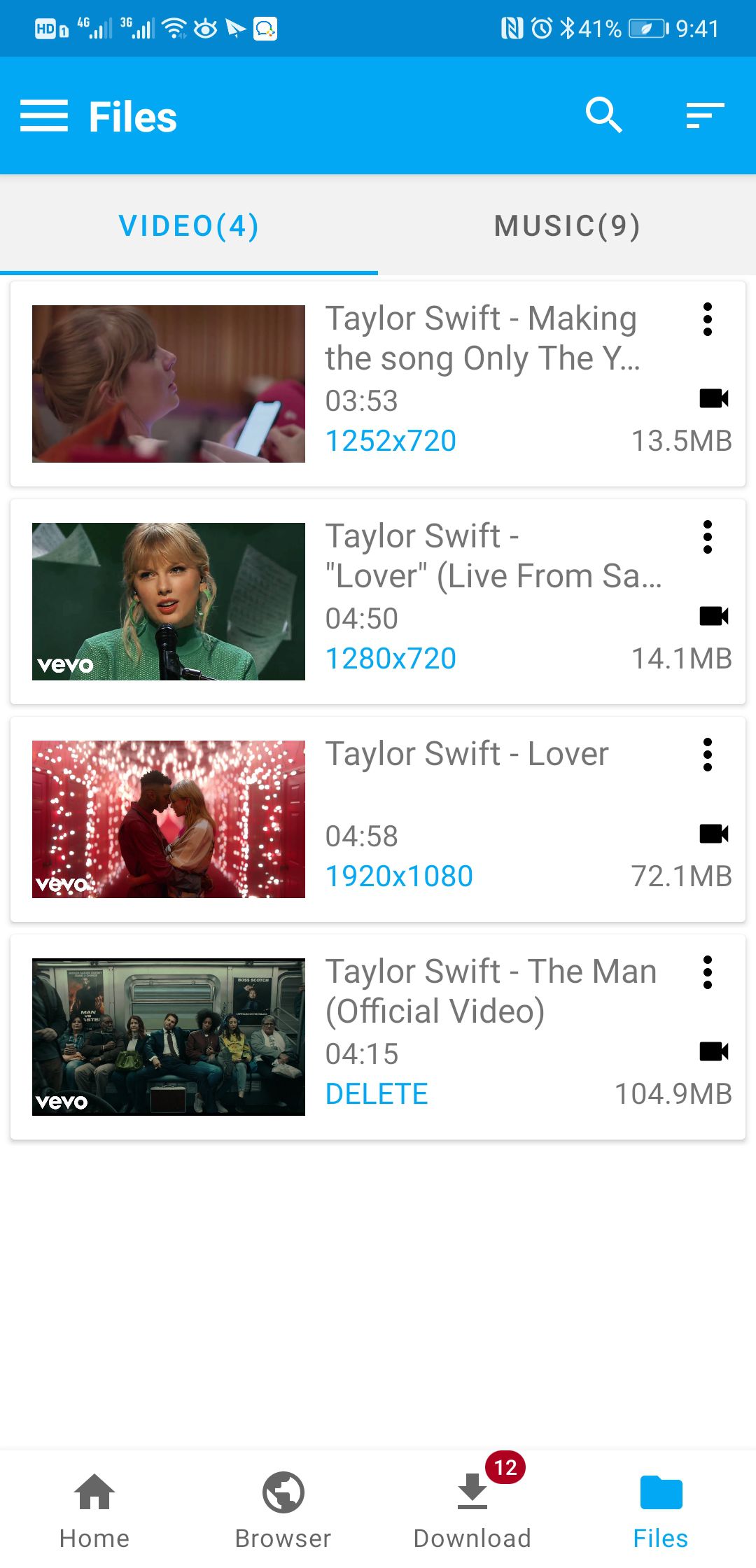 Download Video from Twitter on Android by Online Solution
If you don't want to install an app on your Android device to download videos from Twitter, you can do it by using online tools. There are websites on the internet that can enable you to download videos from Twitter.
However, remember that these websites have a lot of ads and are prone to a lot of bugs and errors. The output video quality and format options are also very limited and the download speed is horrible. The cherry on top, if you have an interruption in your internet connection the download won't resume and you'll have to do it all over again.
Here, we're going to refer to one of the best online downloaders available, KeepVid.Pro. It offers a free downloading service and allows you to directly download videos from Twitter. Taking an example of KeepVid.Pro, you can online download videos from Twitter in the following steps.
Steps to Download Twitter Videos
Step 1 Get the Video URL
Open the Twitter application on your phone and go to the video you are interested in. Copy the URL of the video by going to the share option and selecting the copy video URL option.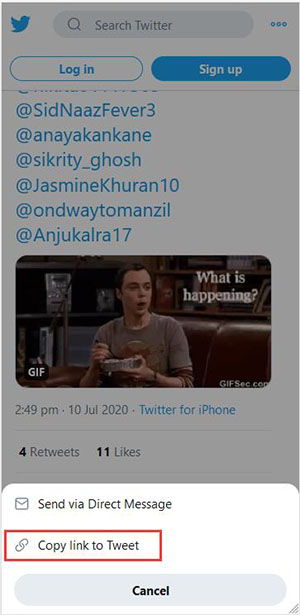 Step 2 Open the Online Downloader
With the URL copied, go to the KeepVid.Pro website.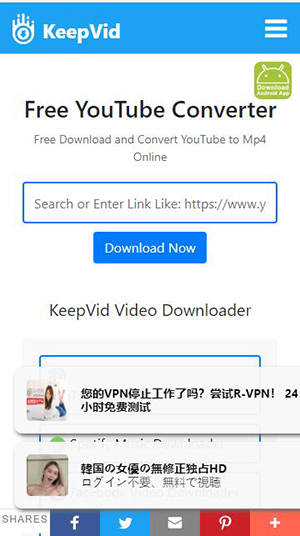 Step 3 Enter URL
On the webpage that opens, you'll be prompted to enter the URL to download the video. Paste the URL in the respective box and you'll get a menu to select the desired video download options like format and resolution, select the ones you prefer.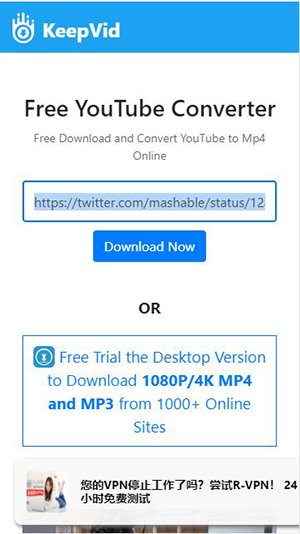 Step 4 Download Video
After you have done everything just click the download button to download the video to your device.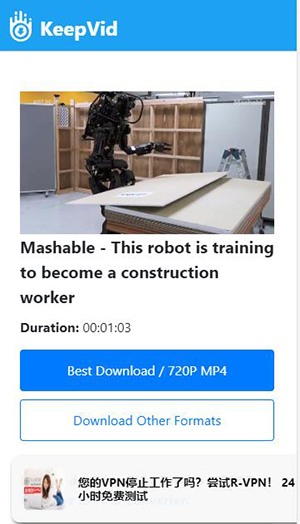 Twitter Video Downloader APK
Twitter video Downloader is an app available on the Play Store that you can use to download Twitter videos and GIFs on your phone fast and easy. It is a free tool hence there are a lot of ads. This tool claims to download videos in a range of resolutions and downloads them fast using a sophisticated multi-thread downloading process.
This tool also claims to be lightweight and won't be resource-intensive for any android phone. The process of downloading videos from Twitter using this tool is a pretty straight forward one. Let's see how to use this one to download any Twitter video or GIF.
Steps to Use Twitter Video Downloader
Step 1 Install the App
To be able to download videos from Twitter using this app, the first thing you need to do is to install the app on your device. Just go to the play store and search for "Twitter Video Downloader," and install the app on your Android device.
Step 2 Open the Video
With the app installed on your device, open the Twitter app, and navigate to the video or GIF you need to download.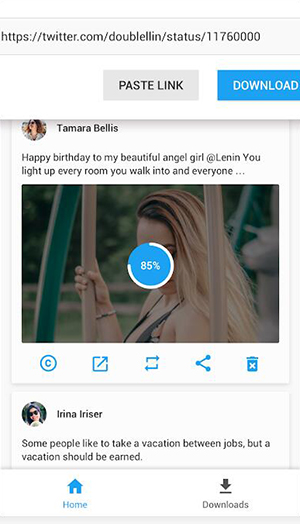 Step 3 Share the Video
Next up you need to click the option saying share link via. On the menu that appears select Twitter Video Downloader.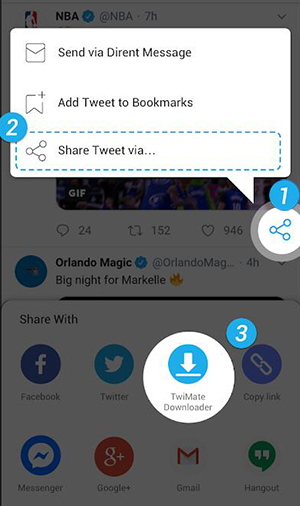 Step 4 Download Video
After step 3 the Twitter Video Downloader app will open automatically and your video will start downloading. You can access the video in your phone's gallery or photos app.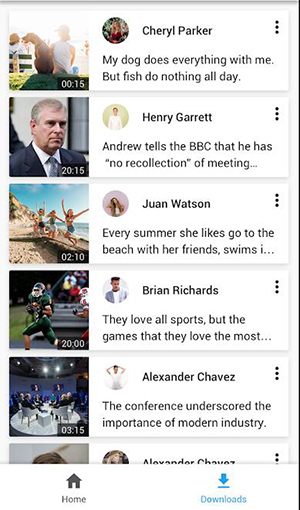 Conclusion
Every Twitter user has the urge to download videos and save them to their smartphone for sharing with friends, but Twitter does not allow that. We have introduced three of the most useful methods that you can use to download videos from Twitter onto your Android smartphone.
All three of the methods work quite well and get the task done, but the online solution and Twitter Video Downloader have a lot of ads and run into errors all the time. The best method for downloading Twitter videos on your mobile is by using iTubeGo that gives you a range of options and flexibility that no other service can offer.
(Click to rate this post)
Generally rated 4.5 (215 participated)