One of the most important ways to soothe your mind is to calm it with music. Music nowadays is easy to play online but kinda tricky to actually download and save it. But you don't need to worry anymore; you can get Gaana app download here to help you! This app works on smartphones and provides you high-quality music.
Download Gaana APP for Android
Gaana, as we all know, is one of the most widely used music streaming services that provides both Indian and international music content. Gaana music app offers unlimited access to all of your favorite tracks and that too at no cost. It provides different categories like Bollywood music, regional music, podcasts, hotshots, radio, video songs, and much more.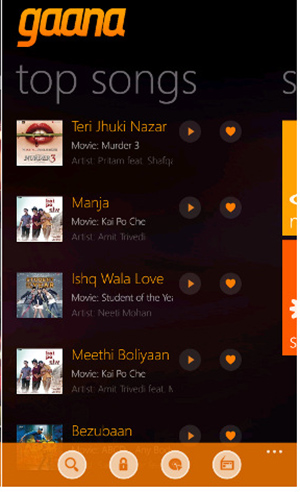 You can download Gaana APP from below link:
Key Features:
Provides unlimited playback music without any intervals.
The user interface of Gaana App is very user-friendly.
The Gaana+, which is the premium version, helps the user to download Mp3 songs for offline usage.
You can choose from 16 different languages to operate the App.
Now, coming up next are the pros and cons that will help you to learn more about this app.
Pros
Cons

The App has a library of more than 45 million Mp3 songs.
Provides podcasts and experts created playlists.
Music is updated daily on the App.
Also comes with more than 30 radio stations.

Mostly known for the Indian music content.
Currently, English songs can be accessed only in India.
You need to be upgrade to Gaana+ to avail the offline listening of the music.
Random Gaana App has too many ads.
As you can see, Gaana app has several disadvantages and its complete functionalities can only be accessed via Gaana+, which is a paid service. If your quest isn't over yet and want to explore more comprehensive options, then next we're going to discuss Gaana app alternative options that you can use to download music.
Top 10 Best Gaana App Alternative
Almost everyone these days loves to listen to music. Be it rock, pop, traditional, movie songs, or others, it has become a part of our life. Considering this, we're going to discuss different options that will not only make it possible to stream music online but also enables you to download your favorite music for offline playback.
1. iTubeGo for Android
At times, we wish that we could download the videos or music on our phones so we can enjoy them later without an internet connection. iTubeGo made it easier for you to do so. iTubeGo for Android allows you to download video and audios from 1,000 online websites. It is 100% free app, and unlike Gaana app, provides you the option to download music in various output formats and qualities. We can simply say it isn't only the best Gaana app alternative, but can also work more efficiently than any other solution available in the market.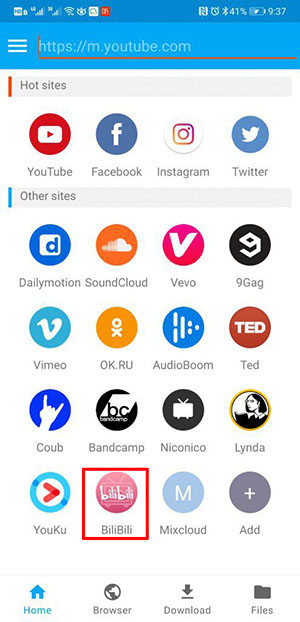 Key Features:
Provides various options for video and audio output formats like MP4, MP3, M4A, AAC, and many more.
Download music videos in a wide range of SD and HD video resolutions.
Extract audio from the music videos and save them as separate high-quality music files.
Supports various qualities for audio download and even offers highest-quality 320kbps Mp3 downloading.
Comes with a built-in browser file manager for better user experience.
Guarantees 10X faster download speed than any other downloading app.
2. Gaana Hindi Songs Online
Gaana Hindi songs online is free app that gives you access to unlimited songs, all in one app. The app is easy to use and allows you to customize your song playlist according to your choice. There is an option in the app settings that make you choose your desired language out of thousands of languages saved in-app. This is another useful Gaana app alternative you can try.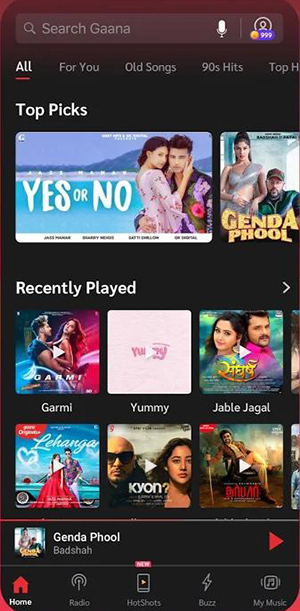 Key Features:
Quick access with no ads between the songs.
Access to trending tracks in different countries.
Offers 20+ Indian language options.
Available for IOS and Android.
3. SnapTube
Snaptube is an android app that lets you stream online videos and music for free. It is also an option for Gaana app alternatives. You can have access to any videos and songs of your choice. It is compatible with more than 50 renowned platforms, including AnimeFLV, Animeq, Facebook, Instagram, Twitter, TikTok, Vuclip, YouTube, Vimeo, Vevo, Dailymotion, and others. Not just streaming, it also let its users download videos and audios from all the above-mentioned platforms.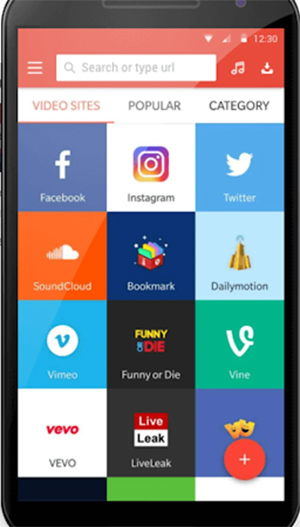 Key Features:
Offers different resolution for the same video.
Huge collection of Hindi and English song.
Easy to use and interface compatible.
Android devices friendly.
4. Wynk
Wynk, available completely free for Airtel user, is an app that allows music streaming and downloading both and lets you create your playlists and share them with your buddies.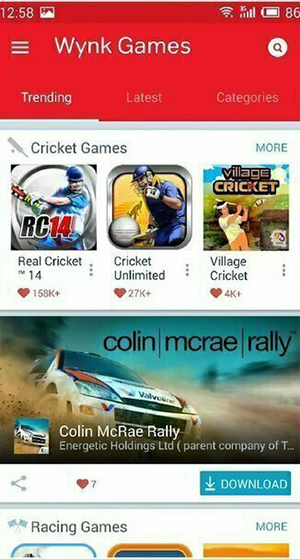 Key Features:
Available both for IOS and Android devices.
Offers 320/256 kbps bitrates for high-quality music.
Stream 2.8 million songs, both international and Indian.
No buffering- Loads music even with low internet speed.
5. Hungama
Hungama app is exactly the same as the Gaana app. This app lets you stream your favorite music (Bollywood or regional) on your mobile phone without any interference.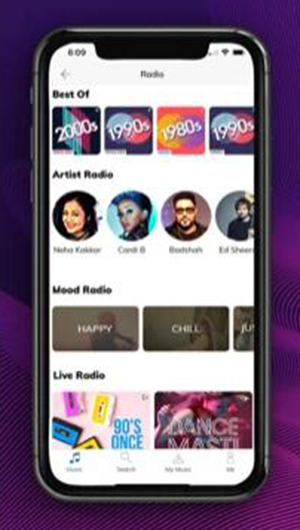 Key Features:
Available for desktop, Android, iOS, Windows Phone, and Blackberry devices.
Sorted by categories: Albums, genres, artists.
Over 3.5 million songs and videos.
6. SoundCloud
SoundCloud is a well-known platform for years that is beyond just a streaming service. Also, it's App available for free and can be used as an Gaana app alternative. Allows you to upload your own music and discover the latest music.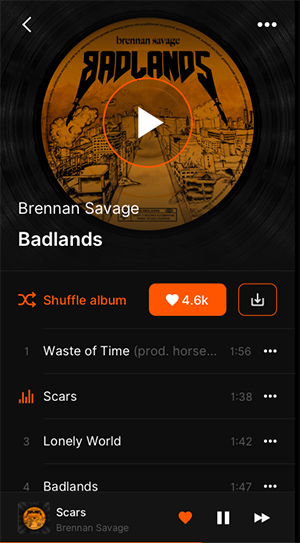 Key Features:
Access to podcast collection and latest cover songs.
Let you like, comment, and share the songs.
The collection of Indian songs is limited, unlike other apps.
7. Audiomack
Audiomack, a streaming app that lets you browse music, whenever and whatever you want. It saves your data by allowing you to access the songs offline. YES, just stream the song once, go offline and listen to it later. Avail it all for FREE.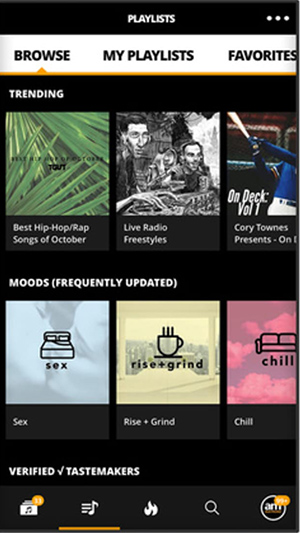 Key Features:
Let the users upload their music and share it with others.
Access to the latest podcast, trending music, playlists, and favorite artists songs.
Available for both, iOS and Android.
8. Raaga
Raaga is an app, formed in Indian, it has free access. Possess a wide collection of Indian music, which makes it equal to the Gaana app.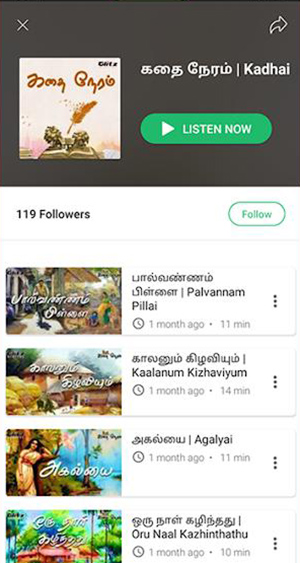 Key Features:
Saves offline music to listen to it later.
Allows you to customize the playlists
Features regional songs: Bollywood, Punjabi, Telugu, and 18 different languages.
Available for iOS, Android, and Windows.
9. Bestsongs.pk
Bestsongs.pk in an app that provides unlimited access to all the Pakistani regional music and Bollywood, English, and Hindi music as well. It is one of the best Gaana app alternatives that offer a great number of unlimited track and videos for FREE.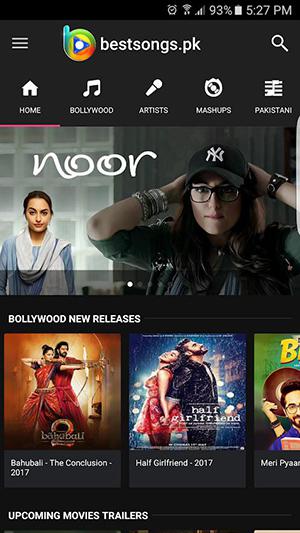 Key Features:
More than 1 million songs and albums.
A great number of playlists are shared by users.
Daily latest music updates.
Easy to access.
All genres available. (Love songs, Ghazals, Sad songs, and much more)
10. Desimusic
Desimusic is an Indian app that offers unlimited Indian songs all in one place. This app allows users to browse through various categories that include, Bhangra, Ghazals, Remix, Covers, Pop, Karaoke, Retro, and much more.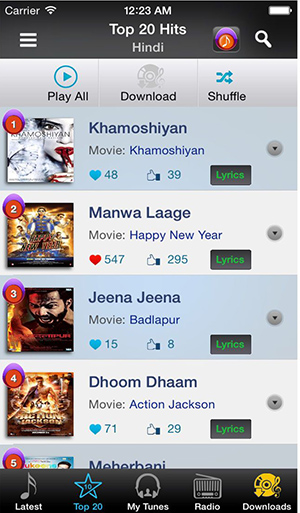 Key Features:
Shows lyrics along with each song.
Allows you to rate the songs on the app.
Daily updates latest songs, Hindi, and other available languages.
Available for iOS and android both.
Final Thoughts
In this article, you will get to know the effective way for Gaana App download. Furthermore, we've share different options that can be use the Gaana app alternative. Now, you know everything about Gaana app and its alternatives as well. Choose the best one that is iTubeGo for sure and dive into the world of music.