How to add iTubeGo extension to Google Chrome or Firefox
Use the iTubeGo YouTube Downloader extension to let you download YouTube videos and audios more easier on web browser, no longer need to copy video urls, just click the download button. Follow the steps below to install iTubeGo YouTube Downloader addon:
Step1, Add the Tampermonkey extension from Google Chrome Web Store or Firefox Extensions
Tampermonkey is needed to make iTubeGo extension work properly. Click "Add to Chrome" or "Add to Firefox" and follow the instructions.

Step2, Install iTubeGo YouTube Downloader extension
Click "Install Now", open the installation page, and then click "Install" to complete the installation.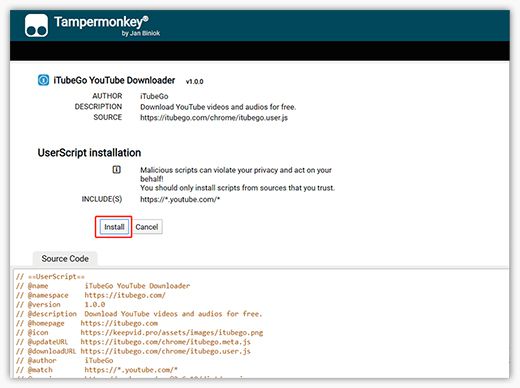 Step3, Download YouTube videos and audios
Open the YouTube video and you will see the download button. Right-click and choose "save link as..." to save the video and audio as mp4, mp3.

User JS: install the script (Tampermonkey extension required)