Of all the online video services, the most viewed and the most diverse is YouTube. YouTube is so huge that even comparing it to any other service on the internet will be injustice with it. However, like any other service from Google, YouTube earns by ads. It means that every video you see on YouTube comes with some ads and if you are watching a video offline you won't see the ad. That's why YouTube does not allow you to download videos and save them to your device. In order to download YouTube videos on android, you either have to get YouTube Premium subscription or some innovative method that allows you to download the videos and store them on your device to be viewed offline. We'll discuss both of the methods in this article and then you can decide which one is better.
Download YouTube Videos with Premium Account – The Official Way
The official way of downloading videos from YouTube is by getting YouTube premium account. Once you get the YouTube premium account, which is a paid service, downloading the videos is pretty simple. A download button will show up right under the video you are watching and you can click on it to download the video. It will prompt you to select the resolution in which you want the video to be downloaded and once you select that the video will be saved on your device and can be accessed at any time.
In addition to the ability to download videos to be watched offline, YouTube Premium offers a bunch of other features. Premium users can enjoy ad-free viewing, music streaming without commercials via YouTube Music and some other perks. It is free for the first month and cost $11.99 second month onwards.
However, downloading videos using the Premium feature has some limitations like
You cannot download videos on a computer. This feature is only for phones and tablets.
You cannot share the downloaded video to another device.
You can not access the video from outside the YouTube app.
How to Download YouTube Video on Android for Free
What we have for you is a YouTube Downloader for Android that can help you download video from YouTube on Android totally free of cost and with no limitations. There are a number of such apps out there and every last one of them claims to do wonders, but few do that in reality.
iTubeGo for Android:
The app we have for you is iTubeGo and it is totally free. The benefits you can get from iTubeGo are:
You can download videos in any resolution including 1080p, full HD and 4k
You can save the videos to any location on your device and can access them any time
You can share the downloaded videos to other devices
You can access the downloaded video from outside the app and edit it for your needs
Steps to Download:
Let's have a look at the process of downloading 1080p/4k videos using iTubeGo.
1 Download and install iTubeGo:
iTubeGo is a free software that can be easily installed on any android device. Download the APK file for iTubeGo and run it to install the app on your android device.
2 Open iTubeGo for Android App:
Once you have downloaded and installed iTubeGo on your android device, open it to start the process of downloading the video you want.
3 Search for the video or paste the link:
In the built-in browser of iTubeGo, search for the video you need to download.
iTubeGo has a number of smart features that can help you with downloading videos. If you are watching a video in any app like Facebook, Vimeo or YouTube, simply go to the share feature and you'll see "Download with iTubeGo" among the list of sharing options. You can select this option to quickly download video. If that is not possible, you can copy the video's hyperlink and paste it in iTubeGo's browser to download the video.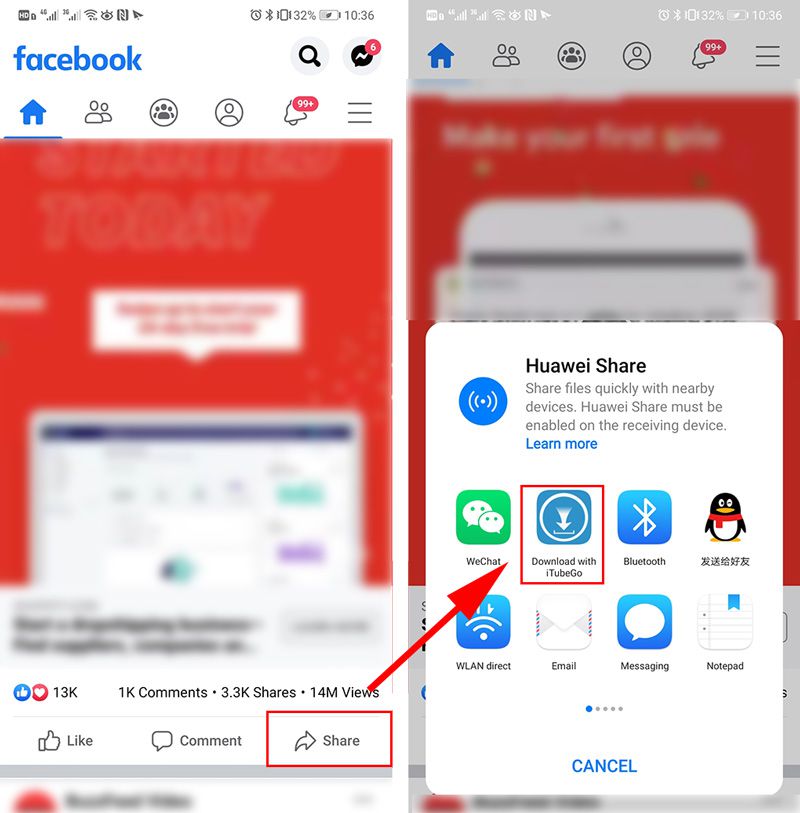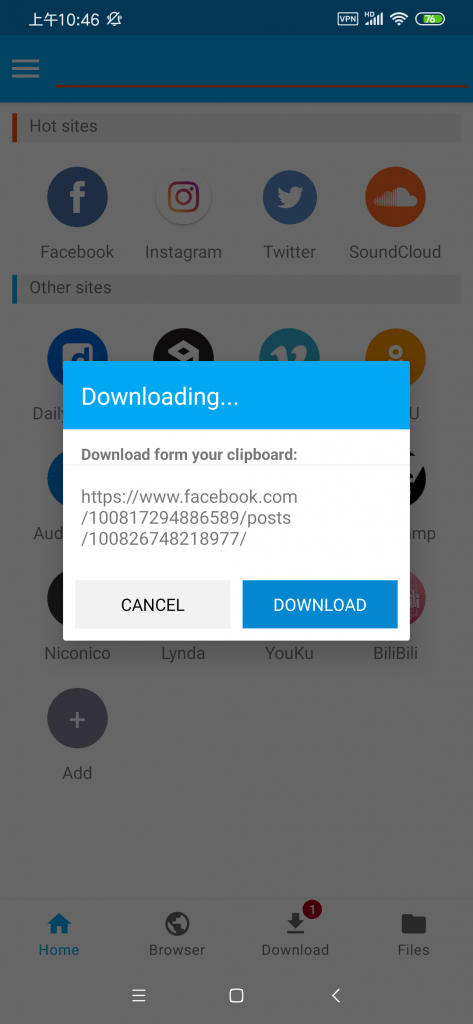 4 Select the format and resolution you want:
Once you have the link and have pasted it in iTubeGo or have searched for the video in iTubeGo, the next step is to select what format and resolution you want to download the video in. You can select the resolution you want including 4K which is not possible with any other free YouTube converter app like Vidmate and others (Comparison of Vidmate & Snaptube & TubeMate).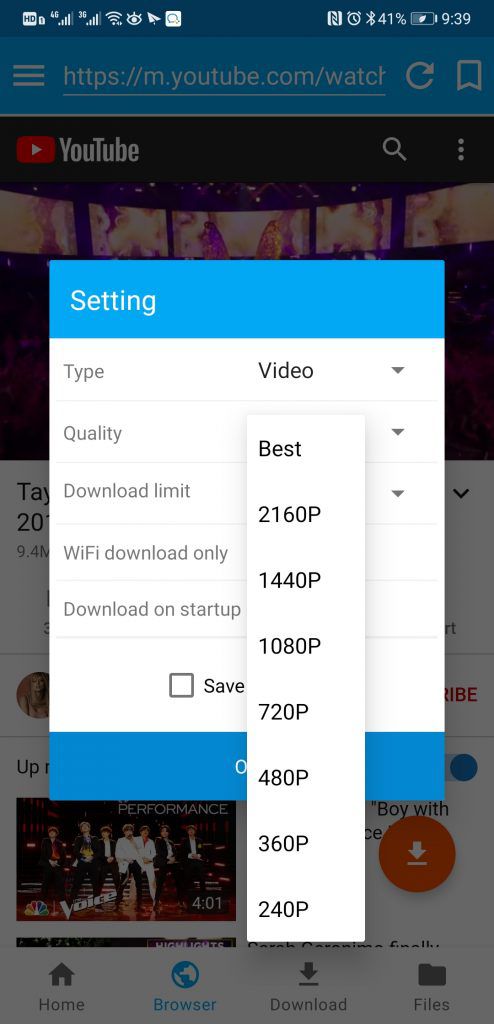 5 Download the video:
You are all set just click download and the video will be downloaded and saved to your downloads folder and you can access it any time.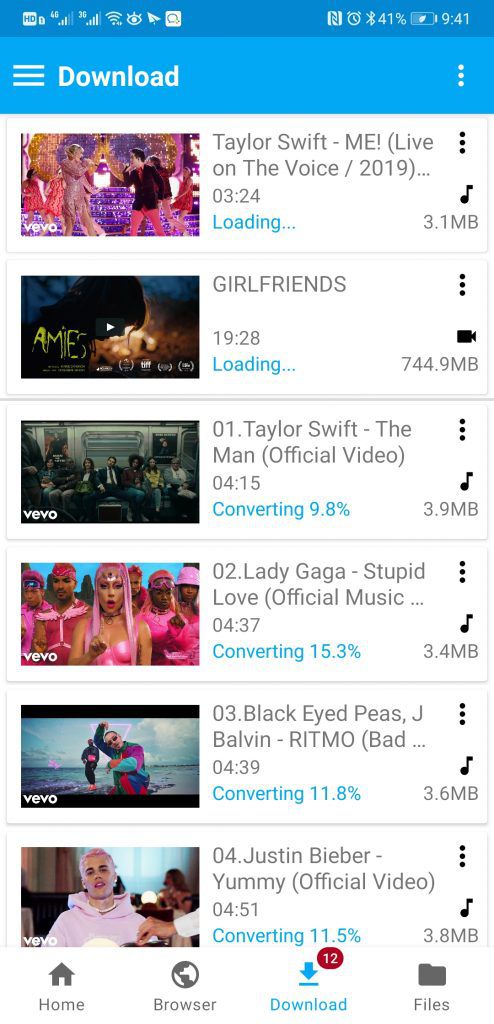 The Bottom Line:
You can save videos for viewing them online by getting YouTube premium subscription or by using iTubeGo for Android. If you use YouTube, you can only watch the video on your device and cannot share or edit it. ITubeGo gives you the freedom to save the video as a normal MP4 file in 1080p or 4k resolution and you can share it to any other device. Last but not the least, iTubeGo for Android app is free and YouTube premium costs $11.99 a month.
(Click to rate this post)
Generally rated 4.5 (215 participated)