You can watch free videos on YouTube as long as you have a working internet connection. But what happens when you want to watch a YouTube video and don't have an internet connection, You can watch YouTube videos offline with a YouTube converter Android app, which can make it possible for you to download YouTube videos and store them on your device.
Find Your Best YouTube Converter:
A number of apps claim to download videos from YouTube videos but few work for real. YouTube does not legally allow apps to download their videos and due to the violation of this legal clause. Any apps that try to download videos illegally from YouTube are quickly removed from the Play Store but we are talking android here so the Play Store is not the only place you can get apps from. You can download and install apps from third-party app providers using APKs.
There are a lot of apps out there that are intended to download videos from YouTube but not all of them give satisfactory results. Some need you to cross Captcha tests and others don't have the ability to download videos in full resolution. What we have for you is the best free YouTube converter android app that can download any video from YouTube in the resolution you want and can even convert it to other formats. This app is called iTubeGo YouTube Downloader for Android and you can download it here.
How to Convert YouTube video to mp3, mp4 on Android
Using iTubeGo you can easily convert any YouTube video to an MP3 or MP4 file in a few simple steps. We have mentioned Top YouTube to Mp3 converter review before, you can get more tools here. The following are the easy steps to download mp3, mp4 files on android devices using iTubeGo for Android app.
Step1 Open iTubeGo On Your Device:
After you have downloaded and installed iTubeGo on your device, open it to start the process of downloading and converting the videos you want.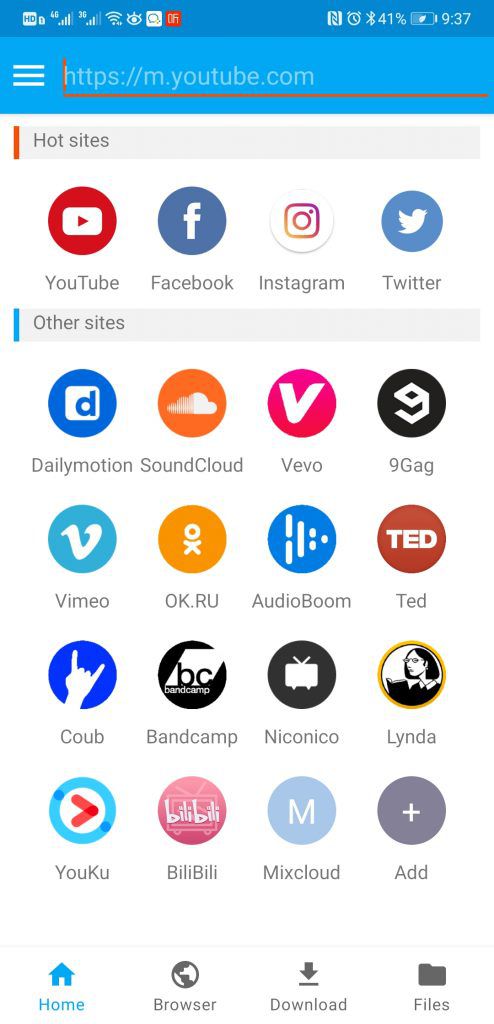 Step2 Search Using iTubeGo's built-in browser
Mainstream video sites including YouTube are built in the app and can be accessed with one click. If your required website is not in the link you can search for the video or enter the hyperlink to the video manually in iTubeGo.
This can be done in two ways. Either you can go to share option from the app where you are watching a video and select "Download With iTubeGo" or you can copy the link to the video and past it in iTubeGo.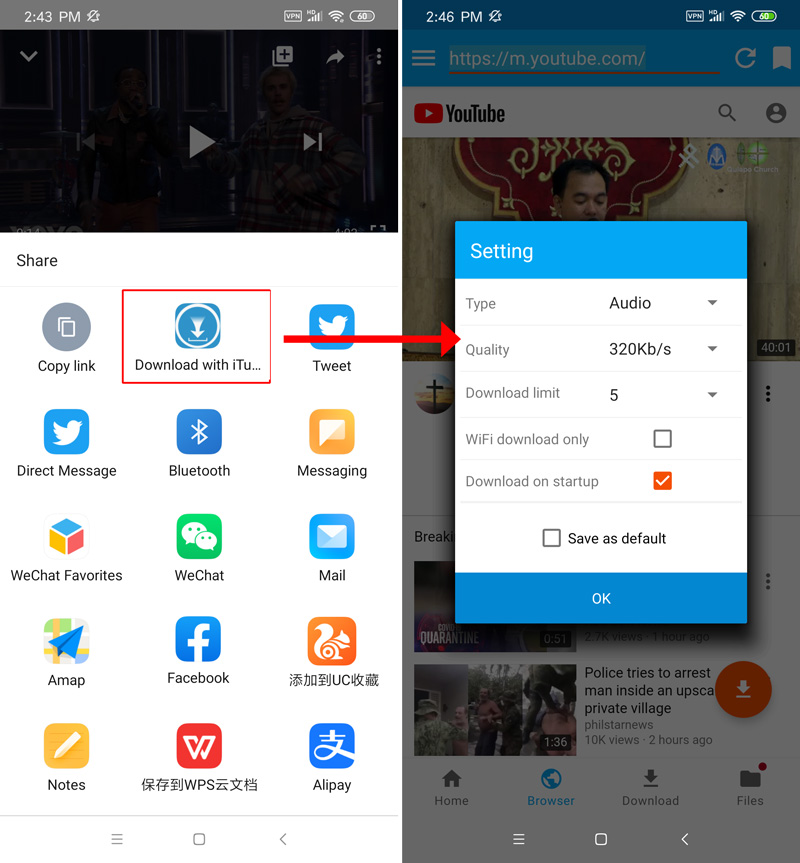 Step3 Set the Output Format:
Next, you just have to select the format you need to download the video in and it will be downloaded and converted to the format you want. You can select the video to be downloaded in MP4 format in the resolution you want or you can select the MP3 option and download it in the bitrate you prefer.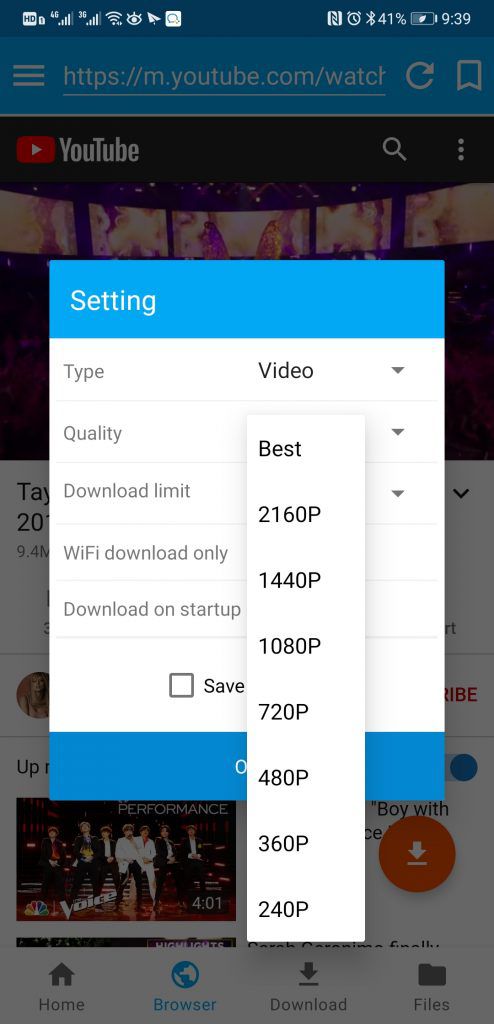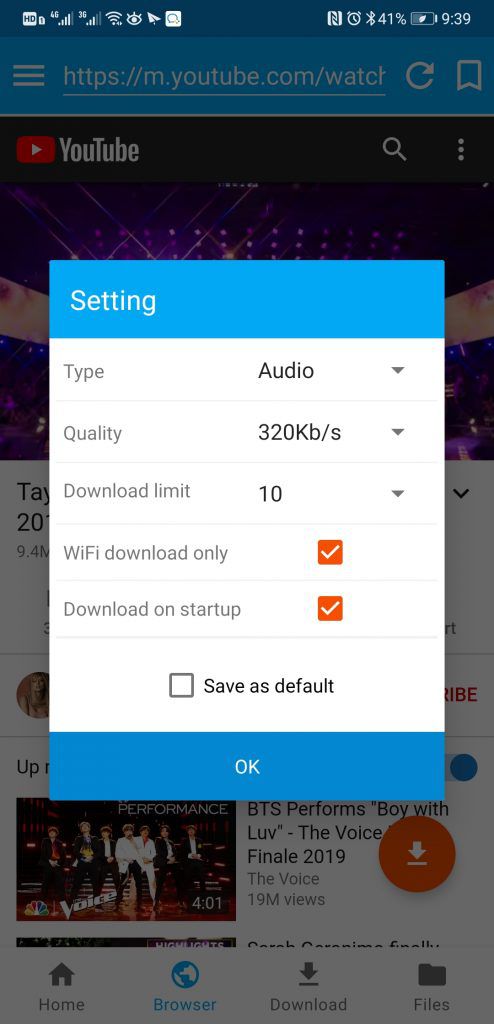 Step4 Download MP3, MP4 Files Using iTubeGo for Android:
Once you have selected the output format, the file will be downloaded and saved on your android device and you can access it whenever you need it.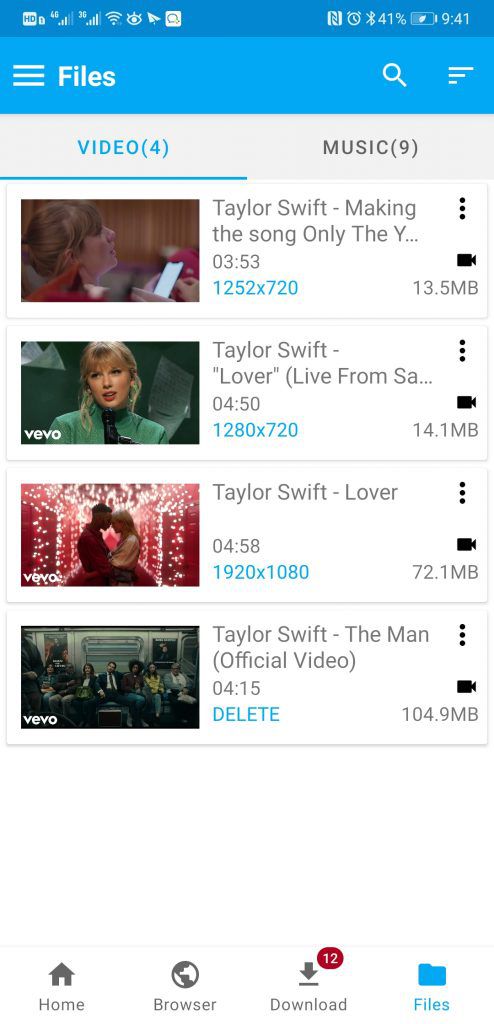 How to Convert YouTube videos to other formats?
If you need to convert a YouTube video to a format other than MP3 audio or MP4 video, this can be done easily using our desktop software iTubeGo that is available for both PC and Mac. The desktop version of iTubeGo is easy to use and has very low resource usage. You can use it to convert videos to any formats like MP4, MOV, AVI, MKV, and FLV. It also supports audio formats MP3, 3GP, M4A, WAV, and MKA.
The following are the download links for both Windows and Mac Operating System.
The Bottom Line:
As you can see, iTubeGo for Android is the best YouTube converter for android, not just because it is free but also due to its unique and amazing features. However, if you want to convert YouTube videos to a wide range of formats, then iTubeGo YouTube Downloader is probably the best solution for you!
(Click to rate this post)
Generally rated 4.5 (215 participated)