Advanced Audio Coding, aka AAC, is an audio file format designed to succeed MP3. It maintains better quality than MP3 audio at the same bitrate hence decreasing the amount of storage space it needs. If you want to download music from YouTube to your computer in AAC format, sadly, that's a luxury YouTube doesn't offer. You'll need to have a third-party app or service to download stuff from YouTube. We'll explain the functions of the best YouTube to AAC converter solutions you can avail right now. Let's see how to convert YouTube to AAC.
YouTube to AAC Converter Desktop Software
iTubeGo YouTube Downloader is designed to convert online videos, audios, playlists to more than 20+ formats such as AAC, MP3, M4A, MKA, WAV, MP4, MOV, WMV, etc. With the ability to download multiple URLs simultaneously, iTubeGo allows you to download high-bitrate (320kbps) music and high-quality (HD/4K/8K) videos fast.
Easy steps to download YouTube to AAC with iTubeGo
Step 1

Download and install the software on your computer

iTubeGo is available for Mac and Windows computers. You'll need to install it on your computer before you can use it to download media from YouTube. To do that, go to the iTubeGo website and download the installation file. Run the executable installation file to install the software. Here are the download links for Windows and Mac
Step 2

Get the URL of the YouTube video

Open a web browser and navigate to the video you want to convert to AAC. Copy the URL of the desired video.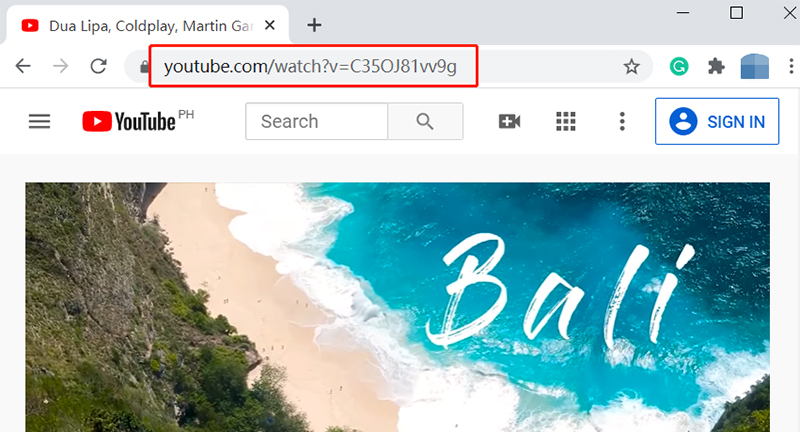 Step 3

Select output format

Now open the iTubeGo software that you just installed and go to the "Download then Convert to" section. Set the output format to AAC and save the settings by clicking the Apply button. Then, open the "Preferences" and set the Download type as Audio and bitrate from the available options.
Step 4

Enter the copied URL

After selecting the output format, just click on the "Paste URL" button. The software will detect the URL and the download will start.
Step 5

Locate the downloaded file

After the file has been downloaded, you can directly find it in the "Downloads" section of the software or at the destination location on your computer.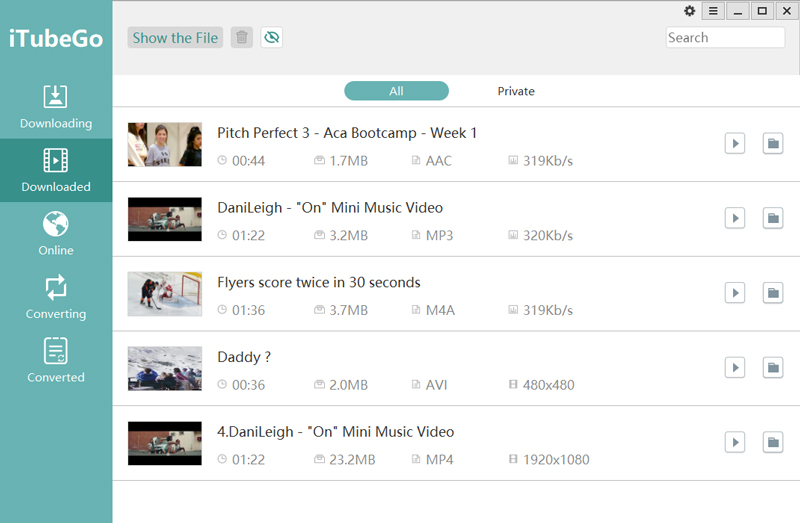 YouTube to AAC Converter Android App
iTubeGo for Android App is what you need. This app supports more than 1,000 websites and can download online media (videos and audios) in various formats and qualities free. It has a built-browser that makes your downloading experience more fast and easy. You can also download unlimited music/videos from YouTube playlists in just a single command.
4 Steps to convert YouTube to AAC with iTubeGo Android.
Step 1

Download and install the app

Here's the link for iTubeGo APK. Download the APK on your Android smartphone and run it to install the app on your phone. If your device doesn't allow the installation of apps from unknown sources, activate that option to install the app.
Step 2

Go to the YouTube video

Now, you need to go to the video you want to download and get its URL. You can either open it in the official YouTube app and select the option saying, "Download with iTubeGo," or you can open the browser of the iTubeGo Android App and open the video in it on YouTube using web browser. Either way, your goal is to open the video and copy its URL. After copying the video URL, open the iTubeGo App, which will automatically process the copied link and pop-up a prompt box with Download button and video details.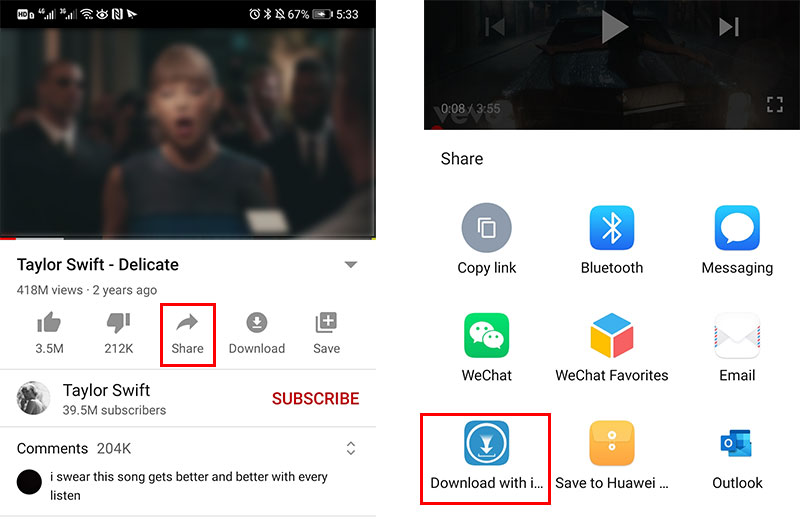 The third and most convenient option you can choose is the built-in browser of the iTubeGo App. Using its web browser, you can directly access YouTube video, and then, all you have to do is to press the download button, an arrow pointing down below the video.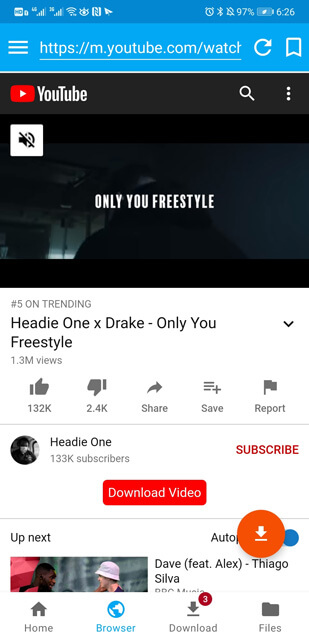 Step 3

Select format and quality

Next, You'll be asked to select your desired format. Select AAC.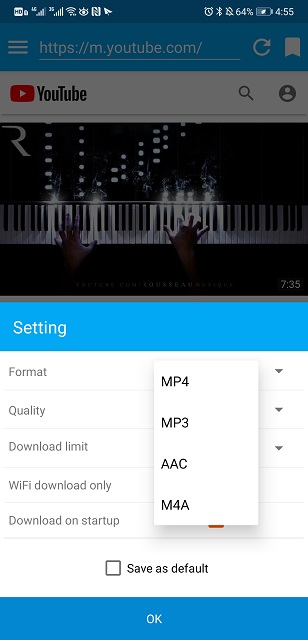 Step 4

Download AAC file on your Android device

After selecting the format, press the OK button and your file will automatically be downloaded and saved to the Downloads folder of your device.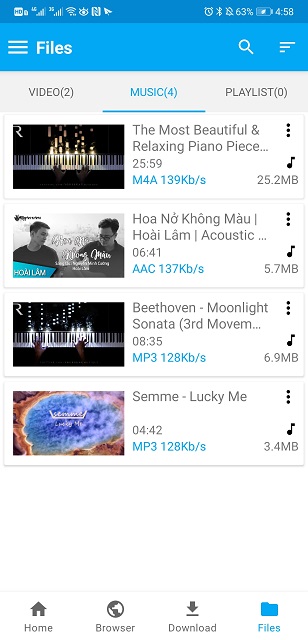 YouTube to AAC Converter Online
1. CatchVideo
URL: https://catchvideo.net/convertaudio
CatchVideo is an online audio converter that you can download YouTube music to AAC format. This converter supports YouTube, Facebook, Dailymotion and Vimeo. It allows you to convert YouTube videos to 4 audio formats and adjust audio bitrate, channels, and sample rate. It is free to use and can also download online videos easily. It also offers a browser add-on that can add a download button and make downloading stuff from YouTube even more easy for you.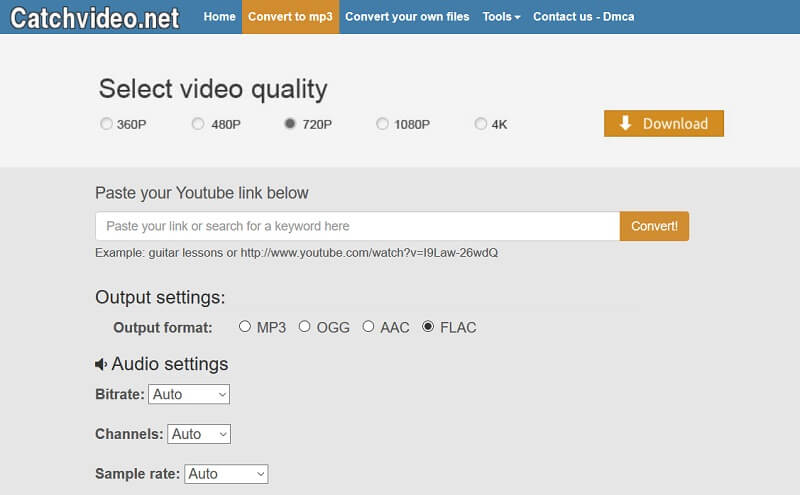 Cons:
This downloading tool cannot download VEVO music or videos containing music.
Steps to convert YouTube to AAC online
Open the CatchVideo website.
Go to the YouTube video and copy its URL.
Paste the URL into the entry field.
Click on the "Download" button and select the format as AAC.
Now, the video will be converted and stored on your computer as an AAC file.
2. Anything2MP3
This is a famous YouTube download website that you can use to convert YouTube to AAC online. It can download media from YouTube, Vimeo, Dailymotion, MetaCafe, Vimeo and Google Videos. You can convert desired YouTube video to 4 audio formats, such as MP3, OGG, AAC, or WMA. It also supports highest quality bitrate of mp3 i.e. 320kbps. It will even make it possible for you to convert local files to AAC format as well.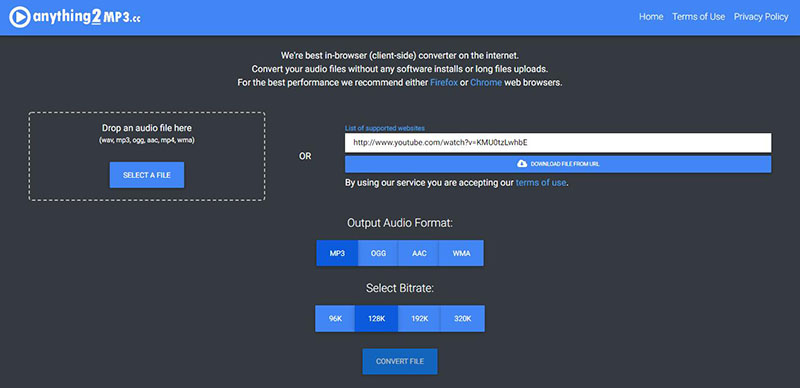 Cons:
On the downside, this converter completes YouTube to AAC converter in two steps. First, it downloads M4A file from YouTube, and then, uploads it to another online audio converter to obtain an AAC file.
Steps to use Anything2MP3
Go to the Anything2MP3 website in your web browser.
Open the YouTube video you want to download and copy its URL.
Right-click in the URL entry field on the Anything2MP3 website and click on "Paste".
Now hit the "Download the file from URL" button
Then select AAC format and bitrate from the options the page offers.
The file will be saved to the default download location.
3. ClipConverter
URL: https://www.clipconverter.cc/
ClipConverter is another great online YouTube to AAC conversion application. This website supports downloading media from a lot of websites and offers a choice to convert online video into multiple formats, like MP4, MP3, M4A, 3GP, MKV, MOV, and AVI. It also allows you to convert local media. One of the most useful features is that offers you the flexibility of adjusting the starting and finishing points of your video and retains the ID3 tags.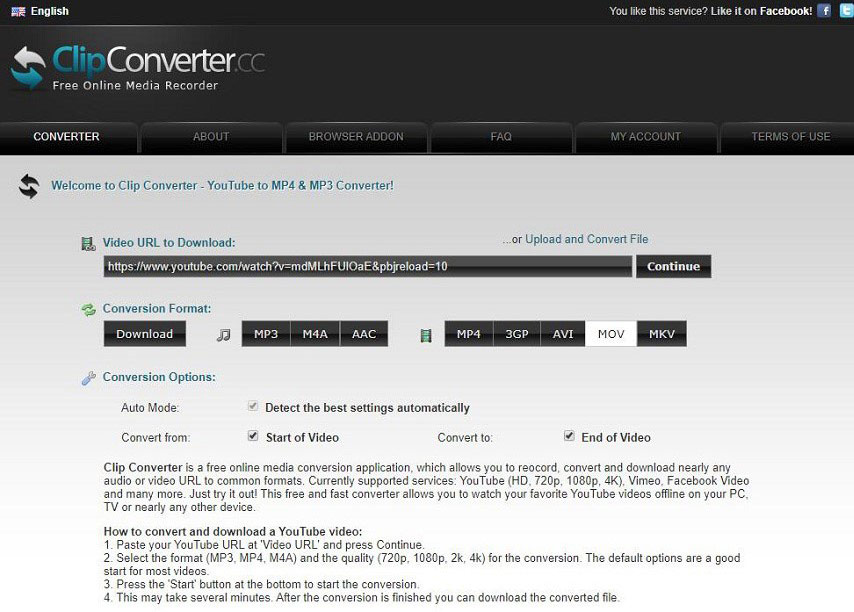 Cons:
However, The speed is too slow, When I tested it, I got stuck on the conversion interface and did not support downloading YouTube playlists.
Steps of using ClipConverter
Open the ClipConverter website in your web browser.
Navigate to the YouTube video you want and copy its URL.
Paste the URL on the specified spot on the ClipConverter Webpage and click Continue.
Select the conversion format to AAC, Click "Download"
Wait for the processing to be completed, click download to save the file to your computer.
Comparison Youtube to AAC Software vs. Android App vs. Online Solution
Features
Desktop Solution
Android App
Online Tools
Supported Websites
10,000+
Supports almost every video and music sharing platform on the internet.
1,000+
Most of them only support YouTube. There are very few online tools that also support some other sites.
Supported Output Formats
20+
Supports every major audio and video format.
MP4, MP3, M4A, AAC
Only supports very limited audio formats.
Quality Options
Up to 320kbps
Up to 320kbps
Up to 320kbps
Playlist Downloads
Yes
Yes
No
Download Lyrics
Yes
Yes
No
Download Speed/Reliability
100% Reliable. Use Multithread technology and Turbo-fast mode to make downloads 10X faster.
Provides fast and reliable downloads. At times, some apps might get affected by phone memory.
Can't download long duration music files. The download will fail, if the network is interrupted or encounters any issue.
Retain Music Tags
Yes
Yes
No,
Running Platforms
Windows, Mac
Android
Browser
Summary
Amazingly Powerful. Single tool capable of catering your all video/audio conversion and downloading needs.
Make you able to download audios and videos directly on your phone, anytime and anywhere.
They're free and easy to use, but there are many limitations and restrictions. We don't recommend using such tools when the network is poor or unstable.
The Bottom Line:
After going through this article, it is quite clear that iTubeGo YouTube Downloader is the best YouTube to AAC converter that comes with diverse features. When it comes to Android Apps, iTubeGo for Android offers almost same functionalities remaining light on your device.
(Click to rate this post)
Generally rated 4.5 (215 participated)