It happens very often that YouTube users feel the need for a YouTube to MP4 cutter to snip a specific part of a YouTube video. YouTube is a bit too strict in letting people download stuff from their website. You can only save videos on a mobile device that too after paying for a $9.99 monthly subscription fee. Even that doesn't allow you to trim a video.
If you need to trim a video, you can use one of three options. You can either use desktop software to carry out the task, or you can use a no-software approach, or alternatively, you can use an online trimmer.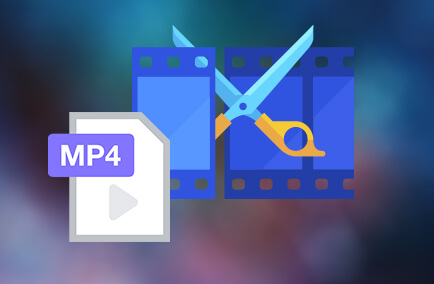 We'll acquaint you with the best YouTube MP4 Cutter and YouTube MP4 Trimmer options currently available and then you can choose which one best suits your needs.
YouTube to Mp4 Cutter Software – iTubeGo
iTubeGo is a multimedia download tool available for Windows and Mac operating systems. You can use it to download videos and audios from any website on the internet. Along with offering a tremendous list of formats, a load of cool features, and a lot of customizations, it also offers the ability to cut and trim any downloaded MP4 file. Here's how you can do that
Steps to Cut YouTube to MP4 with iTubeGo YouTube Downloader
Step 1

Download and Install iTubeGo YouTube to MP4 Cutter

Go to the iTubeGo website and download the latest version of iTubeGo for your operating system and install it on your machine to start cutting online YouTube Videos.
Step 2

Set the Download Format and Quality

Open the iTubeGo YouTube Downloader, and first of all, you'll have to set the download format and quality in which you want to download the part of YouTube video. To do that, go to the Preferences tab and set the Download format as Video and the Quality of your choice from the provided options. The iTubeGo's default output format for the video downloading will already be set as Mp4, so you don't have to change it. However, the output format can be changed from the "Download then Convert to" tab of the iTubeGo program.
Step 3

Go to the video in the Online Section

Now, head over to the main interface of software and go to the online section. This section has a built-in browser. Open the required video in this browser to cut and download it.
Step 4

Select where to trim

Play the video in the build-in web browser and select the starting and ending points for the video where you want to trim it. You can do this by moving the green and red bars present on the two ends of the video progress bar. After you have moved the bars, the video portion between both bars will be cut and downloaded.
Step 5

Cut and download the mp4 video

Now, click on the cut button and the portion of the video selected will be downloaded and saved on your device.
Cut YouTube To Mp4 Without Any Software
If you do not want to cut a YouTube video with software, you can use a complicated method that works only on Windows computers to cut the video. The process has the following steps:
1. Clone Rep
Clone this repo. After that go to the rep folder and install it using the npm install option.
2. Start Node Index
Once the repo has been cloned, start node index.js.
3. Enter information
The command window will ask you to enter the following information
URL of the video: write the URL including https.
Video Starting point: Write in the format HH:mm: ss.ms.
Vide Ending point: Write in the format HH:mm: ss.ms.
File name: enter the name you need to give the downloaded file. If no name is given part.mp4 will be automatically assigned.
After the download is complete, the file will be available in the local project folder.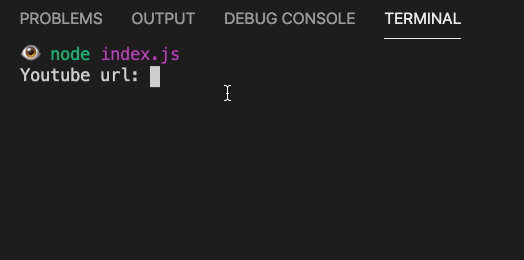 Online YouTube MP4 Video Cutter
Online cutters might look like a great proposition for cutting YouTube videos but that is not actually the case. The online cutters download the video to your local storage and then upload it again to their own servers and cut it and then download it again. This makes the whole process unreliable, insecure, inefficient, and time-consuming, not mentioning the inconvenience you'll have to face. Here are some examples of such tools:
Online YouTube Cutter
Formats
Max File Size
Trim Option
Ease to use
Online Video Cutter
MP4, MOV,WEBM, OGG, MPEG
500 MB
Drag handles in timeline
Input start/end time
⭐⭐⭐⭐⭐
Ezgif
MP4, WebM, AVI, MPEG, FLV, MOV, 3GP
100MB
Input start/end time
⭐⭐⭐
Kapwing
No limit
No limit
Drag handles in timeline
Input start/end time
⭐⭐
1. Online Video Cutter
URL: https://online-video-cutter.com/

Online Video Cutter is one of the top online video trimmers. It is liked by search engines as much as it is liked by the users. You can use it to cut videos in an easy way just by adjusting the positions of sliders. It gives the liberty to save the output video on your Google Drive, Dropbox, or locally on your computer. It also has the option for rotating videos and cropping the frames of videos. Some pros and cons of this trimmer are given below
Pros
It supports a wide variety of input and output formats.
It offers two cutting options you can extract or delete the selected portion of a video.
It offers fade in and fade-out effects for cutting videos.
Cons
It does not support files larger than 500 MB.
It can cut MP4, AVI, and MOV but the output would always be MP4.
It fails to cut videos by adding the URL of a video and displays an error message.
2. EZGif
URL: https://ezgif.com/cut-video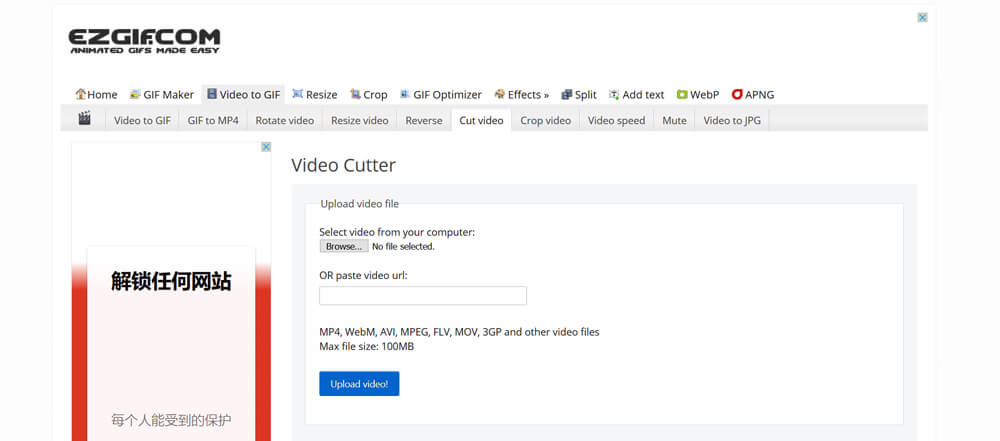 This is not a very flexible video cutter. It only lets you enter the starting and ending time of the video you want to trim using it. It supports files in MP4, WebM, AVI, MPEG, FLV, MOV, and 3GP formats but only up to 100 MB size. It supports editing the playback speed of the videos you trim. Some good and not-so-good things about the EZGif trimmer are:
Pros
It is easy to use.
It has a fast video loading speed.
It can load videos from URL such as YouTube.
Cons
Only the videos under 100 MB of size are supported.
It lacks a timeline slider for trimming videos with ease.
Video cutting is sometimes inaccurate and skips frames.
The only output format option is MP4.
3. Kapwing
URL: https://www.kapwing.com/studio/editor/trimmer

Kapwing is a free online video trimming tool. It has quite some functions and can be regarded as a multifunctional video manipulation tool. It is free to use but if you do not download your video within 7 days, you'll have to pay $20 a month to be able to cut the video again and download it. Here are some pros and cons of this online video trimming tool.
Pros
It is the only online video trimming tool that has no file size limits.
It can cut videos from URLs.
It uses dragging handles and arrows to cut the video easily and accurately.
It offers both single cut and multiple jump cut options.
Cons
It is slow and unstable.
It does not offer 4k resolution, 1080 is the maximum you can get.
You need to sign in to get the output video without a watermark.
The only supported format is MP4.
In Summary
There are a lot of ways that you can use to cut YouTube to MP4. All of them have their own positive and negative aspects. iTubeGo offers maximum flexibility and is the easiest to use. The online ones are unstable and take a lot of time while the method for doing this without software is reserved for software engineers and is too complicated for us commoners.
(Click to rate this post)
Generally rated 4.5 (215 participated)