How to download video clips from YouTube so that you can save it on your computer or smartphone to see offline whenever you want. For this, you must have a YouTube clip converter that allows you to download the video content in various formats and also let you get a part of a YouTube video through cutting feature.
In this article, we have put together 6 top-rated YouTube Clip Converters that are simply the best for this purpose.
Top 6 Best YouTube Clip Converters
Let's start discussing different solutions for downloading and converting YouTube clips one by one!
YouTube Clip Converter Software
A good YouTube clip converter software is the one that can work both as a YouTube converter and also comes with a YouTube clip cutting function.If you search online, you will find a lot of different softwares that will convert YouTube video to MP3 or MP4 files, but unfortunately, not all of them actually able to do what they claimed to. For this purpose, we've tested all of the available options and going to present the ones that we've found best for the job.
iTubeGo is one of the best YouTube clip converter software available right now. It allows you to download any YouTube video and adjust its format according to your requirements. You can convert YouTube video to m4a, avi, mov, mp3, mp4, and large number of other output formats.
This powerful YouTube clip downloader enables you to cut the video and audio as well. Install this desktop-based application and get professional results.
Download HD, full-HD, 4K, and even 8K videos effortlessly from YouTube.
Compatible with 10,000+ websites, including Facebook, Instagram, and others.
10 times faster as compared to any other software.
Convert online videos into various video and audio output formats.
Comes with built-in web browser and YouTube cutter to get a part of YouTube videos.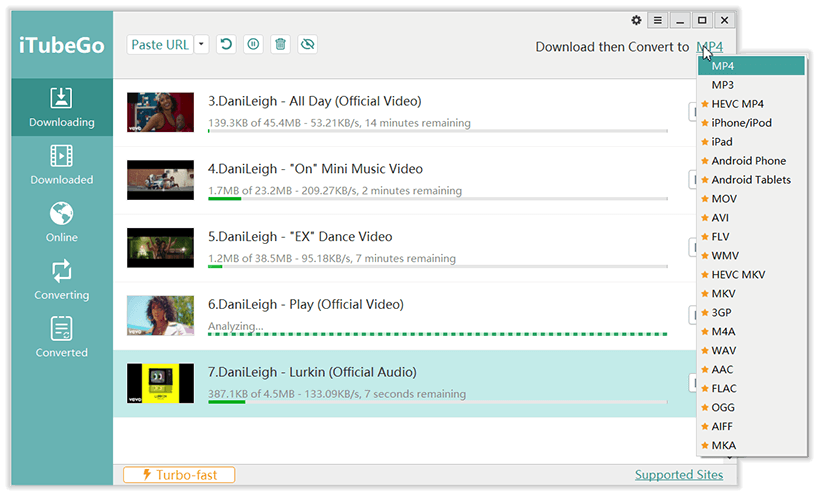 The following are the steps through which you can use iTubeGo YouTube Downloader to download YouTube video clip.
Once you have installed iTubeGo YouTube Downloader on your computer, the first that you'll need is to get a link of the video clip that you want to download from YouTube. For this, open the particular YouTube video page and copy the URL from the browser address bar.
Now launch iTubeGo YouTube Downloader on your computer and choose the format in which you want to convert your video. For this, head over to the Preferences section, where you can set download format i.e. video or audio and quality for the download.
After you've selected the desired settings, go back to the main interface and click the Paste URL tab, which will start the downloading process after processing the copied link.
When the downloading process gets completed, you can check the downloaded files in the Downloaded section of iTubeGo YouTube clip converter.
Pros
Cons

Supports HD, 4K, and even 8K video downloading without having any effect of the quality.
Many options available for the output formats.
100% safe and reliable to download unlimited videos.
Specially designed versions available for Windows and Mac users

It is a paid software, but comes at a very competitive price.
2) yt-dlandcut:
URL: Click Here
This is an open source code project on GitHub, which downloads and cuts YouTube videos by YouTube url and time range setting.
It is completely free.
Supports Linux and Windows.
Download YouTube videos with YouTube-dl and cut the downloaded video with FFMPEG.
Now, let's see how you can use this app to download videos clips from YouTube.
In the first step, you'll have to download the latest released version for your operating system (.appImage for Linux and .exe for Windows).
If you've recently installed the app and launching it for the first time or if required binaries are not found, it will download YouTube-dl and ffmpeg as per the operating system of your computer i.e. Windows or Linux.
Now, you have to enter the YouTube shortened or normal URL.
In this step, select the required starting and ending time for the YouTube video download.
Lastly, click on the Submit button to start the process.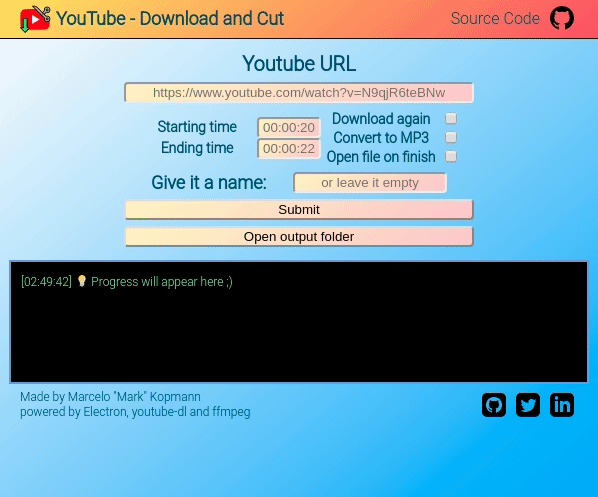 Pros
Cons

Free to use program.
The operation of this app is very simple and straightforward.
It also supports conversion of videos into mp3 file.
One of the very few software that are also available for Linux operating system.
3) VLC:
URL: Click Here
The original name of this software is Video LAN Client (VLC) and now it is known as a VLC media player. It is an open-source and free platform and a streaming media server, which also enables you to record and cut videos from YouTube. It is available for both desktop and mobile platforms. This media player supports many video and audio file formats including, Video CD and DVD video.
Open-source and free software.
VLC supports many video and audio formats.
Easy to include plugins with this program.
It can even support HD recordings.
Allow users to create the desktop shortcut.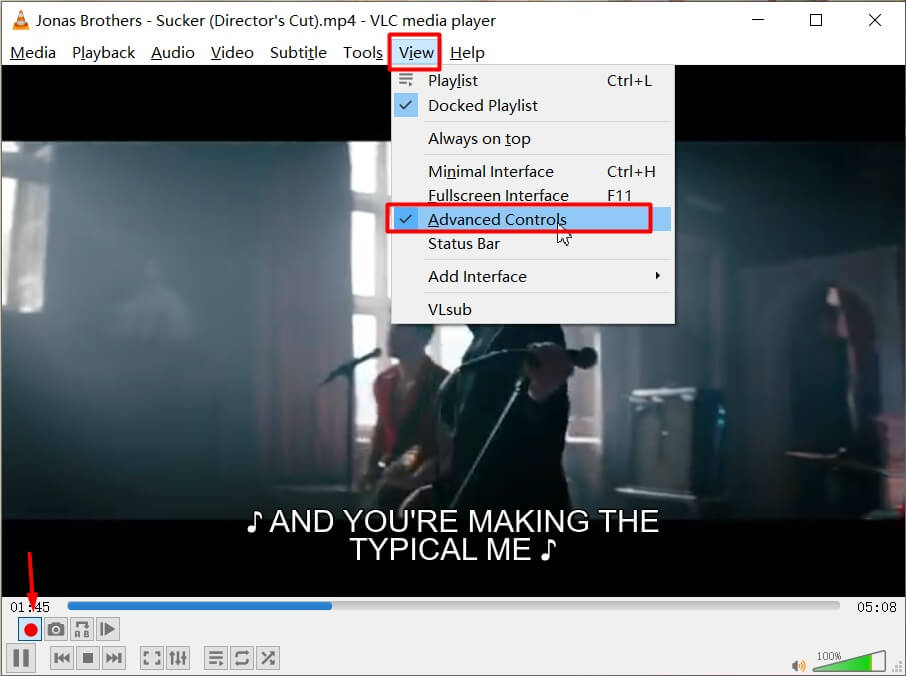 The following are the steps to record YouTube videos using VLC media player:
In the First step, you'll have to install VLC onto your computer.
After the installation, open the program and by using the menu bar, go to Media and open network stream.
Now enter the YouTube URL of the particular video and click the Play button.
Again coming to the menu bar, go to View and select Advanced Controls.
Then, recording buttons will start appearing above normal control buttons of the player.
After that, click the Record button and start playing the video. If you want more accuracy, you can move the video frame by frame using the "Frame by Frame" button.
When you've reached the ending point, simply click the Record button again.
Pros
Cons

As VLC is a freeware, you can use this feature for free.
It is compatible with many type of devices and operating systems.
Although it is a media player, but it is designed to perform many functions.
One of the very few software that are also available for Linux operating system.

Instead of downloading, it obtains the videos by recording.

As it is recording the videos, the quality is not very impressive.
It only supports 720p video resolution.
Online YouTube Clip Converter
What if you cannot install any program onto your computer, but still want download YouTube video clip? You don't need to be worry, as there are some one services that can do this for you. So, let's discuss two of the best online YouTube clip converters that can do the job without needing any installation.
1) Hashcut:
URL: Click Here
This is a simple online YouTube clip downloader that lets you make video clips directly from YouTube. Furthermore, You can share funny moments from YouTube on different social platforms like Twitter by using Hashcut online service. Some of the key features of Hashcut are the following:
It helps you get YouTube video clips through recording.
You can adjust the length of the video clip by moving or dragging the video timeline slider.
It offers various functionalities for video editing such as adding texts, emojis, stickers, etc.
You can simply save the edited YouTube video by just registering to an account.
If you don't have an account, you can still get a link to share the edited videos to different social media platforms.

After discussing some of the prominent key features, now it's the time to see how you can get YouTube clips using Hashcut online tool.
First of all, open Hashcut.com on your web browser and enter the URL of the particular YouTube video.
Then, drag the slidebar of the timeline and select the clip that you want to be captured.
After selecting the required clip, you can add text, emojis, and stickers in this step.
In the last, click the Save Hashcut button to save the edited YouTube video clip.
Pros
Cons

It is a free tool that enables you to get YouTube video clips of unlimited length.
The functionality of adding text, emojis, and stickers is very handy.
You can use this online tool on any type of device i.e. computer, mobile phone, tablet, etc.
It also offers a separate chrome extension, which is even more convenient to use.

It cannot download files to the local folder on your device.
Download videos with a watermark.
You need to login to an account in order to save clips.
2) Getfromyt.com
URL: Click Here
According to many users, it is the easiest online software available to download or cut audios from YouTube. This online software requires no registration. For using this online platform, you don't have to involve into the extra things, thus making it a straightforward service for cutting and converting YouTube video into mp3 format.
One of the Best online audio YouTube clip downloader services that requires no registration or installation.
Offers different audio clip cutting and merging services.
Able to convert YouTube clip into mp3 format.
Allow you to make a video as a ringtone.
Can also be used as an Audio cutter.

To use getfromyt.com for converting and cutting a YouTube clip, you need to follow these steps.
In the first step, open getfromyt.com YouTube clip converter webpage and enter the YouTube video link into the search box of the online tool. Then, click the SUBMIT button.
After that, set the starting and ending time of the video part that you want to download.
Once you've selected the starting and ending time, click the Cut icon.
When the cutting process has been completed, click the Download Now button to download the cropped part of a YouTube video into mp3 format.
Pros
Cons

Free online tool to convert or cut YouTube videos into mp3.
It provides fast crawling of YouTube videos.
This online service also offers services YouTube mp3 joiner.

Only supports to convert YouTube content into mp3.
Video downloading isn't currently supported on this website.
YouTube Clip Converter Chrome Extension
In addition to desktop-based software and online tools, there are several chrome extensions also available that can perform as a YouTube clip converter. We recommend VideoSegments here:
VideoSegments
URL: Click Here
If you are searching for an easy way to remove the unwanted or boring part of the video, then the Video Segment is the best option for you. It is available as a chrome extension. This chrome extension has so many settings like the colour scheme, hotkeys, and automatic filtering for any channel. It has a database of segmented videos. The main source code of this software is fully open and available on the GitHub.
Open source code file, which allows the users to participate in its development.
Comes with an interactive panel that makes the whole process very easy.
It has an adjustable colour scheme.
Allows you to cut the part of YouTube video and share it on different platforms.
Community-based segmentation with a database of over 15,000 segmented videos.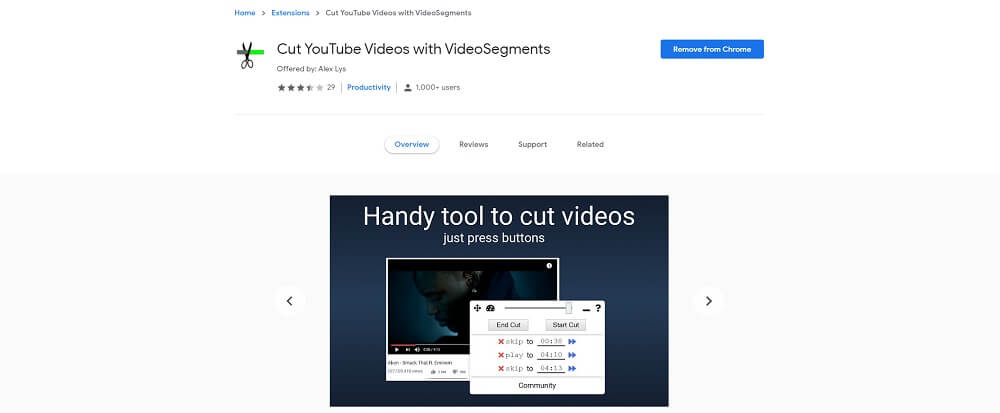 The following are the easy steps in which you can cut and share YouTube video clip using this chrome extension.
First of all, go to the Google chrome store and install this extension to your browser. You can simply click here to head over to its chrome webpage.
Now, open YouTube from your chrome browser and open the particular video page that you want to edit with this extension.
After you've opened the particular video page, turn-on the extension panel and set the starting and ending time to cut the video part.
Once you're done with the settings, click the "Share" button to share the cut part of YouTube video.
Pros
Cons

The edited videos with this extension have no watermark.
It is a free to use chrome extension.
Offers unlimited video duration for registered users.

It is only available for chrome browser.
Many restrictions for unregistered users i.e. limited video duration, not guaranteed review, only English videos supported, and many others.
It's a YouTube clip sharing tool, which is unable to download videos.
Comparison of YouTube Clip Converters
| | | | | | | | |
| --- | --- | --- | --- | --- | --- | --- | --- |
| YouTube Clip Converter | Cut YouTube Video | Cut YouTube Audio | Download YouTube | Convert YouTube | Share | High Quality | Rating |
| iTubeGo | ✓ | ✓ | ✓ | ✓ | X | ✓ | ⭐⭐⭐⭐⭐ |
| Yt-dlandcut | ✓ | X | ✓ | X | X | X | ⭐⭐⭐ |
| VLC | ✓ | X | ✓ | X | X | X | ⭐⭐⭐ |
| Hashcut | ✓ | X | X | X | ✓ | X | ⭐⭐ |
| Getfromyt.com | X | ✓ | ✓ | X | X | X | ⭐⭐⭐ |
| VideoSegments | ✓ | X | X | X | ✓ | X | ⭐ |
To Conclude:
Here, we've discussed different methods for how to download YouTube video clip just in seconds. We've shortlisted the top 6 YouTube clip converter that can work efficiently and better than other options available in the market. But we strongly recommend you to choose iTubeGo software. Not only it allows you to convert video in different formats and high quality, but also it permits the user to cut video and audios as well.
(Click to rate this post)
Generally rated 4.5 (215 participated)