There are a number of tools that you can use to download individual videos from YouTube easy and efficient but when it comes to downloading whole albums, the number of options is very limited. We'll introduce you to some of the best methods to download YouTube album with relative ease and efficiency. Generally the album download guides on the internet do not have sufficient information on how to separate the songs from one downloaded file into individual files. Luckily, you've ended up on the correct page today as we'll make this very easy for you.
In order to download album from YouTube, you need to have specialized software that can execute this action and that, my friend, is iTubeGo YouTube Downloader. Let's see what it is and how can it make downloading YouTube Album to mp3 all fun and games owing to its comprehensive UI and useful features.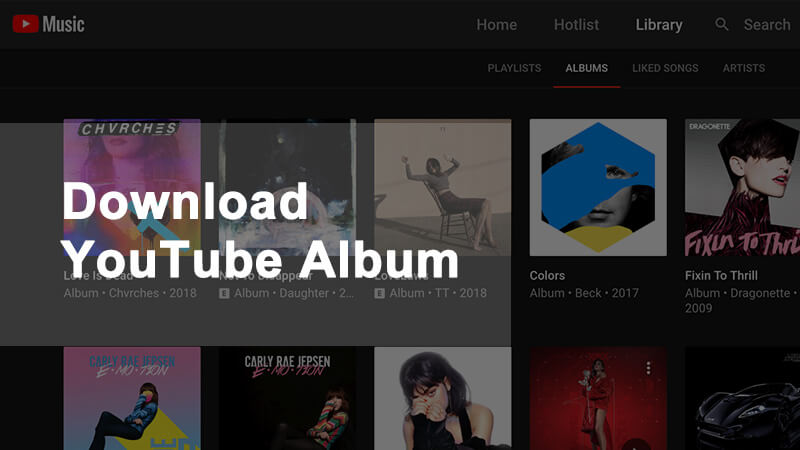 How to download album from YouTube
The tool required to download albums from YouTube is iTubeGo YouTube Downloader. This is one of the most amazing software designed to download audio and video content from any website on the internet. It has a lot of cool features.
Key Features
It can make it possible to download any YouTube playlist, channel, album or other collections with just single click.
It can convert YouTube content to MP3, MP4, WMV, AVI, and more than 40 formats.
It can download videos in resolutions all the way up to 8K and audio files in the highest available bitrate.
It supports multitasking download that makes it possible to download multiple videos at once.
It supports more than 10,000 websites and can download videos from them.
It has a turbo-fast mode that speeds download up to 10X faster than normal download rate.
Steps to download full album from YouTube
Coming up next are the easy steps to download full albums from YouTube using iTubeGo YouTube Downloader.
Step 1

Get the latest iteration of iTubeGo YouTube Downloader

First of all, head to the iTubeGo and download the newest edition of iTubeGo. You can download it as per your operating system from the following link, then and install the software to enjoy unlimited downloading of YouTube albums.
Step 2

Get link of the album you want to download

Now, head over to the YouTube music album in a web browser and copy the link of the album from the address bar. The link would look like this "https://www.youtube.com/playlist?list=xxxx"
Step 3

Set preferences

Now run iTubeGo album downloader and click on Preferences or Settings section. Here you can select the Download Format and the Quality. Choose mp3, mp4, m4a, wav, avi or others. Here, you can also turn on the turbo-fast mode to speed up your download as you are downloading a large file.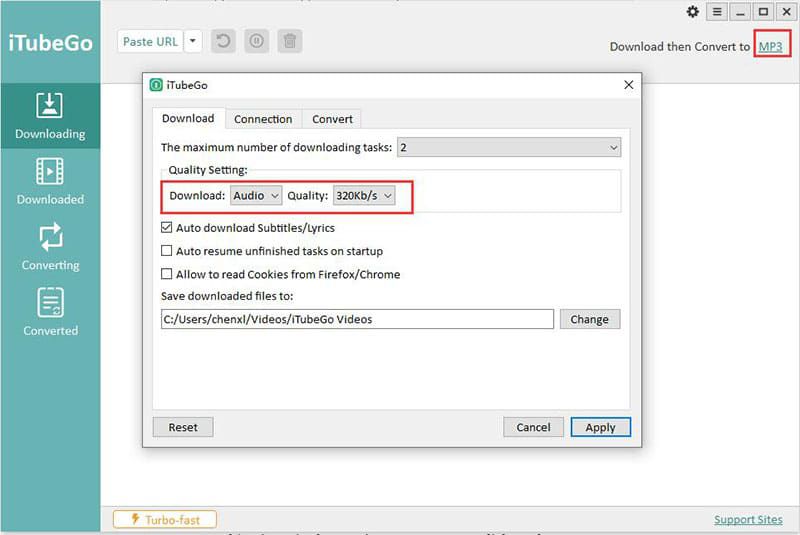 Step 4

Paste URL to download

Click on the Paste URL button in iTubeGo and the download will automatically start and the album will be downloaded to your device.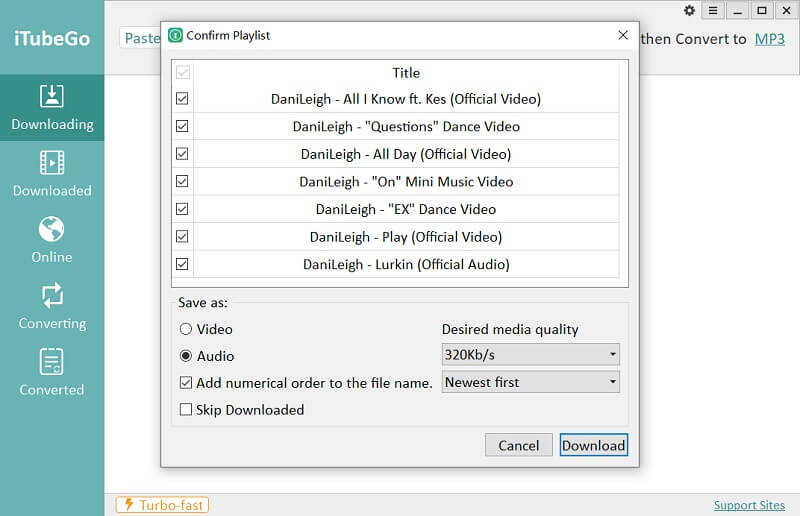 Step 5

Download YouTube Album

Once the files have been downloaded, you can simply access them from the Downloaded section of the iTubeGo software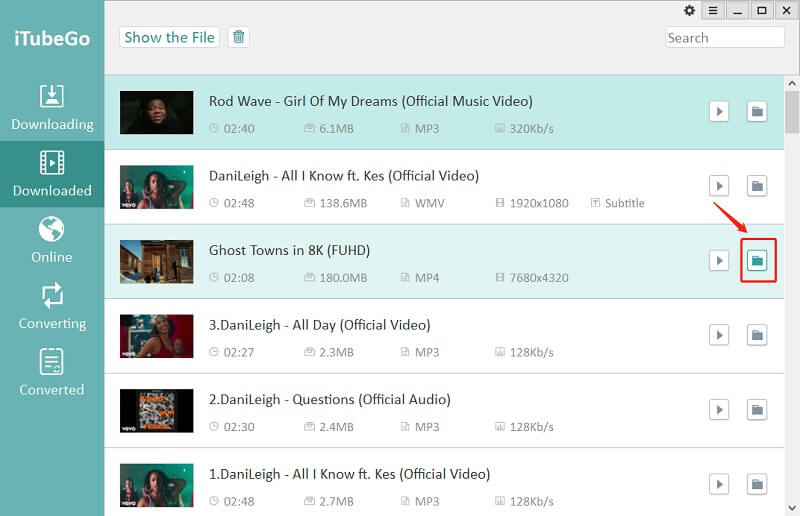 How to Download and Separate a Music Album into the Individual Songs?
If an album contains multiple songs in one file, then you'll need to use the YouTube mp3 cutter tool to cut each song from the album and save them as separate file. The link in this case will look like this: "https://www.youtube.com/watch?v=2ecHlP1AVYs"
To download and save music album into the individual songs, you have to follow the below mentioned steps.
Step 1

Download Album File with iTubeGo

First of all, you have to download full album file using the method described above.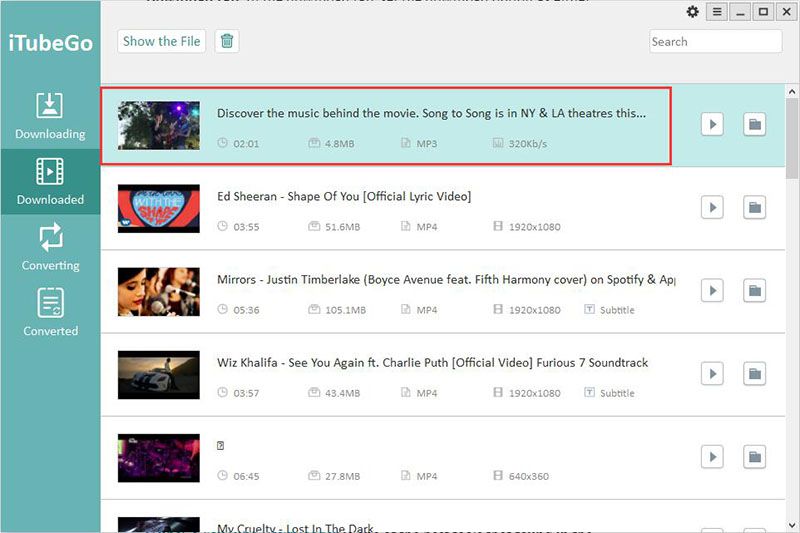 Step 2

Open an MP3 cutting tool

Now, you'll need mp3 cutter tool to convert album songs into individual files. For this, go to https://mp3cut.net/ and upload the file you have just downloaded with iTubeGo.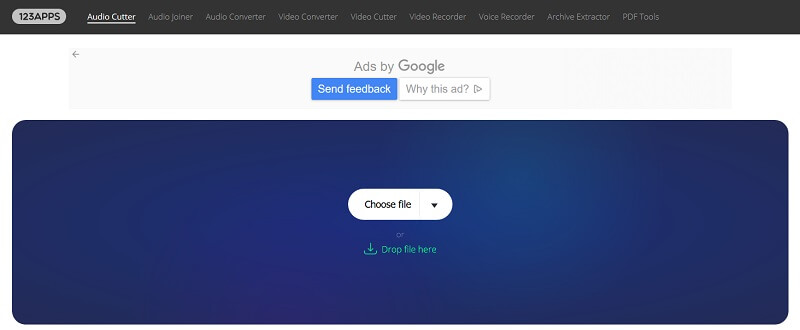 Step 3

Specify cutting locations

Enter the starting and ending point of each song that you can get from the YouTube video description.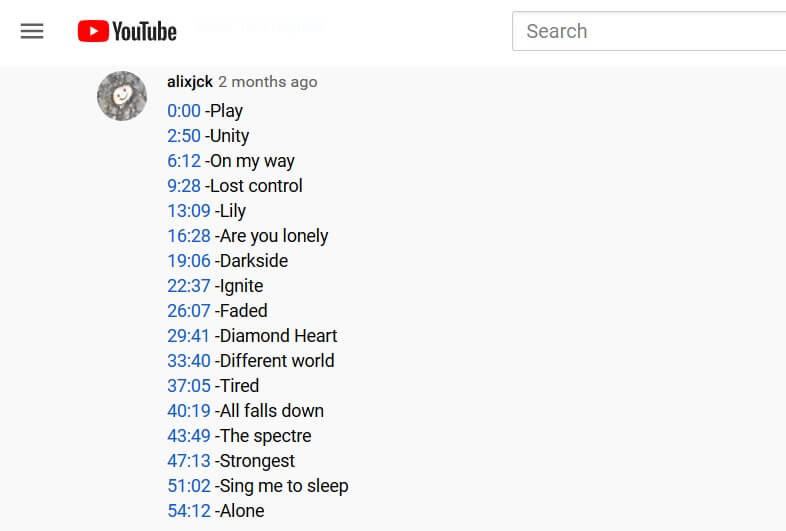 Step 4

Cut and save the songs

Click "Cut" button and it will start saving the songs as separate files.

To Conclude
Downloading an album from YouTube, song by song, is a laborious job. iTubeGo YouTube downloader provides a good method of doing the same effortlessly. Just enter the link of the album to iTubeGo and it will download the songs in minutes. And MP3 cutter will cut the file into separate songs and save them to your computer.
(Click to rate this post)
Generally rated 4.5 (215 participated)