Humanity has never had a collection of videos as big as YouTube. You can find anything you need on this platform including music videos. The trouble with YouTube is that it does not allow you to download the videos. It is possible to save videos on YouTube mobile apps on Android and iOS, but you have to pay around $10 monthly to avail this service and you cannot access the saved videos from outside the app. We have a YouTube to OGG convertor that can be used to save YouTube videos in OGG format. Here we are about to explain for you can be used to convert YouTube to .ogg in the most efficient way.
How to Convert YouTube to ogg
iTubeGo YouTube Downloader is a multipurpose downloader that works with almost every website on the internet that hosts audio/video content. It features high download speed, reliable connection, and full privacy. You can download videos and convert them to Ogg, MP4, MOV, AVI, MKV, FLV, 3GP, MP3, M4A and many other formats. iTubeGo supports 8K resolution downloads and can also be used to extract audio from YouTube videos. Let's take a look at the download process for converting a video from YouTube to OGG using iTubeGo. Before starting the download process, you need to download and install this software. Simply download iTubeGo YouTube Downloader from the following links.
Download Process for iTubeGo YouTube Downloader
Here's a step-by-step guide on how you can download YouTube to OGG using iTubeGo. The steps are simple and easy to execute.
Step 1 Get the Video URL from YouTube
The first thing that you need to do in order to download a video from YouTube to OGG using iTubeGo is to have the unique identifier of the video known as the URL. You can get the URL by opening YouTube in your web browser, going to the video and copying what appears in the address bar.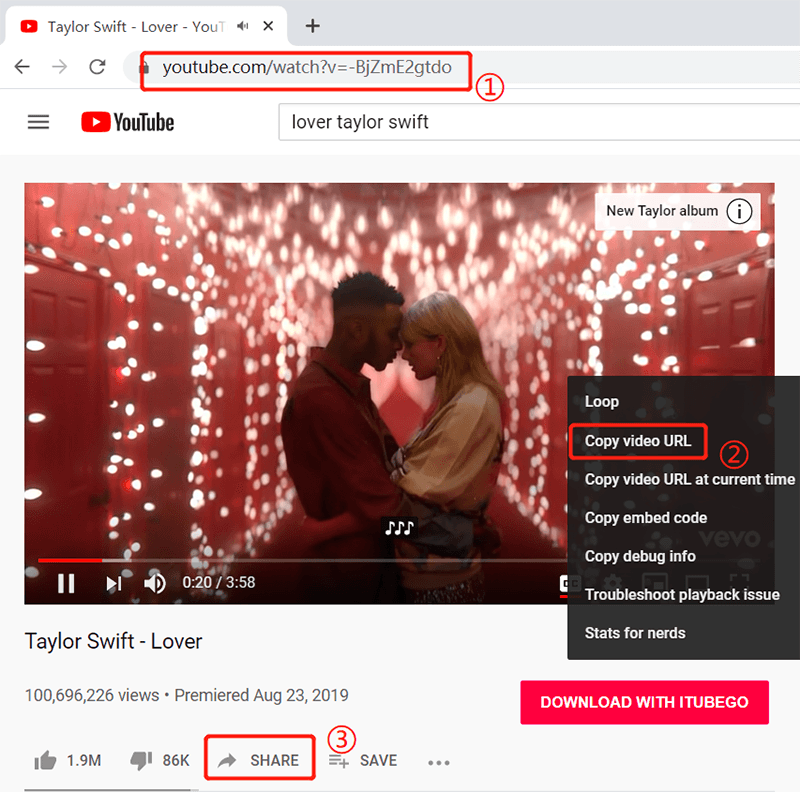 Step 2 Open iTubeGo
Once you have copied the link to the desired video to your clipboard, open the iTubeGo software and you'll land on the main screen of the interface.
Step 3 Select the Desired Format
Before you actually download a video using iTubeGo, you need to tell the software in what format and quality you want to download. For this purpose, click the "Download then Convert to" option located on the main interface just below the settings button. After clicking, you'll see a list of different formats, select OGG.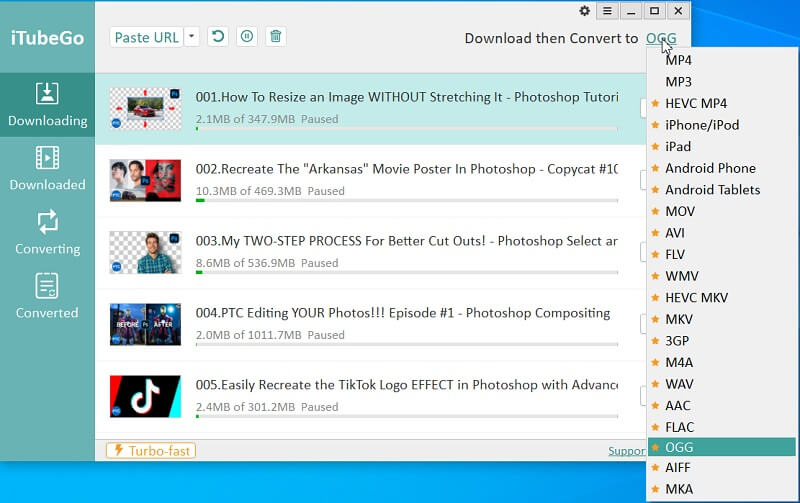 Then, from the main screen of the interface, go to the Preferencestab. Here you can set the further parameters of the video you are about to download. You can set the quality and select the destination where you want the video to be saved.
Step 4 Enter the Video URL
Click on the "Paste URL""" button on the interface and the URL will be automatically added to the downloader.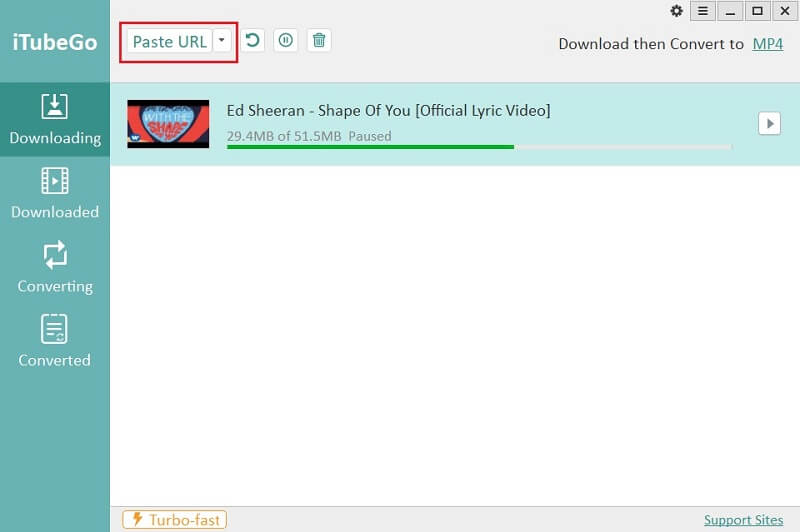 Step 5 Download YouTube Video
After the URL is entered, the video will start downloading automatically according to the parameters you set in step 3. You can access all the downloaded videos in the Downloaded section.
YouTube to OGG Online Converter
There's a website that can help you perform the process online without having to download or install anything on your computer. To use this free tool, you need to go to this link. The download process is fairly simple. Let's have a look at how this tool can be used to convert YouTube to OGG.
Steps to Convert YouTube to OGG Online
Step 1 Get the URL
First of all, you need to have the URL of the video. Open the video on YouTube and copy the url from the address bar.
Step 2 Go to savethevideo.com
Open savethevideo.com to start the download procedure. On the top of the page, you will see a URL entry bar. Enter the Copied URL in the bar to start the download.

Step 3 Download
The webpage will detect the video and offer you the choices of format and resolutions. Select .ogg and it will be saved to the default download location of your web browser.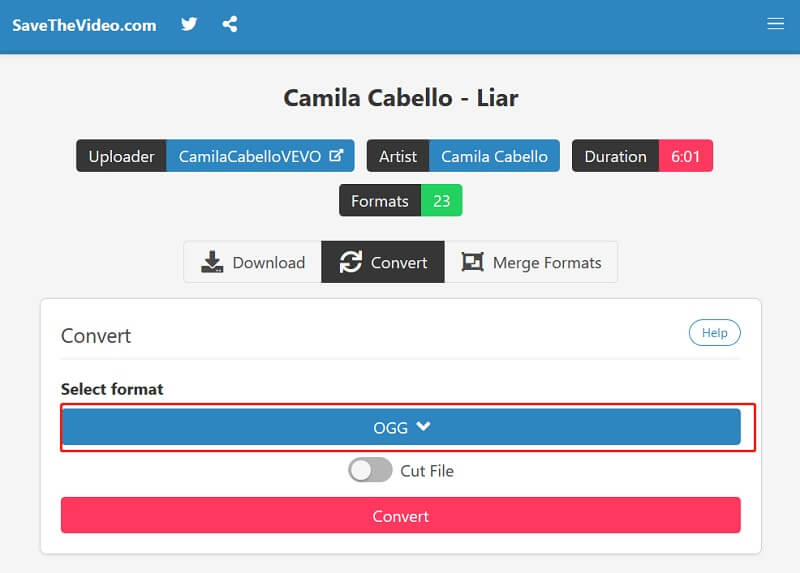 iTubeGo YouTube Downloader vs. Online Download Tool
iTubeGo is a software tailored to provide premium quality of service. The experienced team of developers at the backend works tirelessly to make sure the users face no problems using the software. The online tools, on the other hand, are developed as a free platform. If you are not willing to pay $29.90 for iTubeGo then the free software is for you but be ready to face unexpected breakdowns, wasted downloads due to connection instability, and a lot of ads. Here's a one-on-one comparison to make it clear for you how the online download and conversion tools stack up to iTubeGo.
| | | |
| --- | --- | --- |
| Features | iTubeGo YouTube Downloader | Savethevideo.com |
| Ads | Totally Ad-Free | Contains annoying ads |
| 3 Videos Tested | All Successful | Format conversion is slow and occasionally fails |
| Download Resolution | Supports HD, full HD 4K and 8K video download | Maximum output resolution 720p or 1080p without audio |
| YouTube Playlist Download | Can be used to download an entire playlist with one command | Doesn't support playlist download |
| Format | 20+ formats: MP4, MOV, AVI, Ogg, MKV, FLV, 3GP, MP3, M4A, WAV, MKA, etc. | Lesser format options limited to MP4, MP3, M4A, FLAC, WAV, AAC, OGG, FLV, MKV, AVI |
| Supported Sites | More than 10,000 supported sites | Claims to support 1,000 sites but fail at many common sites |
| Download Steps | Just Copy and Paste URL for video or playlist after a one-time installation | Copy and paste URL for every video |
| Download Speed (Out of 5 Stars) | 4.8 | 4.5 |
| Other Features | Can be used to Download Subtitle, Has 10X Faster Download Speed, Turbo-Fast Mode for astronomical download speeds, 100% Secure and private | No additional features |
Final Thought
iTubeGo YouTube Downloader is a best tool to download videos from more than 10,000 websites including YouTube. Other options for downloading YouTube to OGG include online conversion and download tools. These tools are not efficient at all and are prone to frequent breakdowns. If you are looking for something reliable and dependable for downloading YouTube to OGG, iTubeGo is what you need.
(Click to rate this post)
Generally rated 4.5 (215 participated)