YouTube is the home to a lot of music videos that you can listen to online but cannot download directly, as YouTube doesn't allow that. There are some tools that can be used to convert YouTube to FLAC format. FLAC, aka Free Lossless Audio Codec, is a high-quality audio format that stores audio files in lesser space without compromising the quality.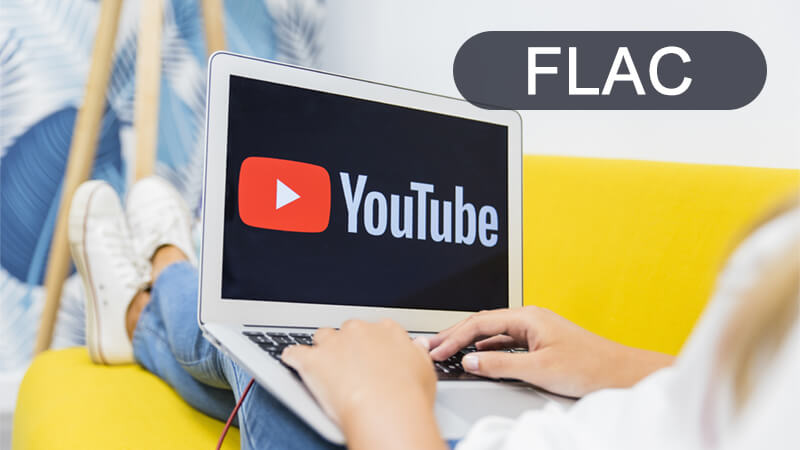 How to Convert YouTube to FLAC
iTubeGo YouTube downloader is the singular solution to all your YouTube downloading needs. It can be used to download audio and video media from more than 10,000 websites. It can be used to download entire playlists with a single command and is capable of downloading content at astronomical speeds. It supports all video formats including MP4, MOV, AVI, MKV, FLV, 3GP, MP3, M4A, WAV, MKA, and FLAC, and can download videos in resolutions as high as 8K. It is, without a doubt, the best YouTube to FLAC converter that you can get. You can free download iTubeGo YouTube downloader from the following links.
Using iTubeGo to convert YouTube to FLAC:
Let's have a detailed look into the downloading and conversion steps using iTubeGo.
Step 1 Get the video URL
The first thing you need to get the URL of the video. For this, go to YouTube and open the required video. When the video is playing, you can copy its URL from the address bar of your internet browser.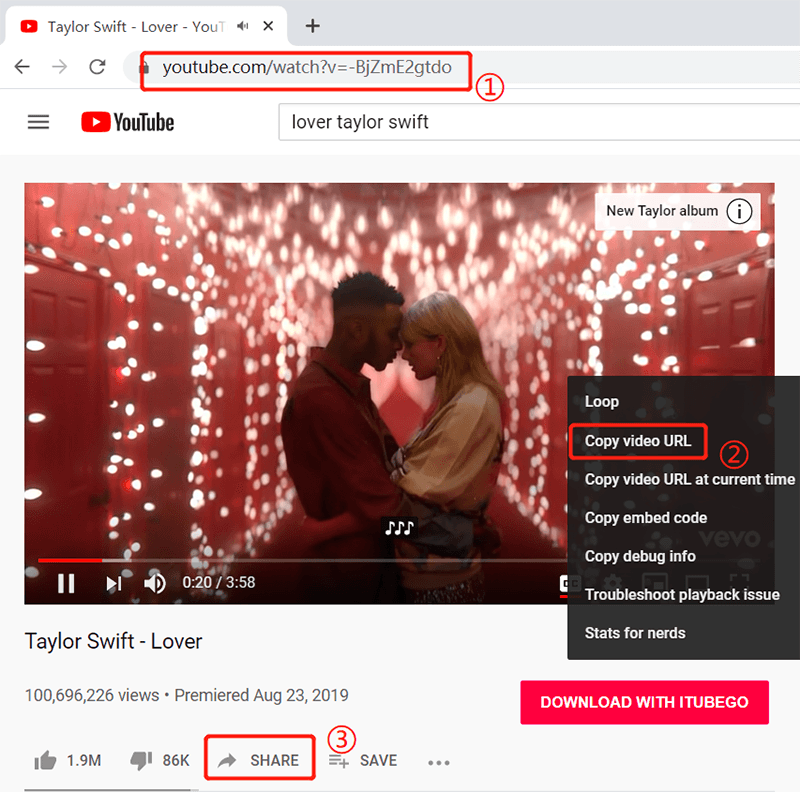 Step 2 Launch iTubeGo and select the format
If you want to download file in FLAC format, you need to select FLAC from the "Download then Convert to" option located at the top right side of the main interface. Afterward, you can change other settings from the Preferences tab in iTubeGo. You can also set the quality of the output file as well as the destination folder where you want to save the file in this menu.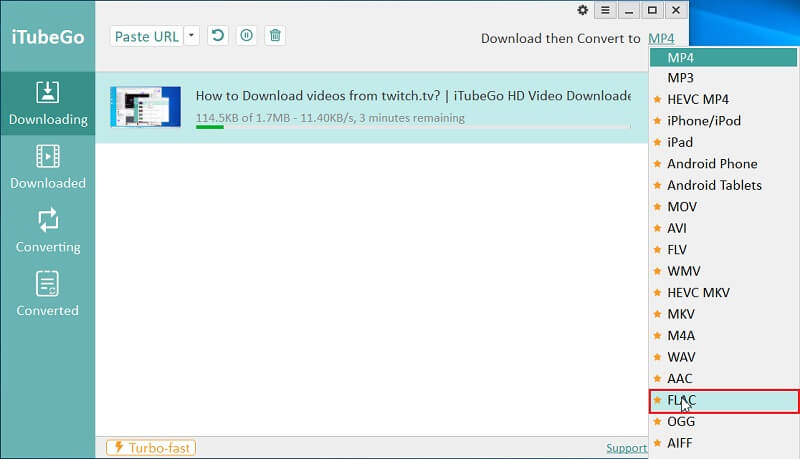 Step 3 Enter the Video URL
Just click the Paste URL button in iTubeGo to enter the video URL and start the download process.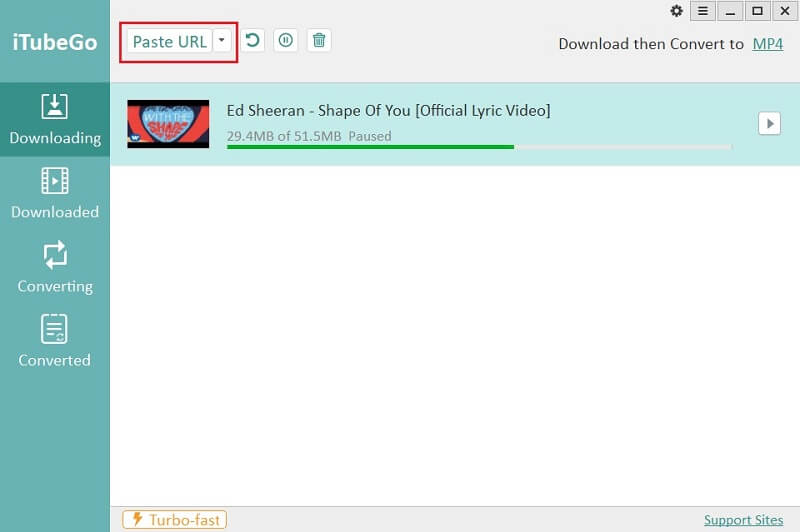 Step 4 Download YouTube Video in FLAC format
After you have completed all the above steps, the download will start automatically and the audio will be saved in the folder you have selected.
Note: Convert Offline Files
iTubeGo YouTube Downloader comes equipped with a media converter, which can make it possible for you to convert local media from your PC to any format like MP4, MOV, AVI, MKV, FLV, 3GP, MP3, M4A, WAV, MKA, and FLAC.
Best YouTube to FLAC Online Converter
You can download YouTube videos into FLAC or other formats using Catchvideo.net. It is a free website that can be used to download YouTube videos. It offers downloads in a maximum of 720p full HD resolution or in audio formats. It doesn't support playlist downloads and if the connection gets interrupted during the download process you need to start all over again. Another downside of this free platform is that it shows a lot of annoying ads some of which don't go away even with an adblocker.
Converting YouTube to FLAC using Catchvideo.net
Step 1 Get the URL
Similarly, you need to get the YouTube video link first.
Step 2 Go to catchvideo.net
With the URL copied, open catchvideo.net in your web browser.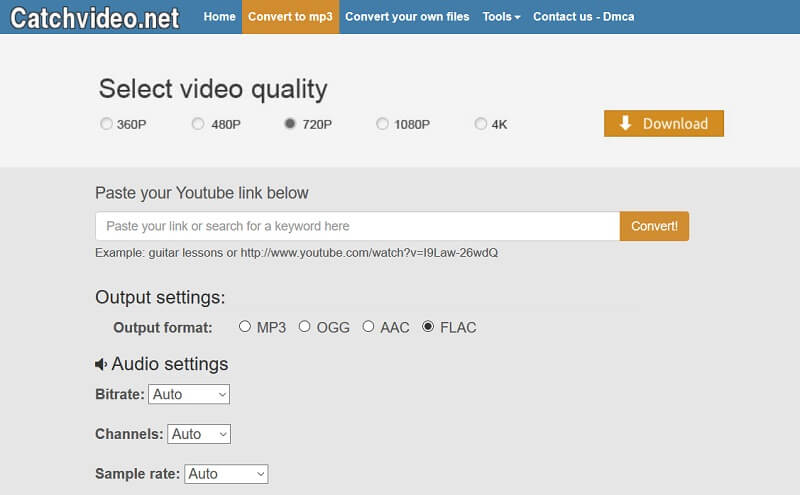 Step 3 Enter URL
On the top of the page, the downloader will show a bar to enter the URL. Paste the URL in that bar and click on the "Convert" button to the right side of the bar. This will load the video and available download options.
Step 4 Download
Download the quality and format of the video of your preference by clicking the "Download" button appearing next to all the download options.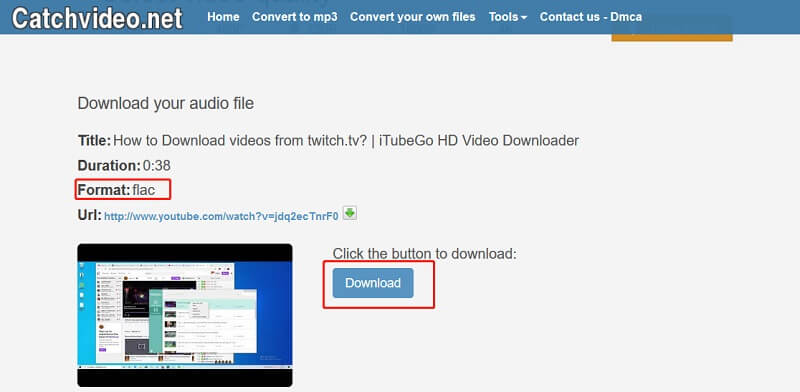 Side-by-Side Comparison between iTubeGo and Online FLAC Converter
Most of the online download tools do not allow the option of downloading videos directly to FLAC format. You need to download the files in MP3, M4A, or WAV and then convert it to FLAC. This procedure is not only very slow but is also a very complicated one. iTubeGo, on the other side, offers you the luxury of downloading and converting videos directly to your desired format and quality with a single command. Using the software, the quality of the downloaded file is also not compromised and you get the best results.
| Features | iTubeGo YouTube Downloader | Online YouTube to FLAC Converters |
| --- | --- | --- |
| Supported Websites | More than 10,000 sites with audio/video content | Only support YouTube, Facebook, Dailymotion, Vimeo |
| Download YouTube Playlists | Download an entire playlist or channel in one command  | No, you'll have to individually download all the videos |
| Output Formats | MP4, MOV, AVI, MKV, FLV, 3GP, MP3, M4A, WAV, MKA, FLAC… | Lesser options, only MP4, M4A, MP3 OGG AAC FLAC |
| Video Quality | Full HD, 4K, 8K | Up to 720p, 1080p videos are downloaded without the audio |
| Download Success Rate | Download virtually every video effectively 100% success rate | Videos with copyright audio like the ones from Vevo can't be downloaded |
| Download Speed | Super-Fast | Okay |
| Network Connection Error | Resumes Download | Download fails and needs to be done again |
| Ads | No Ads | A lot of annoying ads |
| Price | $29.95 | Free |
| Support | Free lifetime updates and customer support | No customer support |
Conclusion:
You cannot download content directly from YouTube but some third-party software allows it. iTubeGo YouTube Downloader is, by far, the best option to download and convert YouTube videos to FLAC. It is fast, convenient, and free of ads. You can also use it to convert files from your device among a large number of formats using iTubeGo's built-in convertor.
(Click to rate this post)
Generally rated 4.5 (215 participated)