Spotify is one of the leading streaming music services, and it hardly needs an introduction because we all know how it works, and we have all used it at some time. One of the options that Spotify allows is to rely on a premium account that lets us download Spotify songs to listen to them offline, without the need for coverage or Internet connection. But beyond this online option, how to download music from Spotify from your computer to have the files whenever and wherever you want? Let's find out today.
Official Ways to Download Music from Spotify
How to Download Songs on Spotify on iPhone or Android
Step 1 Currently, only Spotify premium users can download songs for offline use. If you already a premium user, turn on the mobile data or Wi-Fi connection.
Step 2 Open the Spotify app and log in to your account with your credentials.
Step 3 Now tap on the Your Library menu at the bottom of the screen.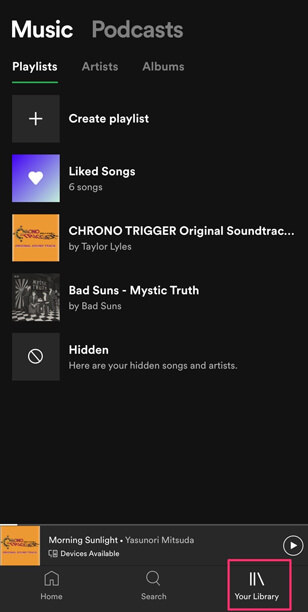 Step 4 Then tap on the Playlists from the left menu if you are an Android user or top of the screen if you are an iPhone user.
Step 5 Select the playlist that you want to download and select the songs to be downloaded. Instead, if you choose albums, select the album that you want to download.
Step 6 Turn the Download switch to on from off in the top right corner of the screen. Then it starts to download the selected songs to your device.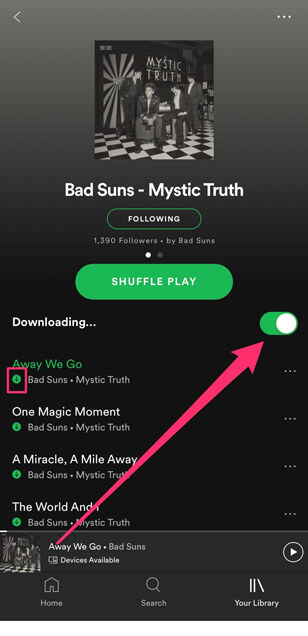 How to Download Songs on Spotify on Computer
Step 1 Like mobile downloading, you must have a premium membership to download from the PC.
Step 2 Double click on the Spotify icon and log in with your credentials.
Step 3 Select Playlists on the left side of the window and click on the playlist that you want to download. From the desktop version, you can't download albums.
Step 4 Now tap on the grey color Download switch to on. The songs in the playlist will start to download. Once the download finishes, you can see a downward arrow icon next to the song.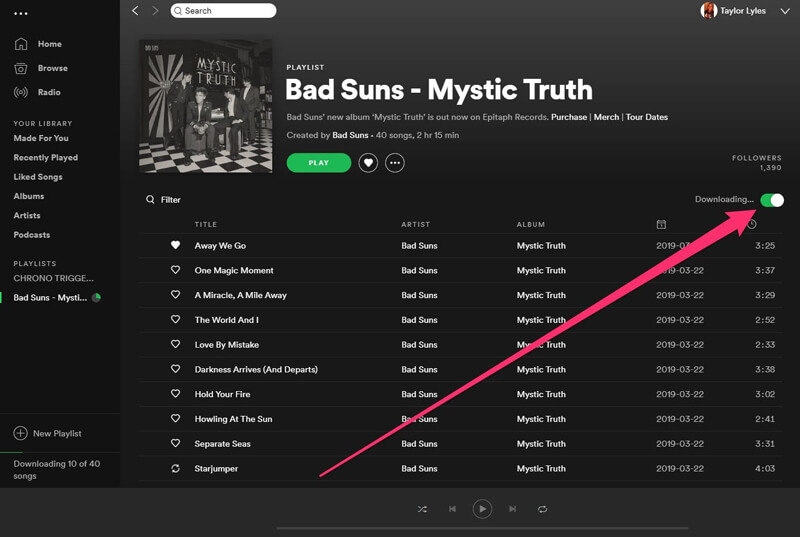 How to Download Music from Spotify Without Premium
How to Download Music from Spotify to Computer
Musify Music Downloader is one of the music downloaders to download Spotify music without requiring a premium account. It supports more than 1000 music-sharing websites, including YouTube, Spotify, Facebook, SoundCloud, Instagram, etc., without losing the quality. Apart from being a downloader, Musify act as a music converter. Unlike other downloaders, you can download the entire playlist and albums at once with a 10x faster downloading speed. All the ID3 tags can be saved, including genre, title, author, etc.
You can download this music downloader from below link:
Key Features
Supports various output formats such as MP3, MP4, WAV and more.
Downloads the entire playlist with one click.
Easy batch Conversion.
Keep all ID3 tags information which helps you to maintain songs in an ordered manner.
Convert online video to music file from video streaming sites.
Lyrics can be downloaded with different languages.
How to Download Spotify Songs on PC/MAC
Step 1 Get the URL from Spotify
Navigate to Spotify, browse your favorite track or playlist, and copy its URL.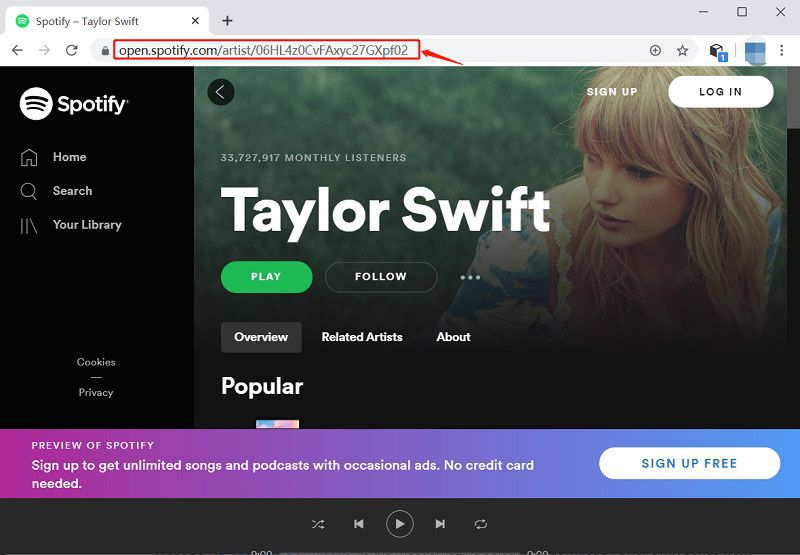 Step 2 Change Musify Settings
Open the installed Musify software and go to preferences, and set the output format as MP3 in our case.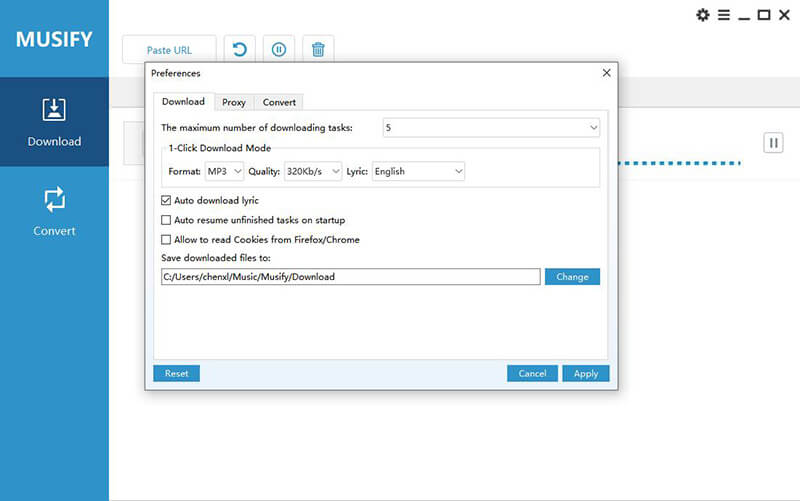 Step 3 Start Downloading
Paste your Spotify URL to start download Spotify to MP3 automatically.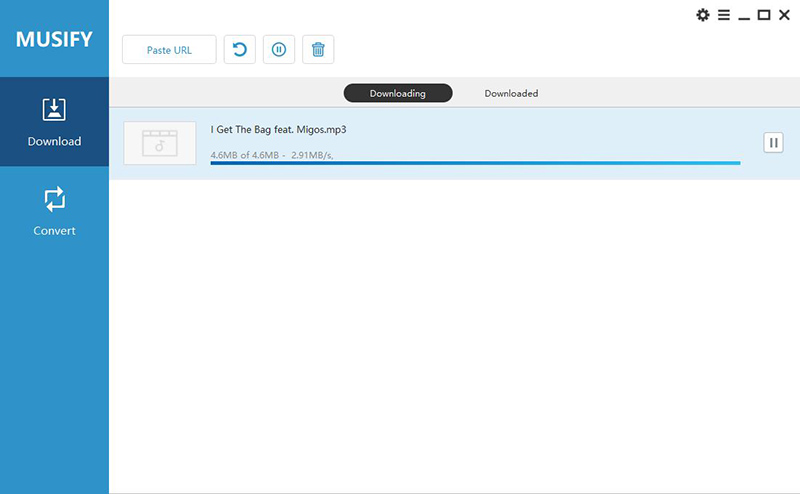 Step 4 Enjoy the Music
After the download completes, you can find the converted files in the download folder of your device.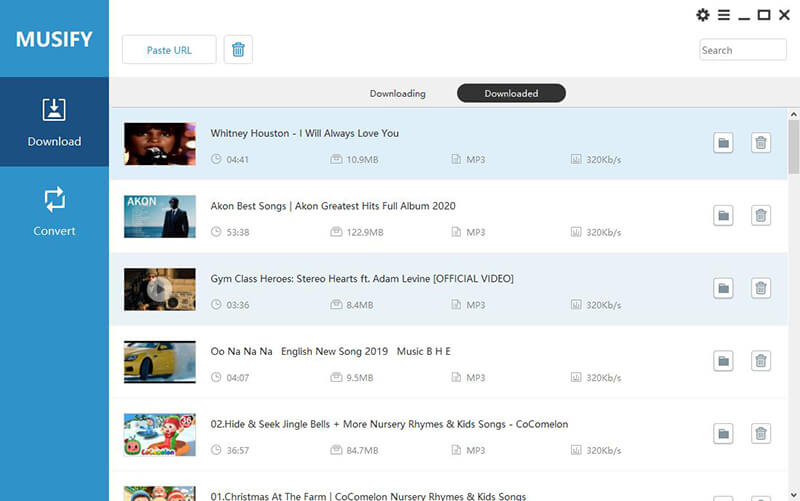 How to Download Music from Spotify on Android
iTubeGo for Android is an HD/4K Spotify music downloader that allows you to download MP3 in different qualities. iTubeGo built-in converter can convert your media to MP3 format in seconds.
Step 1 Download and Install iTubeGo for Android
iTubeGo is compatible with all most every Android version. The first thing is to download and install the iTubeGo into your Android device.
Step 2 Open the iTubeGo for Android
Once the app is installed on your device, open it to start downloading the video. Once you open the app, you will see a set of video streaming sites that support iTubeGo.
Step 3 Get the Spotify Song Link
Go to Spotify and copy the song link by using Share option. Then you can choose iTubeGo for Android App and go to its interface.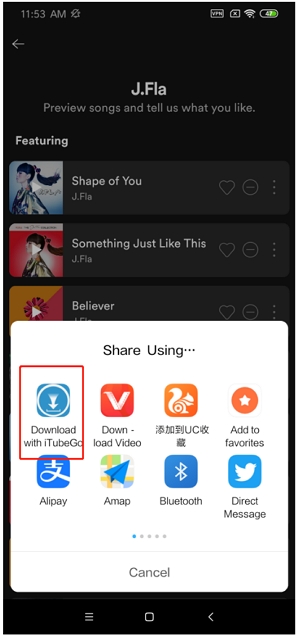 Step 4 Set the Format
Once the song url is pasted, you should set the format of the songs. In our case, we put it as MP3.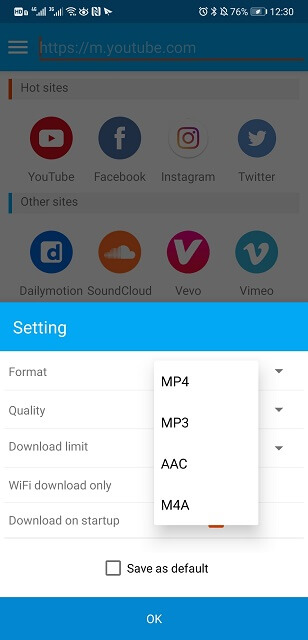 Step 5 Download the Spotify Music
Once everything is set, click on the download button to download the playlist into your device.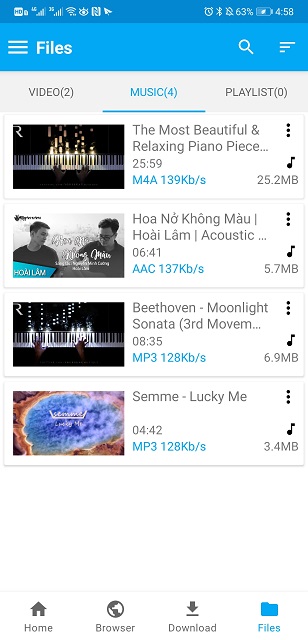 How to Download Spotify Songs on iPhone
Step 1 Download and Install Documents by Readdle
To download Spotify music on your iPhone, you have to go to the App Store and download and install the Documents by Readdle app. Once it installs, open it.
Step 2 Open the Document's Built-in Browser
After installing the Documents by Readdle app, then open the built-in browser and search for the 4hub.net. Once you reach the 4hub.net homepage, you can use it to download the Spotify MP3.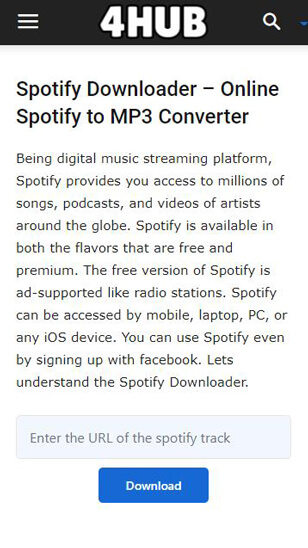 Step 3 Copy the Spotify Music URL
To start the download, you need to have the video URL copied to your clipboard. For that, head-on to Spotify.com and find a suitable video to download. Once you find that, copy its URL and return to 4hub.net and paste it in the search bar.
Step 4 Download the MP3
After pasting the link, the online downloader will automatically analyze the link, then you can click on the Download button, and it will be download to your Document app Download folder. You can move this downloaded song to your iphone camera.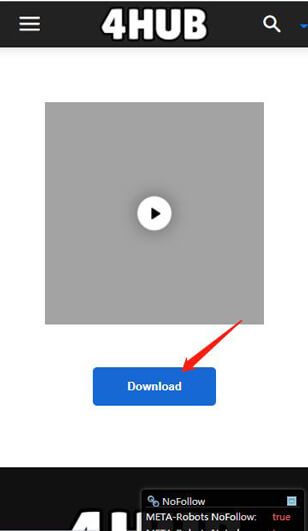 The Final Verdict
It's now easier to download from Spotify than earlier with the introduction of different tools and methods. With these methods, even a free user can download and listen to Spotify music offline. Hence, iTubeGo plays a significant role in providing exceptional service to download Spotify for offline use.
(Click to rate this post)
Generally rated 4.5 (215 participated)