You may have heard a lot about SoundCloud. It is quite famous where DJ's upload their remixes to get exposure from the audience. There is another music streaming service that you may not know of; Mixcloud. Mixcloud was in the shadows but now has stepped out and is competing with SoundCloud. They both are audio streaming services where artists and DJ's upload their songs and remixes.
Mixcloud VS SoundCloud
You may be a thing of choosing on the platform to listen to songs. You may be confused between the two as to which to go for. Today we will list out all the differences, pros, and cons of these two audio streaming services.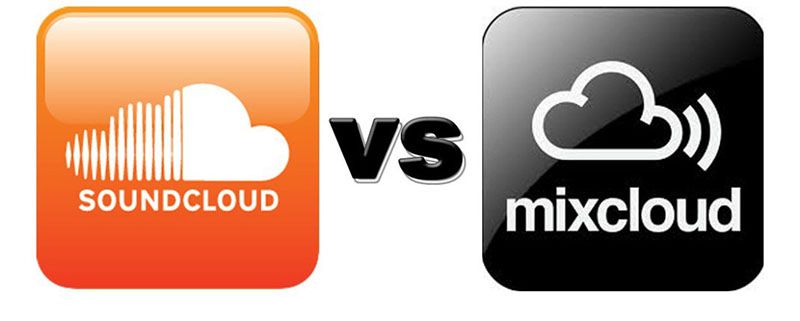 So, let's get into it.
Let's start basic. Mixcloud is targeted towards DJ's and radio hosts. You are allowed to publish mixes, remixes, etc. Mixcloud restricts you from uploading single tracks, mashups, and full-length tracks.
On the contrary, you are allowed to upload playlists, single tracks, mashups, and complete albums on SoundCloud. There are no copyright restrictions on it.
Both Mixcloud and SoundCloud are available on Web, Android, IOS, and Desktop, but SoundCloud can also be used on windows phone and Sonos.
SoundCloud has a large, extensive, and diverse user base with thousands of artists uploading their content each day. It is very well known. Whereas Mixcloud has a small user base, and it is not really known by many people.
Both of them are partially free, meaning they require payments to fully utilize their features. SoundCloud has a free plan audio quality of 64kbs ACC+, whereas Mixcloud has premium and pro memberships. The paid audio plan in SoundCloud includes audio quality of 256kbs ACC.
SoundCloud gives you a free analytics tool to analyze all your likes, followers, watch time, reposts, downloads, etc. Pro account holder on SoundCloud can also view their prime followers along with the countries in which their songs are listened to.
On the other hand, you need to upgrade to the pro account in order to access analytics on Mixcloud. With a free account, you can't view the analytics. In the Mixcloud dashboard, you can see the location of visitors, number of visitors, engagement graphs, etc.
SoundCloud allows only 100 downloads for a free account, 1000 downloads for a premium account, and unlimited downloads for a pro account. So, the offline mode is partially free in SoundCloud. On the other hand, Mixcloud does not allow you to download songs at all. Even with the premium membership, you just can't download the songs.
Now that we have the differences out of the way let's have a brief look at the pros and cons of each streaming service.
1. SoundCloud
Pros:
Extremely popular
Gives recommendations based on the music you're listening to
Songs can be downloaded.
You can subscribe to artists.
It has a creative commons filter.
It is free to use
Neat and clean user interface
You can follow people with similar tastes.
You can upload it in any audio format.
It has an explore tab with new songs every day
You can upload from Ableton live
Cons:
Only free for the first 2 hours
It only allows limited downloads.
It requires membership after 2 hours.
The interface is buggy sometimes.
Many contents get removed due to copyright strikes.
There are in-audio ads.
You can't do an advance search
2. Mixcloud
Pros:
It is entirely free.
It has wide and diverse content
It has a user-friendly interface.
Proper use of widgets and trendy design
Not very popular but it is growing rapidly.
Great sound quality
It has a large size limit for a single upload.
It pays royalty to artists.
You can upload in many audio formats
Cons:
You can't download mixes
The analytics tool can be accessed by paying.
There may be unexpected data charges.
You can't upload single tracks
There are ads even in paid pro account.
How to Download Music from Soundcloud or Mixcloud
The primary drawback they both have is that they don't allow you to download music from their app for free. This may be a big issue if you listen to online songs. We have the solution to your problem.
Introducing iTubeGo. With this software, you can download SoundCloud music for free, or from Mixcloud and any other audio streaming service. The process is seamless and secure.
Step 1 Download and install iTubeGo.
Step 2 Start by copying the URL of the song from SoundCloud.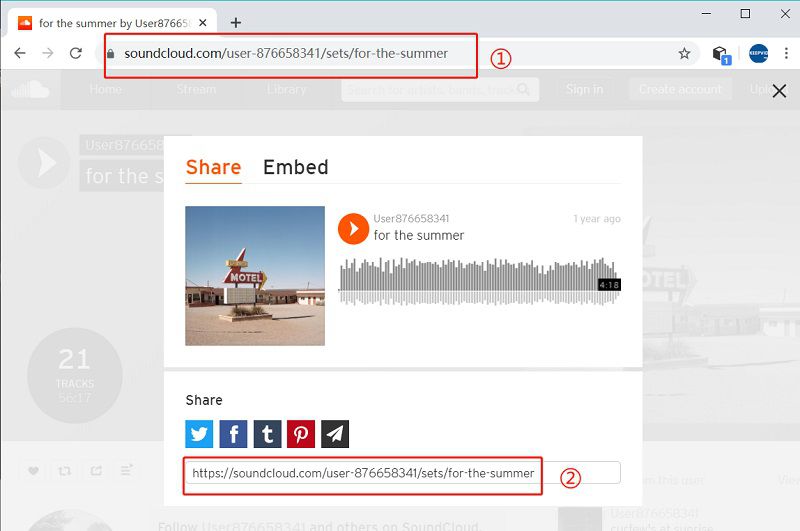 Step 3 Open iTubeGo, then select your desired output format as MP3.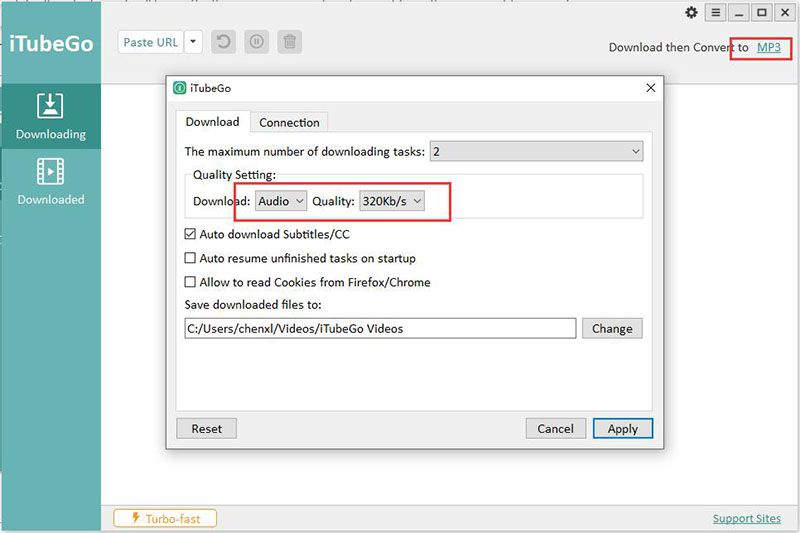 Step 4 Click on Paste URL button on the top left, then the song will begin to download automatically.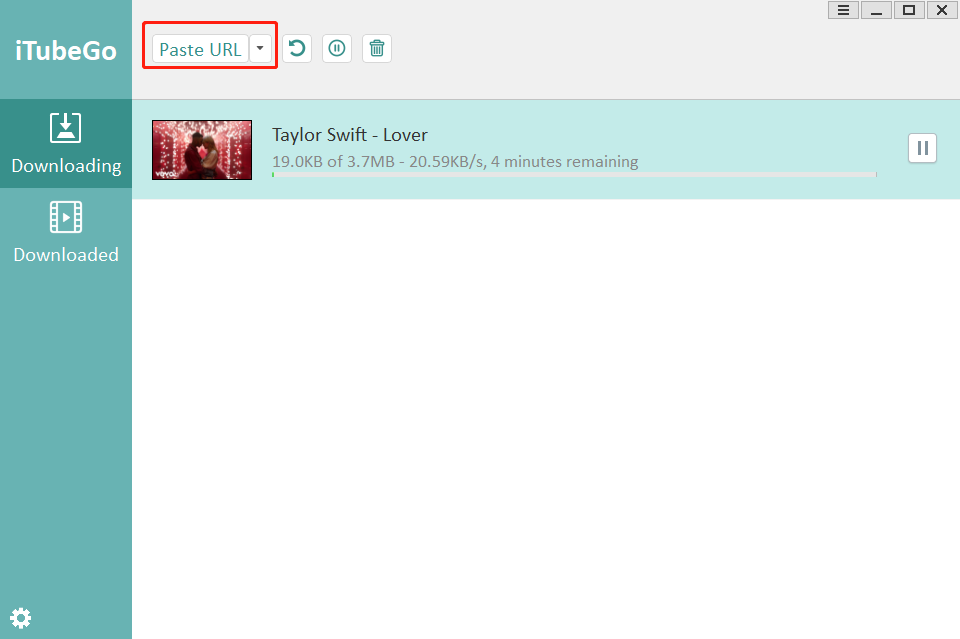 Step 5 Wait for it to complete, after it completes you can find it in the Downloads tab.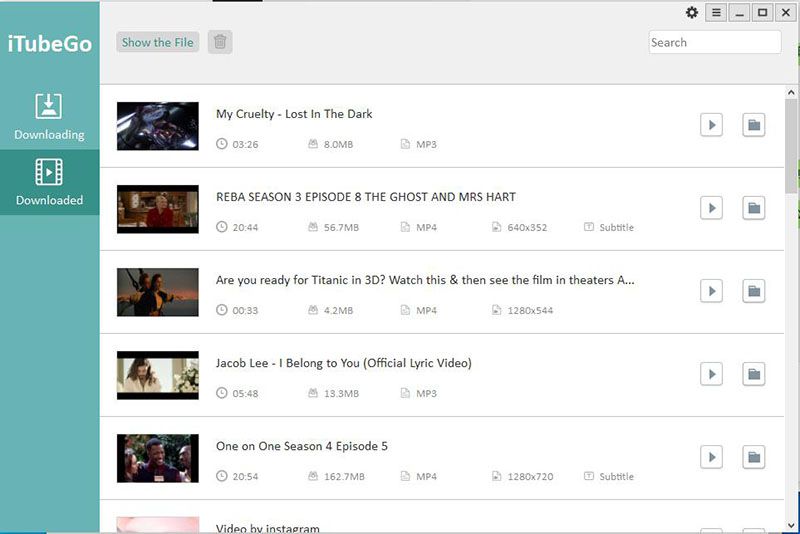 Conclusion
Soundcloud and Mixcloud have their advantages, you can listen to many songs from all of them, and you can also download Mixcloud to MP3 songs using iTubeGo Youtube Downloader. Leave your comment below to share your thought about Soundcloud and Mixcloud.
(Click to rate this post)
Generally rated 4.5 (215 participated)