In this article, we will show you 3 ways to download music from SoundCloud in MP3 format and we have also listed the pros and cons of each tool for you to refer to.
With the 3 ways, downloading songs and playlist on SoundCloud for offline listening can be an easy process.
Let's dive right in!
Use a Desktop SoundCloud Downloader
If you would like to download the songs and playlists on your SoundCloud account and then save them to your computer, we recommend using Musify music downloader.
It is one of the best SoundCloud downloaders which allows users to download music and videos from more than 1000 music and video streaming sites including Spotify, Instagram, Facebook, YouTube, MixCloud, SoundCloud, and more. You can download a single song with up to 320 kbp/s quality or an entire playlist from SoundCloud using Musify.
To use Musify to download songs from SoundCloud in MP3 format, follow these very simple steps.
Step 1 Download the free trial version of Musify on to your computer. Open it and then follow the installation Wizard to install the program to your computer.
Step 2 Now open SoundCloud and find the song or playlist that you would like to download to MP3 format. Copy the URL of the song or playlist.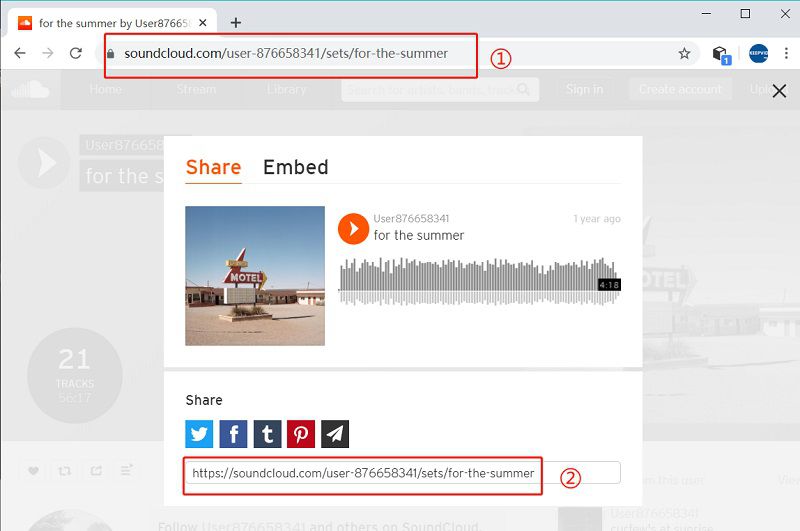 Step 3 Run Musify on your computer and click "Paste URL" to enter the URL of the song or playlist that you would like to download.
Allow the program a few seconds to analyze the URL and download the song to your computer.
You can click on the "Downloaded" tab to locate the songs when the download is complete.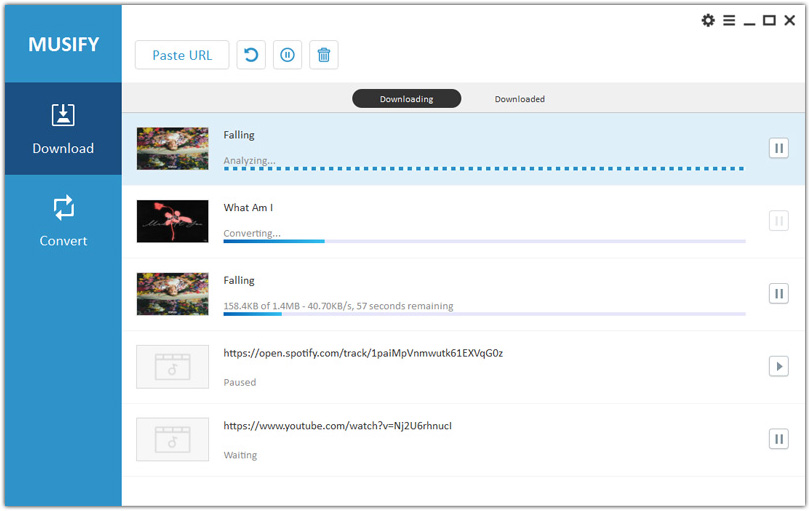 Pros
Many desktop tools support playlist downloads.
Faster download speeds even for the largest media files.
More output formats and audio quality to choose from.
Batch downloads with no limit on the number of media files you can download.
Support more media sites than online tools.
Safer than online tools.
Offer additional features including subtitles, lyrics and music ta downloads.
Offer lifelong technical updates and customer support free of charge.
Cons
You need to install a desktop tool on your computer to use it.
They are often all paid programs.
Use an Online SoundCloud Downloader
You can also just as easily download music from SoundCloud using one of the many freely available online. These tools are generally easy to use. Here's how to use one:
Step 1 Begin by locating the song you would like to download in SoundCloud. Copy its URL.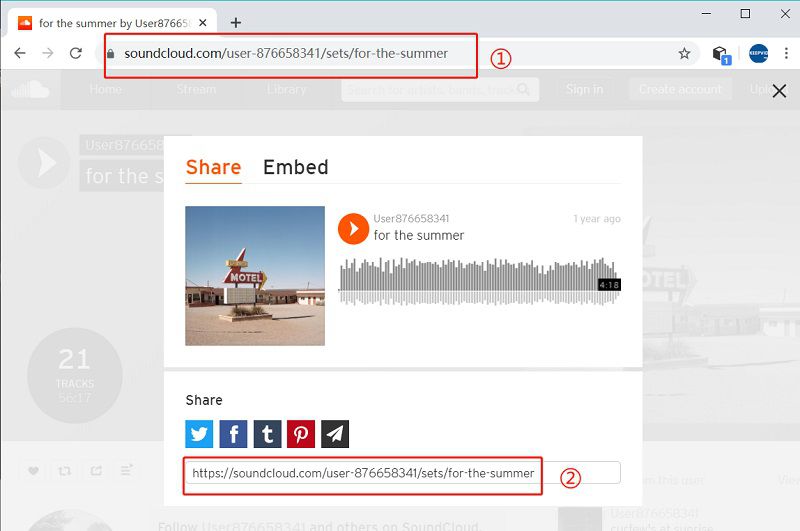 Step 2 Now go to https://www.klickaud.net/ and paste the URL into the space provided and then click, "Convert" to begin downloading the file.

Pros
Online tools are free to use.
You don't need to install any software or service on your computer to use them.
Cons
Online tools can only be used to download one song at a time.
They are often slower, especially for larger media files.
You need a stable internet connection to download the music.
They offer fewer choices in terms of output format and output quality.
Use an Android App
If you would like to save the SoundCloud songs on to your Android device, we recommend using iTubeGo for Android. This is an app that allows you to download music from SoundCloud and other music streaming sites.
To use iTubeGo for Android to download SoundCloud to MP3 on your Android device, follow these simple steps;
Step 1 Download and install the app on to your device. When installing the app it is important to grant it the necessary permissions.
Step 2 Click the SoundCloud icon from the main screen and locate the song you want to download. Click the download icon to start the download process.
You can also copy the URL of the song you want to download and paste it into the app or tap on the "Share" button and choose "Download with iTubeGo"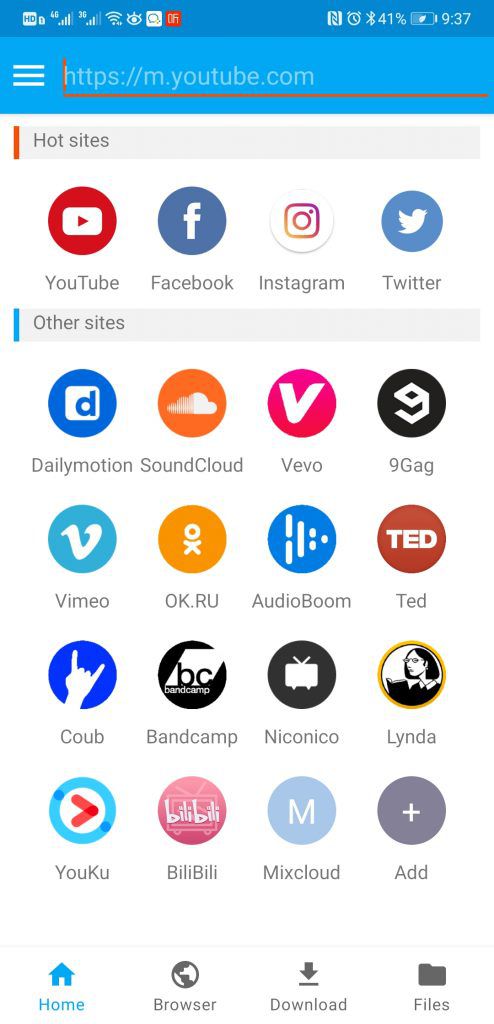 Step 3 The download will begin immediately and the downloaded song, album or playlist will be saved to your selected folder.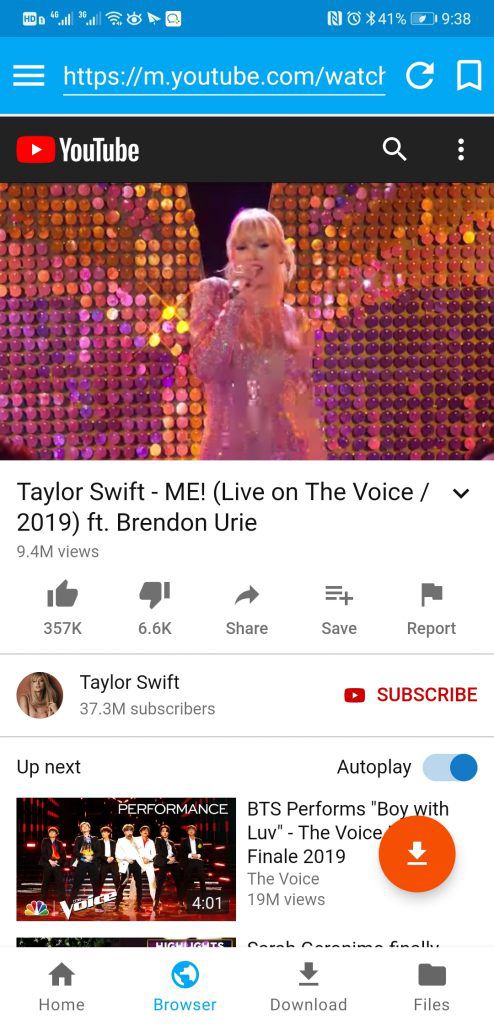 Pros
It is completely free to use.
It can be used to download music and videos from more than 1000 music and video streaming sites.
The audio and video files that you download using this app retain their original quality.
You can use it to download entire playlists from SoundCloud.
Songs downloaded to your device can be saved to the device's SD card.
Cons
It is not available on the Google Play Store.
FAQs about SoundCloud to MP3 Downloads
The following are some of the most common questions we get about the process of downloading music from SoundCloud for offline listening;
1. Is it free to Download Music from SoundCloud?
Free SoundCloud users can download a track up to 100 times. Pro users have a 1000 download limit and Pro Unlimited users have the benefit of unlimited downloads.
2. How do I download 320 kbps songs from SoundCloud?
You can download SoundCloud songs in 320 kbps under two conditions:
If the artist who uploaded the song gave you permission to download the track.
If the track was uploaded in 320 kbps.
3. How to Download SoundCloud Playlist?
The best and frankly the easiest way to download a playlist from SoundCloud, is to use a desktop tool like Musify. The process is just as simple: all you need is the URL of the playlist you want to download.
(Click to rate this post)
Generally rated 4.5 (215 participated)