In this digital age, where downloading music is a kind of routine work for most us, a professional WAV tag editor can save you much time and effort while giving you more control over your music library.
WAV is one of the oldest audio file formats, which was first released in 1991 jointly by Microsoft and IBM. Today, it is commonly used and regarded as a lossless audio format. In this article, we're going to list 6 best WAV file tag editors that can help you easily edit or add the metadata info to WAV files.
Best WAV Tag Editor – TidyTag Music Tag Editor
If you're looking for an ultimate solution to edit WAV tags easily, then TidyTag would be the right choice. It is the most powerful and easy-to-use tool that enables you to edit metadata of audio files. TidyTag is a dedicated music tag editor, which supports WAV and all popular audio formats.
With this desktop-based application, you can edit all types of metadata tags and helps to deal with every aspect of managing your music collections. It is the best WAV metadata editor that in addition to its normal operation also allows removing duplicates in the music libraries. Some of the most notable features of TidyTag music tag editor are as follows:
Supports every metadata format including ID3V1.3, ID3V2.3, ID3V2.4, Ogg Vorbis Comment, and many more.
Easily add or edit metadata tags to WAV, MP3, AIF, AIFF, FLAC, and all other popular audio output formats.
Most powerful WAV tag editor that allows you to batch process all the tags at once.
Comes with a built-in media player and a file manager.
Separate versions available for Windows and Mac OS.
Enables you to remove the duplicate files by scanning and automatically filter out duplicates using different audio file attributes.
How to Edit WAV Tags Using TidyTag WAV Metadata Editor
TidyTag music tag editor is extremely simple to use and automatically displays all the corresponding metadata tags upon importing a WAV file. You can edit WAV tags using TidyTag in the following straightforward way:
Step 1

Download and Install TidyTag
First of all, download the latest available version of TidyTag music tag editor from the official webpage. After downloading the installation package, install the software on your computer in the effortless manner.
Step 2

Add WAV Files to TidyTag Program
Once you've install the TidyTag music tag editor on your computer, launch the software to start editing the WAV tags. To do that, first, you'll have to add the files that you want to edit using this program. You can import files either by clicking the "Add music files" button on the main interface or simply drag the WAV file from your music library and drop it into the main interface of the TidyTag.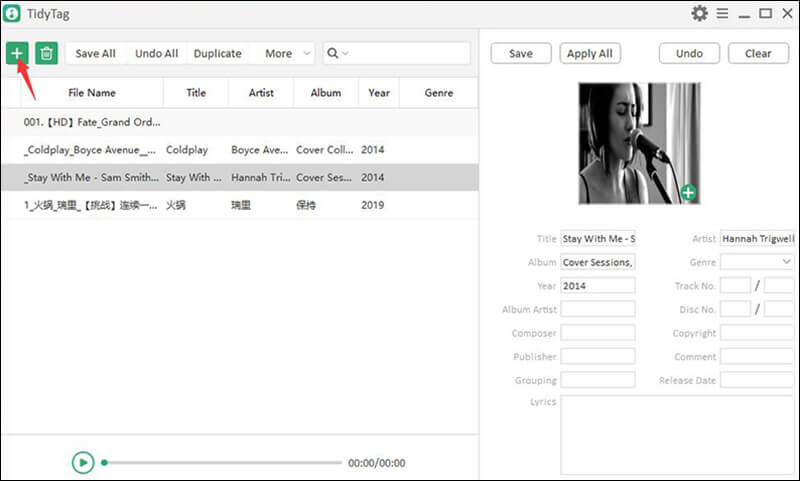 Step 3

Choose the Specific File and Review the Tags
In this step, you'll have to locate the particular WAV file from the list of files and click on it. After clicking on the file, the program will start displaying all the corresponding metadata tags on the right sidebar.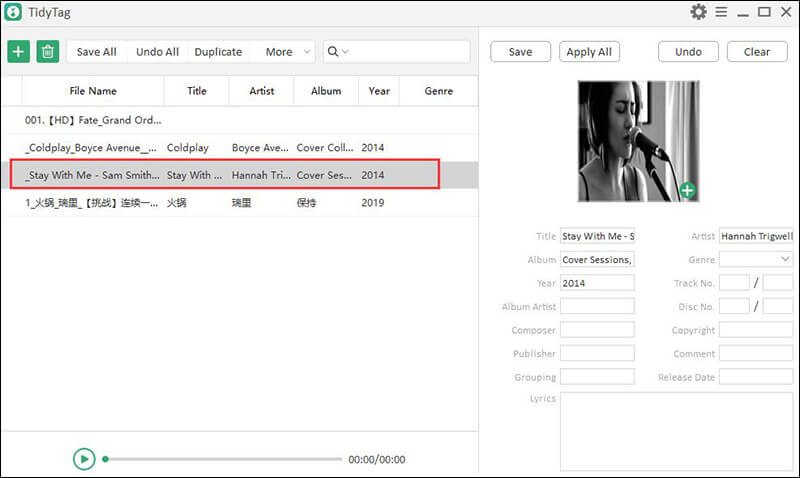 Step 4

Edit the Metadata Tags
Now, you can click on the tag text fields one by one and make the required changes. Here, you can add the missing tags, modify the wrong tags, delete the unwanted tags, add or change the album cover, etc.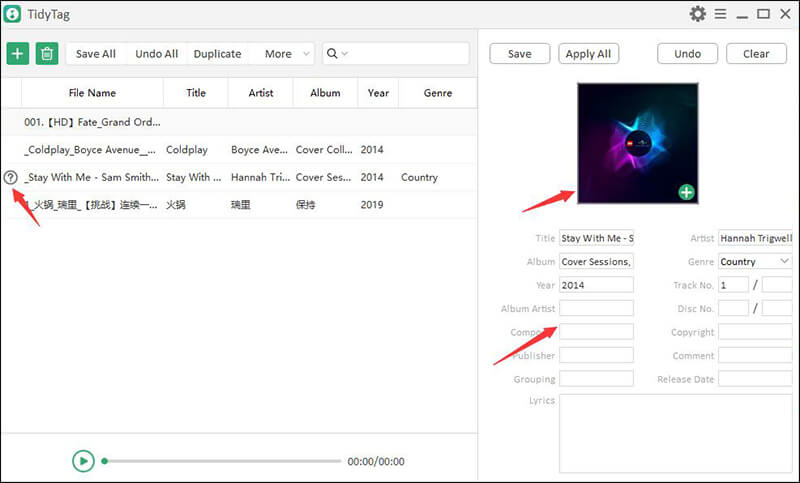 Step 5

Save the Edited Metadata Tags
When you're done with making all the required changes, click on the "Save" button located at the top-left side of the right sidebar. Once all the updated tag data has been applied to your WAV file, the ✓ will be appeared for the confirmation.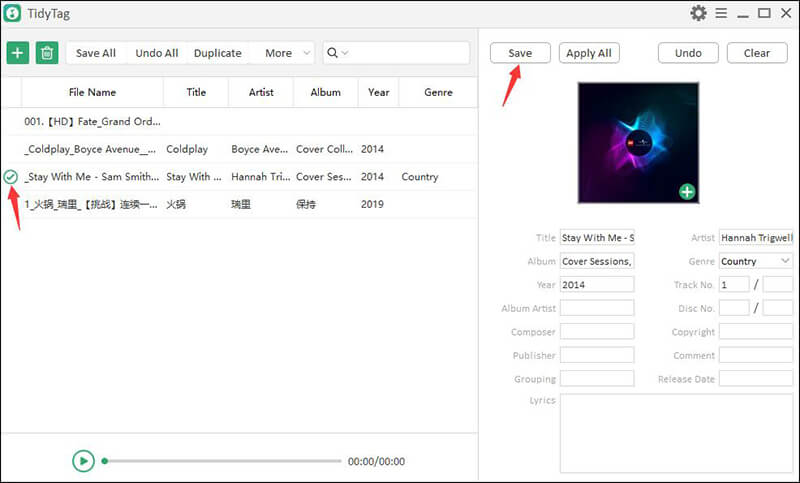 Other 5 WAV Tag Editors You Should Know
Apart from TidyTag Music Tag Editor, there are some other tools that can also be used to edit WAV tags. Let's check out these editors one by one will all their positive advantages and disadvantages.
1. TagScanner
TagScanner is a tag editing program that allows you to edit metadata information of WAV files. This WAV file tag editor is compatible with various audio formats supports and all popular kinds of metadata tags. Using its automated feature, it can directly search the metadata information from the online databases and add it to the WAV files. You can also create playlists and play the audio files using its built-in media player. It will enable you to edit multiple files together and also helps you converting the version of tags.
Pros
Cons

This WAV tag editor automatically pulls the metadata information from online websites like Amazon and Freedb.
It allows you to rename the files using the edited tag information.
You can export playlists as HTML and spreadsheets using this software.

The interface of this program is not intuitive or easy to use.
You cannot view or edit synced lyrics with TagScanner.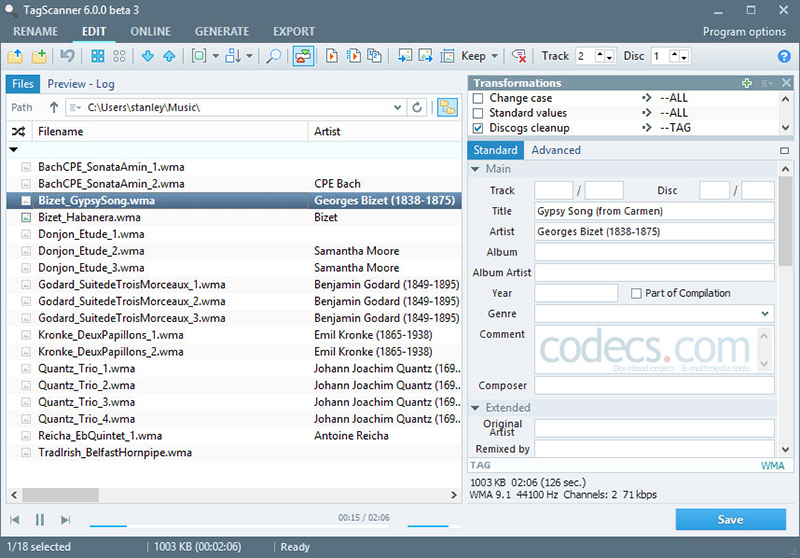 2. MP3Tag
MP3Tag is another Windows-based software that supports metadata editing for WAV and a wide range of other audio formats such as MP3, FLAC, WMA, AAC, and few more. It allows batch tag editing and offers online metadata lookup from famous online databases. It will also make you able download album cover and rename the audio files using the metadata information.
Pros
Cons

Allows you edit a large number of audio formats.
Supports automatic metadata lookup from online databases.
Comes with a easy to use interface.

You have to save the changes manually.
It won't allow you to edit synced lyrics.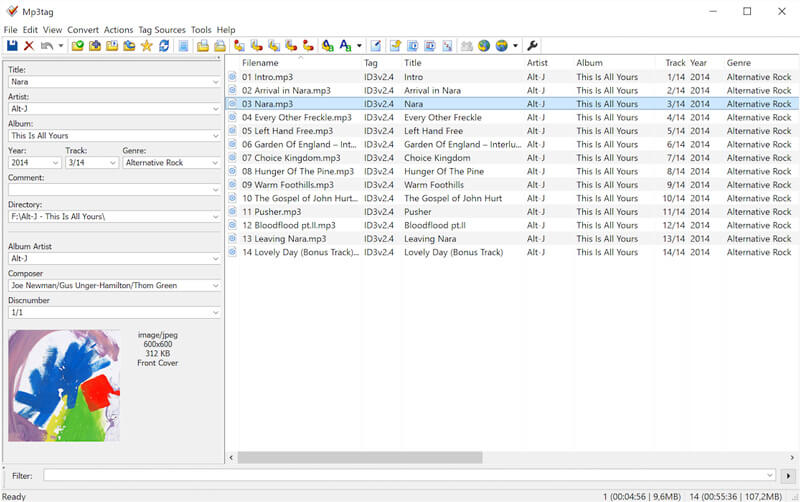 3. TigoTago
TigoTago is a WAV tag editor, which is known for batch process large number of files of together. It directly downloads the metadata information from the online sources and adds it into the WAV or other audio files, and while editing the files, you'll be able to see and control all the changes live. In addition to a WAV metadata editor, TigoTago can also works as a converter that can convert audio and video files to different formats.
Pros
Cons

Enables you to convert the files' format.
Browse the tags form different online sites such as Freedb, Discogs, etc.
You will be able to preview all the changes in real time.

It doesn't support multi-language operation.
The interface isn't very impressive.
The program hasn't been updated since 2012.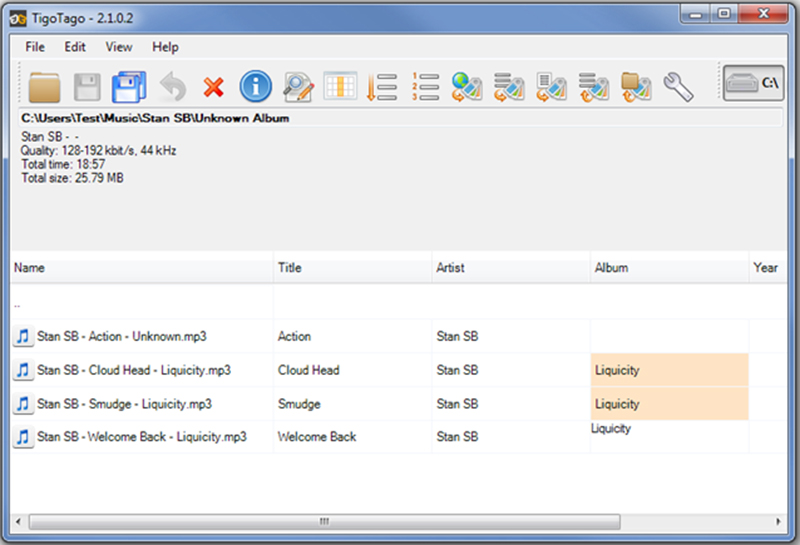 4. Kid3 Tag Editor
Kid3 is an open-source software that allows you to edit metadata tags for various audio files, including WAV. It is capable of converting the metadata format in between ID3v1 and ID3v2. The program can import the metadata from different online databases like MusicBrainz, Freedb, and Disc. That's not all; it also offers the feature to add metadata tags to several video formats including FLAC, MPC, MP2, AAC, etc.
Pros
Cons

You can add or edit tags for the audio and video files.
The software can also convert the format of metadata tags.

It is only compatible with Windows OS.
Only very limited tags are supported by this tag editor.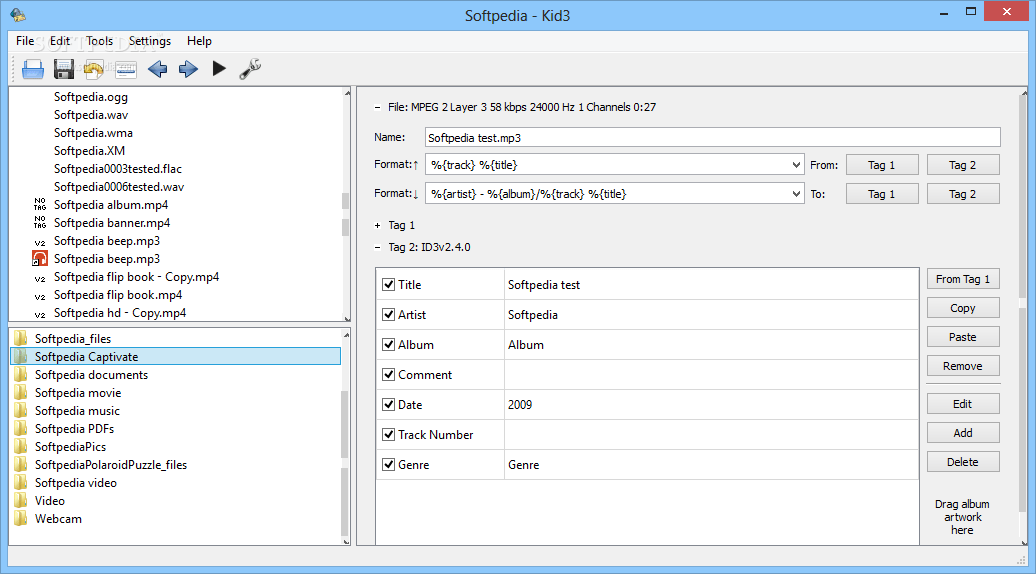 5. IDTE – ID3 Tag Editor
The last but not the least in our list of 6 best WAV tag editors is IDTE. It is a very popular ID3 tag editor that supports WAV and more than 40 other audio file formats. This WAV file tag editor is compatible with various kinds of metadata tags including ID3V1.x/2.x, FLAC, APE, WMA, LYRICS, and VORBIS Tags. Using this program, you can do a lot of other tasks like renaming the files based on metadata information, create playlists, search and import tag information from internet, fetch lyrics and album cover, etc.
Pros
Cons

Supports a wide range of audio output formats.
Can integrate lyrics and album cover from the internet.
Compatible with various metadata formats.

Cluttered interface.
Some minor bugs can interrupt your editing process at times.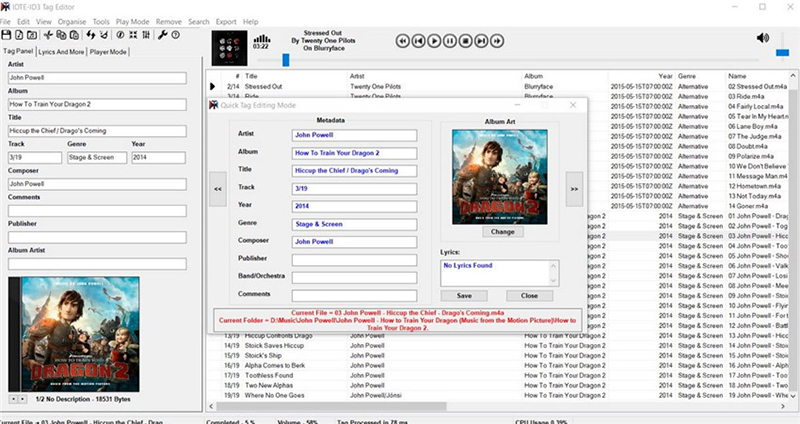 What is WAV File and How to Open It
As mentioned earlier, WAV is an audio format that was created by Microsoft and IBM for playing audio on personal computers. Usually it stores data in uncompressed form, and due to which, these files are a bit huge in sizes. However, compressed is also supported. This format uses different containers to save information like audio data, sample rate, bitrate, and track numbers. Being lossless and high in quality, it is preferred by the experts and widely used in the professional music industry.
As WAV files are widely used, many media players on desktop computers generally support playing these files. Let's see how you can play WAV files on different operating systems.
If you're using a Windows computer, you can play WAVs simply with the default Windows Media Player without the need to install any third-party software.
For all the Mac OS users, the WAV files can be played by default in iTunes.
However, if you're using Linux, you'll have to install a player like VLC to play WAV files.
Whether you're on Windows or Mac OS, all you have to do is to double-click on the WAV file and it will be played by the default media player. Furthermore, finding a mobile application that can play WAV files on iOS or Android devices isn't a difficult task at all.
Why WAV is Better than Other Audio Formats
WAV audio files are fairly easy to process and edit.
It is a lossless audio format that retains high sound quality.
WAV files are fully supported on Windows and Mac OS, so you can easily play them on these platforms.
They allow you to listen up to the highest recording rates with immensely dynamic ranges.
The maximum size of a WAV file can be up to 4GB.
A WAV file will always sound better than MP3 or any other audio format.
In Conclusion
With all this, now you don't have to waste your time, money, and efforts on the wrong tools. These are some the most popular and useful WAV metadata editors that can help you add or modify the metadata tags for WAV files. To provide more detailed and accurate conclusion, we've used and tested each of the above-mentioned editor and we've found TidyTag Music Tag Editor superior than all of them.
It isn't just a simple WAV tag editor, but it will also help you in managing every aspect of your audio files. So don't waste any further time and get this amazing tool now and start editing your WAV files in the most efficient and easiest manner.
(Click to rate this post)
Generally rated 4.5 (215 participated)