Gone are the days when you had to buy DVDs to watch your favorite movies. Everything is available online now and if you are a fan of action-filled Tamil movies, Einthusan is the place you want to go. Einthusan is a vast collection of South Asian movies including Tamil feature films that you can watch online.
However, if you want to watch a movie offline or want to watch it on your TV, there's no official Einthusan way of doing that as the platform doesn't allow downloading the content shared on it. In this text, we'll cover Einthusan Tamil Movie download methods that work for desktop computers, android devices, and iPhones. All these Einthusan Tamil HD movie download methods are fully functional and easy to execute.
Best Einthusan Tamil Movie Downloader – iTubeGo
If you want to download Tamil movie from Einthusan to your desktop computer, there are a number of different software solutions that you can use. However, not all of them have the same features, functionality, and capability. The best software in this field, so far, is the iTubeGo YouTube Downloader. This is an audio/video download tool that works with more than ten thousand websites and offers a great deal of flexibility and a lot of cool features.
Feature Highlights
It can download videos and music files from more than 10,000 websites, including YouTube, Facebook, Einthusan, and all the big names.
It offers more than 50 formats for downloading multimedia content.
It is available for Mac, Windows, and Android devices.
It supports full HD, 2K, 4K, and even 8K video downloads without affecting the original video and audio quality.
It can download age-restricted, blocked, and private videos.
It can download an entire playlist in one go.
You can download multiple videos parallel on iTubeGo.
This software is 100% safe, secure, and reliable to use.
iTubeGo is not resource intensive and is light on the device it runs on.
How to Download Einthusan Tamil Movies by iTubeGo
Step 1

Install iTubeGo Software on Your Desktop Computer
iTubeGo YouTube Downloader is available for download on the iTubeGo website. You can download it using the link below. After it has been downloaded, simply run the file and it will install on your computer. The whole download and installation process will take less than five minutes if you have a good internet connection.
Step 2

Locate the Required Einthusan Movie
After having installed the software on your device, open a web browser, and go to Einthusan. Find the movie you want to download and copy its URL from the address bar of the web browser.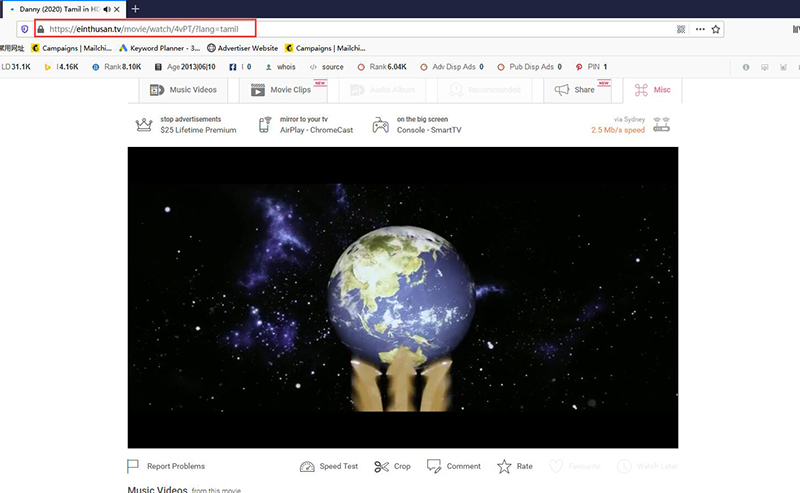 Step 3

Set Download Parameters
Now, open iTubeGo software that you just installed and straightly go to the Preferences tab. Here you can set the Download Type and Quality of the video you are going to download. As you want to download the movie in HD resolution, select Video in Download and 1080p in Quality to proceed. The default video format of iTubeGo software is MP4, which you can change from the "Download then Convert to" section.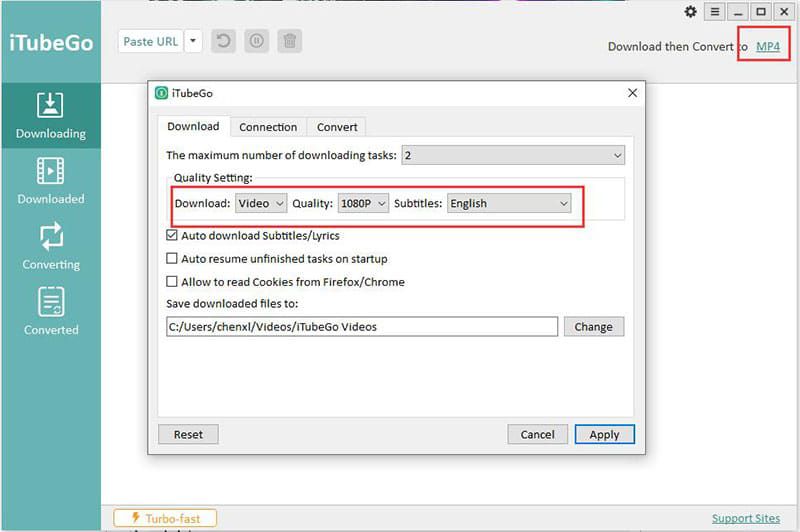 Step 4

Enter Copied Einthusan Movie URL
After having selected the output format and resolution, hit the Paste URL button to add the copied URL to iTubeGo and the download will start automatically.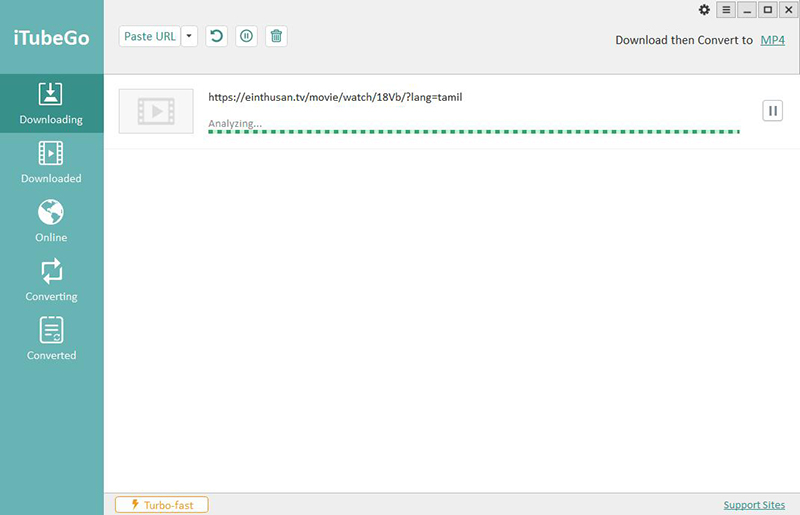 Step 5

Find Downloaded Einthusan Video
After the video has finished downloading, it will be saved to the destination location that you can also find it under the "Downloads" tab, remaining within iTubeGo program.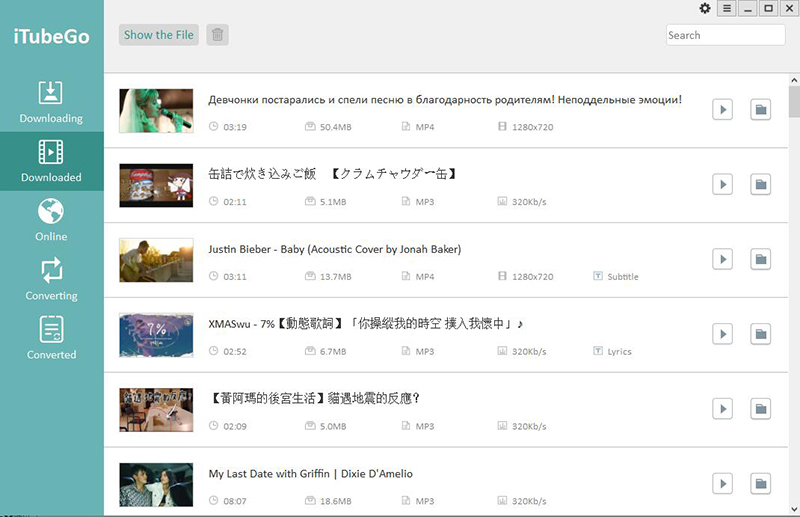 How to Download Tamil Movies from Einthusan Using Online Tool
If you don't feel like installing software to download Tamil movies from Einthusan, you can accomplish this task using online video download tools. One of the best tools for this purpose is KeepVid.Pro. It is one of the most famous and efficient online downloaders that will allow you to download videos from over 1000 online websites, including Einthusan.
KeepVid.Pro
KeepVid is a useful online video download tool designed primarily to download videos from YouTube. It supports more than 1,000 websites and can be used to download HD Tamil movies from Einthusan. The download procedure is simple.
Step 1

Locate the Movie to Download its URL
To download a Movie from Einthusan using KeepVid, open a web browser, and navigate to the movie. Copy the URL of the movie from the address bar of the web browser.
Step 2

Open KeepVid.Pro Official Webpage
After you have copied the URL, open the KeepVid.Pro in your web browser.
Step 3

Enter the Video URL
On the top of the KeepVid page, you'll see a field asking for URL. Enter the URL you copied into this field and click download.
Step 4

Select Required Resolution and Download
The website will analyze the URL and will ask you for the format and resolution of the download. Select the ones you want and the video will be downloaded and saved to your device in the format of your choice.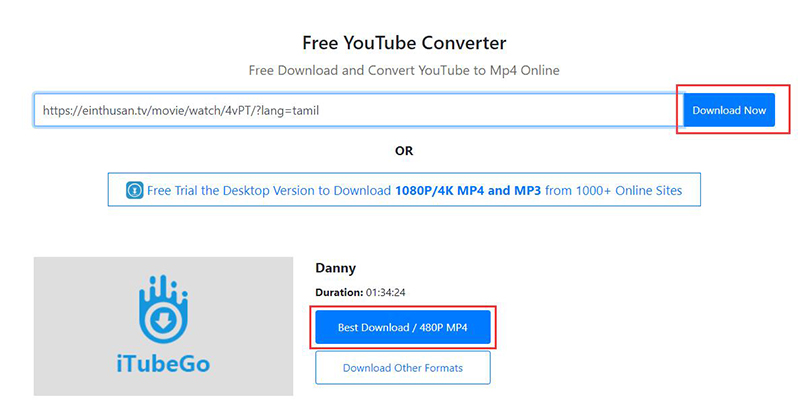 How to Download Einthusan Tamil HD Movie on Android
If you want to download a Tamil movie from Einthusan directly to an Android device, this can also be done very easily using iTubeGo. Here's how you can do that:
Step 1

Download iTubeGo APK
iTubeGo is not available on the Play Store like other android apps and you have to download and install it from an apk file. You can download the apk for the iTubeGo installation from the following link.
Step 2

Search the Required Movie on Einthusan.tv
Now, open the installed iTubeGo app and search for the movie you want to download in the built-in browser in the app. Otherwise, you can directly copy the video link from Einthusan.tv and open the iTubeGo App, it will automatically detect the link and displays the particular video details with Download option.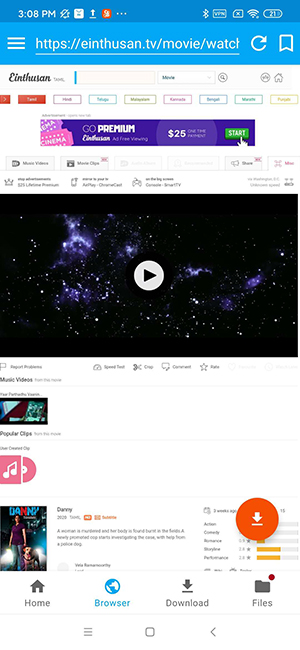 Step 4

Select Download Format and Quality
After opening the required video in the app, you'll see a red download button (an arrow pointing downwards) in the bottom right corner of the app. Click on it, after which, you have to select the required output format and quality.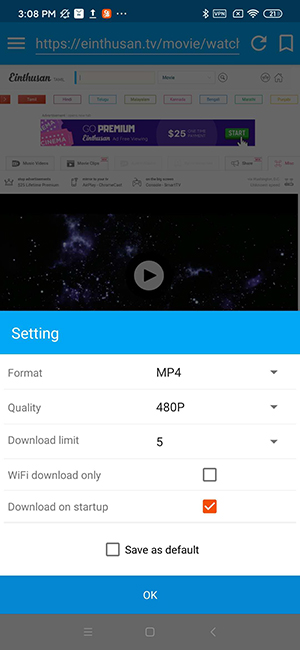 Step 5

Download Einthusan Movie
After having selected the options, just click the Ok button and the movie will start downloading to your Android device.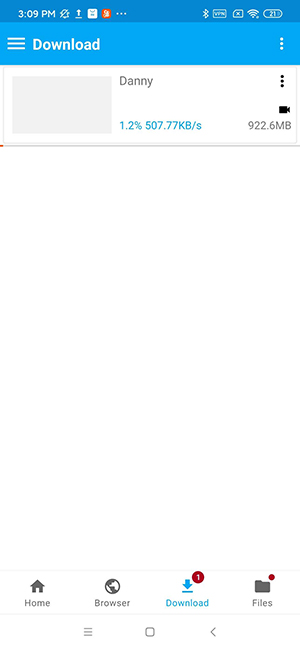 How to Download Einthusan Tamil HD Movie on iPhone
If you are an iPhone user, you're already aware of the fact that you can't download videos using iPhone built-in browser. But that's not a problem, as we're coming with a solution for this. You simply have to download an app Documents by Readdle and can follow the following method to download Tamil Movies from Einthusan.
Step 1

Install Documents by Readdle
First of all, you will need to download an app known as Documents by Readdle on your iPhone. You can easily find this app on the App Store of your iOS device.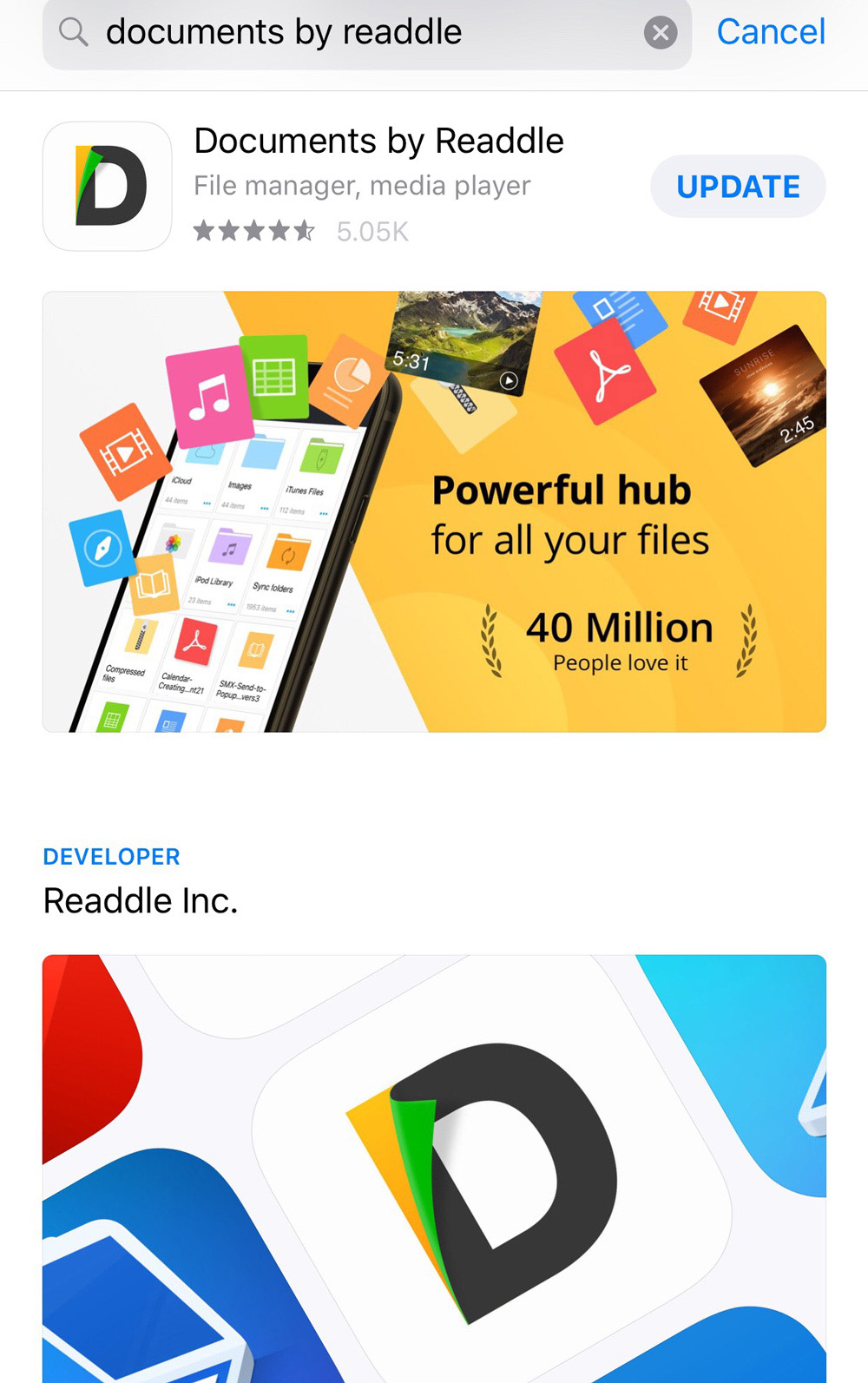 Step 2

Search for the Required Einthusan Movie
The Documents by Readdle app has a built-in browser that you can access from a button at the bottom of the app's interface. Open the browser and look for the movie you want to download to your device from Einthusan. After you have found the movie copy its URL.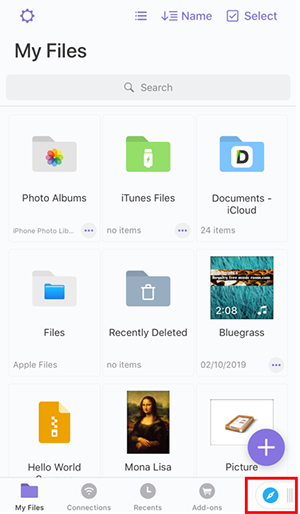 Step 3

Open KeepVid.Pro Online Downloader
Go to Keepvid.pro in the browser of the Documents by Readdle app and paste the copied URL in the bar in the online downloader webpage and click download.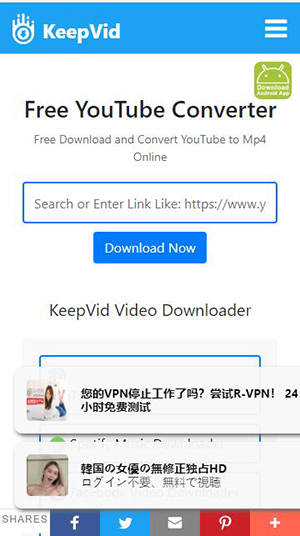 Step 4

Download the Particular Video
Select the required format and quality, and then, the video will be downloaded in the said parameters.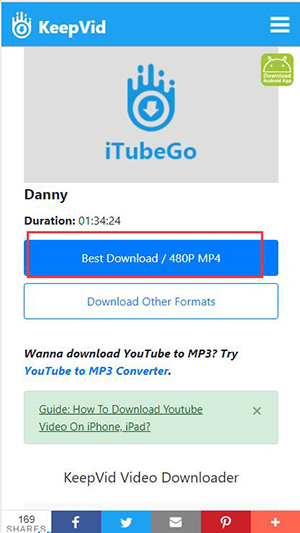 Step 5

Move Downloaded Einthusan Movie to Camera Roll
In the last step, just open the Downloads section of the Documents by Readdle app. Then, select the "Move" and "Photos" options respectively, in order to move the video to the camera roll of your iPhone.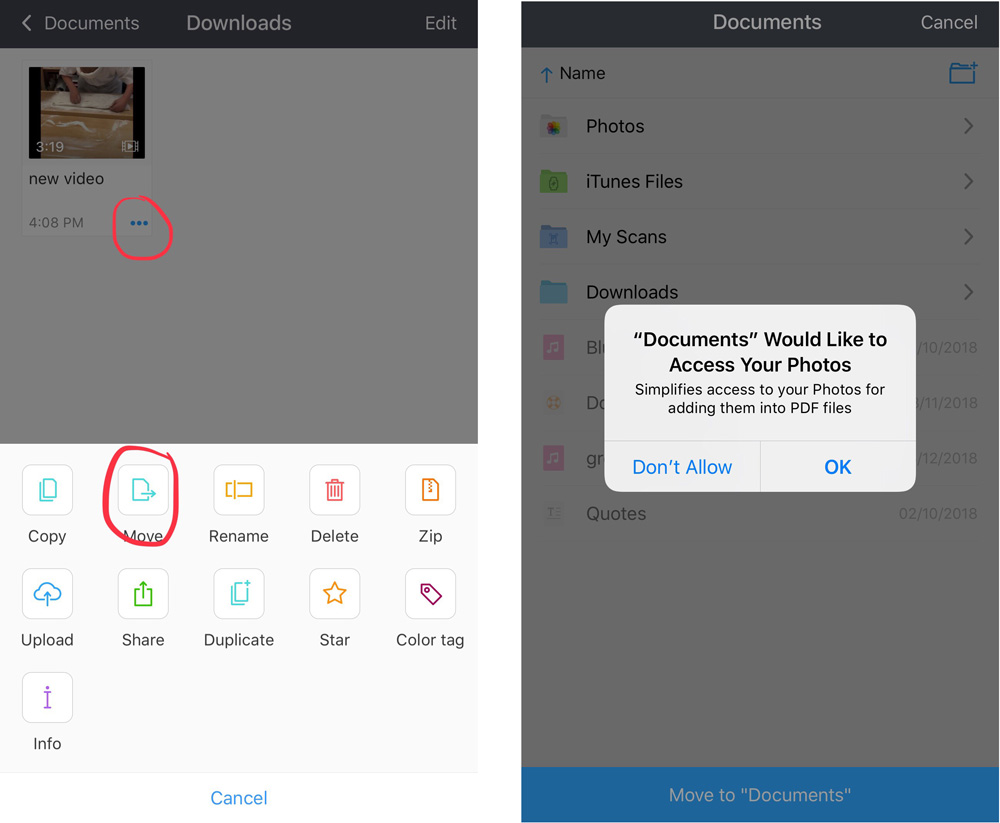 Conclusion
Einthusan has a wide range of Hindi, Telugu, Tamil, and other South Asian movies that you can watch online. If you want to download these movies to your device, you can do that by using iTubeGo YouTube downloader for desktop computers, iTubeGo android app for android devices and Documents by Readdle app for iPhone or iPad. All the methods serve the purpose but using iTubeGo is the most convenient and efficient way.
(Click to rate this post)
Generally rated 4.5 (215 participated)