About One World: Together at Home
On April 18, 2020, the One World: Together at Home concert conducted by the Global Citizens Organization in support of the World Health Organization was broadcast worldwide. The online concert aims to call on everyone to maintain a social distance during the COVID-19 pandemic. One World: Together at Home is planned by Lady Gaga with many stars participating, and the sales generated by this concert benefited the World Health Organization's COVID-19 Solidarity Response Fund.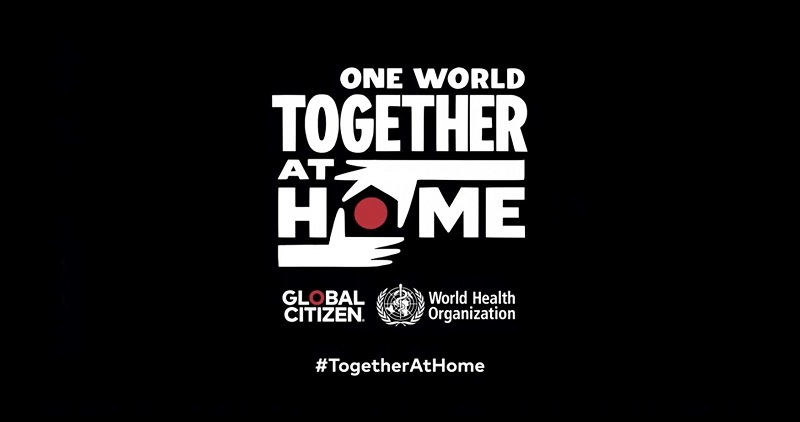 How to Playback of "One World: Together at Home"
One World: Together at Home was broadcasted on all NBC networks, ABC, CBS, iHeartMedia channels at 8pm on Saturday night. At the same time, YouTube, Apple Music, Spotify and other platforms can see the complete playlist of the program.
Here is the official video and music playlist of One World: Together at Home:
YouTube: https://www.youtube.com/playlist?list=PLPDkqknt-rAgGzWv1fots5C0kg4pKIyRn
Spotify: https://open.spotify.com/album/2VcZJySG0Skmua8JkfXGcz
Apple Music: https://music.apple.com/us/album/one-world-together-at-home/1508826225
You may have missed the live broadcast, and want to download One World: Together at Home concert from YouTube. Maybe you want to download the music playlist to mp3 format, replay this unforgettable moment.
How to Download One World: Together at Home Playlist
Musify can always let music fans find the music they want. You can download the mp3 of the entire concert through the YouTube or Spotify playlist URL above.
Here are the steps to download the playlist:
Step 1 Download and install Musify
This software has both windows and mac versions, Install on your computer correctly and open the software. Its interface is very simple.
Step 2 Set download options
Click the ⚙ button to open the Reference, set the music format, quality, number of tasks downloaded at the same time, storage location after download, etc.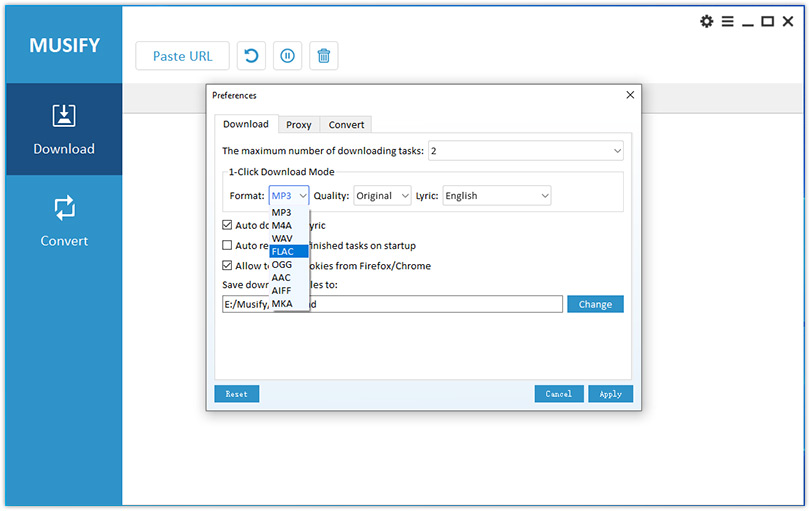 Step 3 Paste the playlist or album url to Musify
Copy the YouTube playlist or Spotify album link above, and click the Paste URL button to start the download process. Musify supports thousands of audio and video sites, including SoundCloud, Facebook, Instagram, Vimeo, VEVO, etc. You can use it to download the music and sound effects you want.
After the program automatically grabs all the music in the playlist, a list will pop up, and you can download all the music of Together at Home with one click.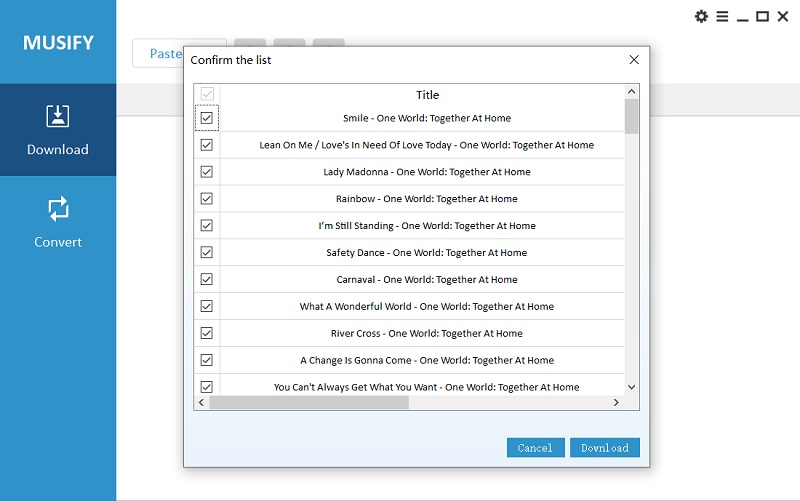 Step 4 Done!
Wait for the music to finish downloading, All mp3 files in the Downloaded tab. Now you can playback offline or transfer to your iPhone, iPod, Android devices.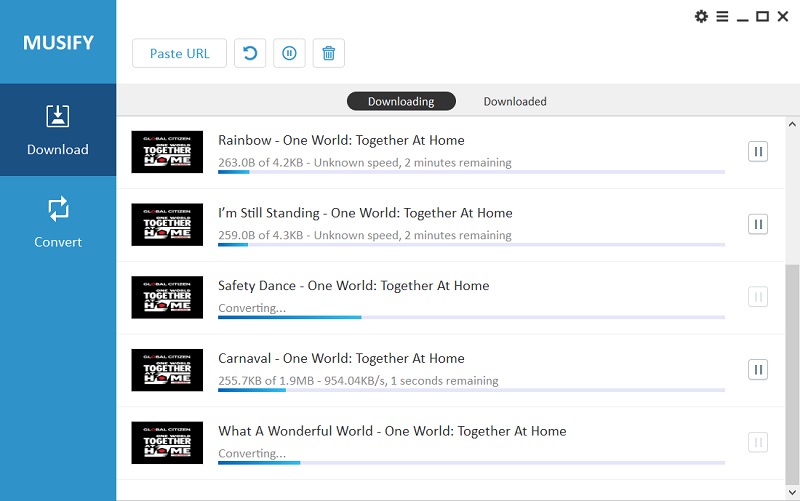 How to Download Full Videos of One World: Together at Home
We can also download all video playlists from YouTube and save them as mp4, mov, avi, flv and other video formats. iTubeGo is a professional YouTube video downloader, capable of supporting HD video download from streaming sites like YouTube, Facebook, Dailymotion, Instagram, Bilibili, etc.
Here are the steps to download One World videos:
Step 1 Install iTubeGo video downloader
Download and install the iTubeGo software on your computer. Then open the software and set the downloaded video format in the upper right corner of the interface.
Step 2 Download videos by url
Click Paste URL, paste the YouTube playlist link above to iTubeGo, or paste any video link you want to download.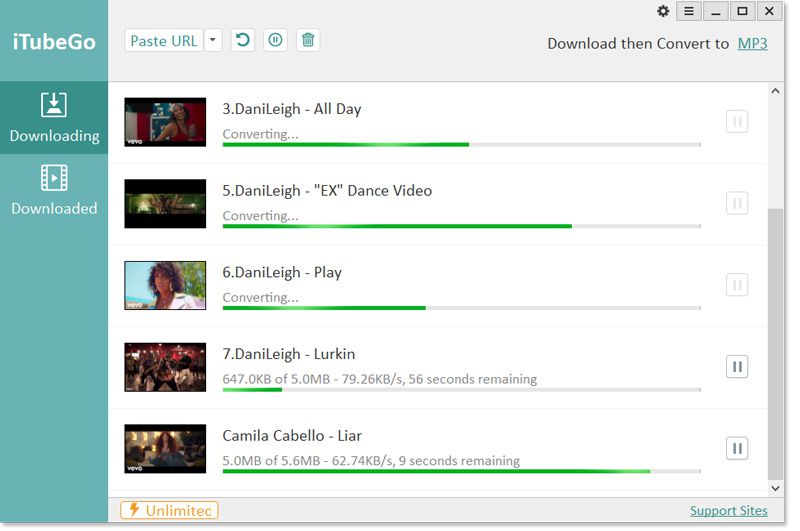 The download time depends on the size and number of your videos. iTubeGo provides high-speed download and multi-task download, which greatly improves download efficiency.
Here is how to download "One World: Together at Home" music and video. Musify and iTubeGo can get high-quality music and video files for you. Finally, we call on people all over the world to fight COVID-19, and thank the frontline workers who fight against COVID-19.
(Click to rate this post)
Generally rated 4.5 (215 participated)