Taylor Swift is one of those very few celebrities who have earned a lot of fame in a short period of time. Her complete name is Taylor Alison Swift and she was born on 13 December 1989. She is an American singer and songwriter, who is known for narrative songs about her personal life. She is breaking records in the music industry for the years and also received various awards for her singing and songwriting. In this article, you'll come to know how you can download Taylor Swift mp3 songs from YouTube with desktop software.
At the age of just 14, she became the youngest artist to be signed by the Sony/ATV Music publishing house. And from then, she has set many records and given an unlimited number of blockbuster songs. Apart from various other achievements, she was also named as the "Artist of the Decade" by the American music awards.
Top 10 2020 Taylor Swift New Songs
If you're looking for some latest hit songs from Taylor Swift, then the following are the top hit songs with their YouTube links.
Taylor Swift – The Man
Taylor Swift – Only The Young (Featured in Miss Americana / Lyric Video)
Taylor Swift – Miss Americana & The Heartbreak Prince (Official Audio)
Taylor Swift – Lover
Taylor Swift – Christmas Tree Farm
Taylor Swift – Look What You Made Me Do
Taylor Swift – Me! (Feat. Brendon Urie of Panic! At the Disco)
Taylor Swift – Blank Space
Taylor Swift – Shake It Off
Taylor Swift – You Need To Calm Down
Download Taylor Swift MP3 Songs from YouTube
As you can see, you can easily watch these Taylor Swift songs on YouTube, but if you want to download Taylor Swift songs in mp3 format, then you have to look for some other solution. iTubeGo YouTube Downloader is an amazing downloading software that will enable you to download Taylor Swift mp3 songs from YouTube without affecting the original sound quality.
It converts YouTube videos into mp3 format and even supports 320kbps mp3 downloading. It is not only YouTube downloader, but also download music as mp3 from 1000+ other video and audio sharing websites.
Steps to Download Taylor Swift Songs:
The following are the steps to free download Taylor Swift songs using iTubeGo YouTube Downloader.
Step 1 Install iTubeGo Software:
To install iTubeGo YouTube Downloader on your computer, first, you need to download it from below links. After downloading gets completed, install it on your computer.
Step 2 Copy the Taylor Swift Song URL from YouTube:
If you want to download any of the above-mentioned songs, then simply copy its URL. Otherwise, go to YouTube and look for the song that you want to download. Once you have opened the required video, copy its URL from the browser address bar.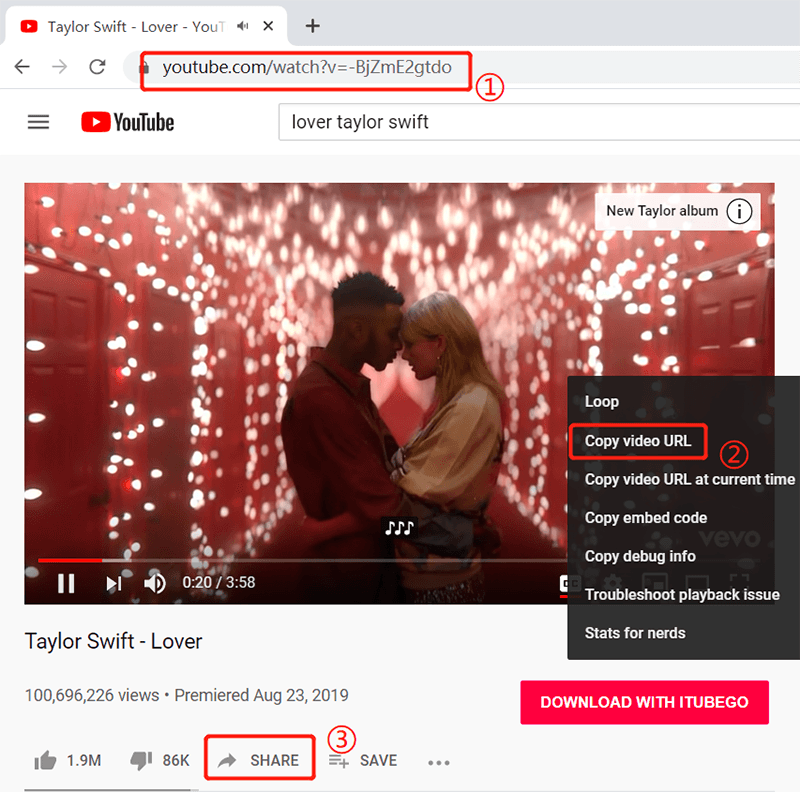 Step 3 Launch iTubeGo Software and Set Output Format:
Now, launch the iTubeGo YouTube Downloader on your computer. Before starting the conversion process, you have to set the output format. If you want to download Taylor Swift mp3 songs, then open the "⚙" section and select the download format as "Audio". You can also choose in between the different qualities i.e. 70 kb/s, 128 kb/s, 320 kb/s. After getting done with the settings, click the "Apply" button to save the changes.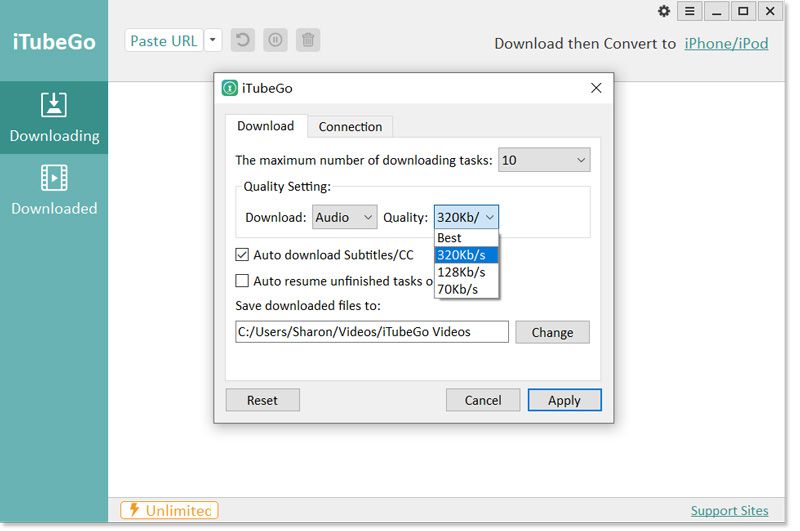 Step 4 Paste the Copied URL:
Then, press the "Paste URL" button and the downloader will start analyzing the selected video.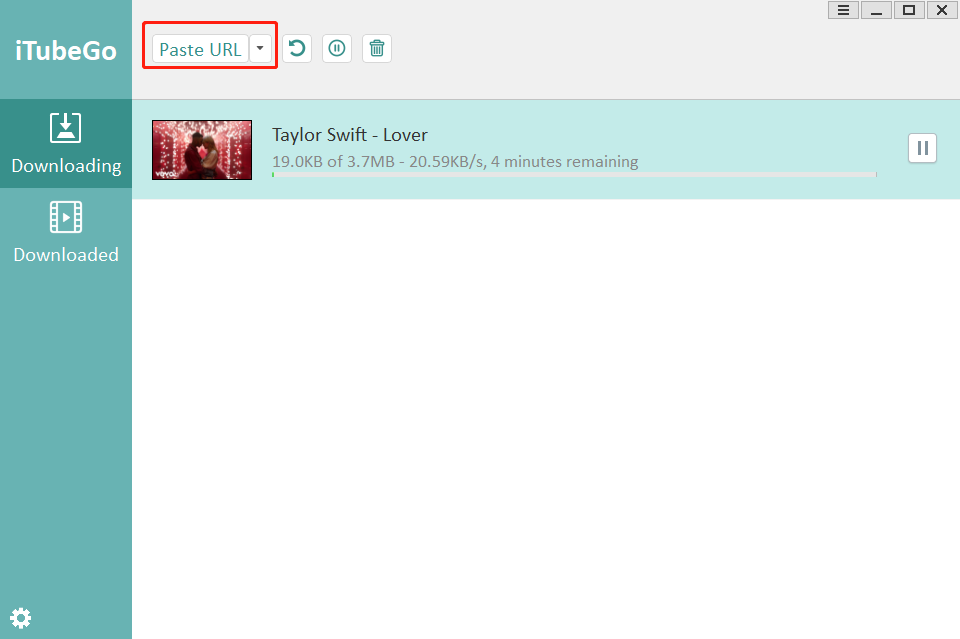 Step 5 Download Taylor Swift MP3 Song File:
Once the YouTube video gets converted into the required format, the mp3 file will be saved to your computer.
Download Taylor Swift MP3 Songs from Spotify or other Music Sites
Want to download Taylor Swift songs on other music platforms? Both Spotify and SounCloud are well-known music sites. Musify can download music from Spotify without a premium account. It is a true music downloader that supports downloading Taylor Swift songs from thousands of audio and video sites.

Musify
YouTube to Mp3 Downloader
Download sound track from video or music sharing sites: YouTube, Spotify, SoundCloud, MixCloud, FreeSound, Opsound and more.
Download high bit rate songs with lyrics.
Download full music playlist.
Convert videos/audios to mp3, m4a, wav format.
Steps to download Taylor Swift songs in 320kbps mp3
Step 1 Copy Taylor Swift music link
Find Taylor Swift's albums, playlists, singles, or links to artist pages from any music site. Take Spotify as an example.
Here is Taylor Swift's page: https://open.spotify.com/artist/06HL4z0CvFAxyc27GXpf02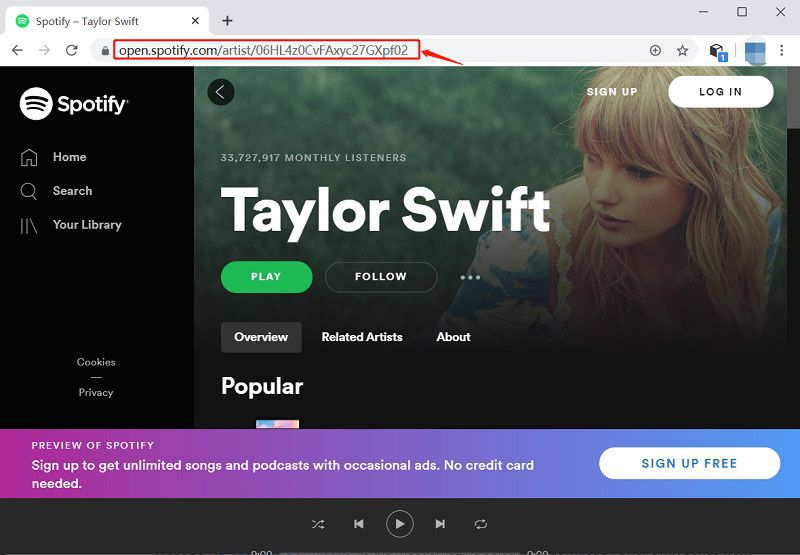 Step 2 Open Musify to Paste the URL
Before downloading, you need to select the music format you want to convert to MP3 in ⚙ setting, the quality is 320kbps, and the lyrics are downloaded automatically.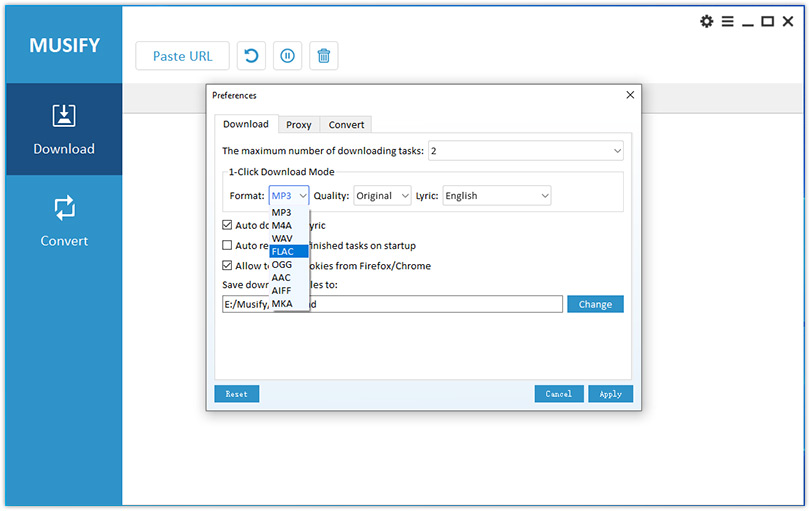 Then click the Paste URL button, all music will be automatically downloaded and converted to MP3 format.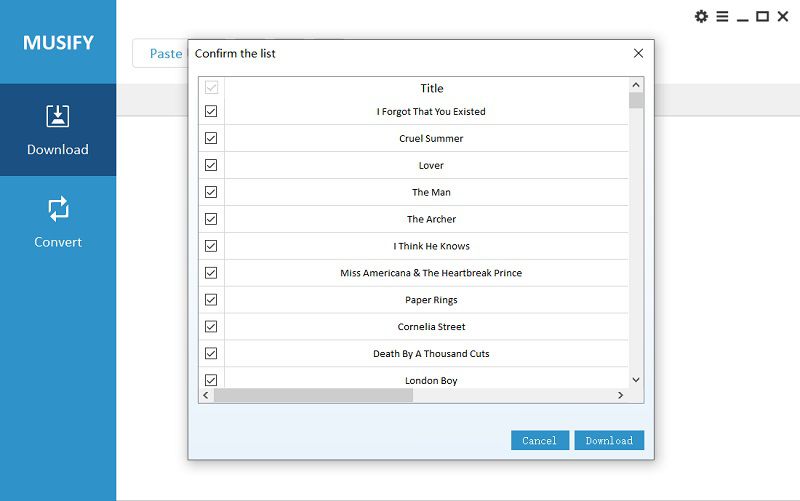 Even downloading Taylor Swift songs from other sites is just as easy.
How to Choose: iTubeGo or Musify
iTubeGo HD YouTube Downloader is the most amazing solution to download Taylor Swift songs from YouTube. It super quickly converts the YouTube videos into mp3 format and downloads them to your computer. So, use iTubeGo YouTube Downloader and download Taylor Swift mp3 songs without any interruption or downloading limits.
Musify is also a YouTube to Mp3 converter, but even better is that it can download mp3, m4a, wav format music from Spotify and some other music sites. The sound quality of the music site will be better than MTV. If you want higher quality music, or if you like to download Taylor Swift songs from a music site like Spotify, Musify is another option.
Both are very practical tools.
(Click to rate this post)
Generally rated 4.5 (215 participated)