Justin Bieber is the most subscribed musician on YouTube, like it or not, the Canadian Boy is making some waves. Luckily, we are living in that day and age where you don't need to go out and buy a CD or a cassette to listen to the latest work of Justin Bieber or any other artist. Just go to YouTube and listen to whatever you like but, you cannot download Justin Bieber Songs or any other musician's work from YouTube unless you pay a $9.99 subscription fee for YouTube premium. However, being your download consultant, we are here to tell you how you can download Justin Bieber albums on your computer totally free. Let's see how to download Justin Bieber latest songs.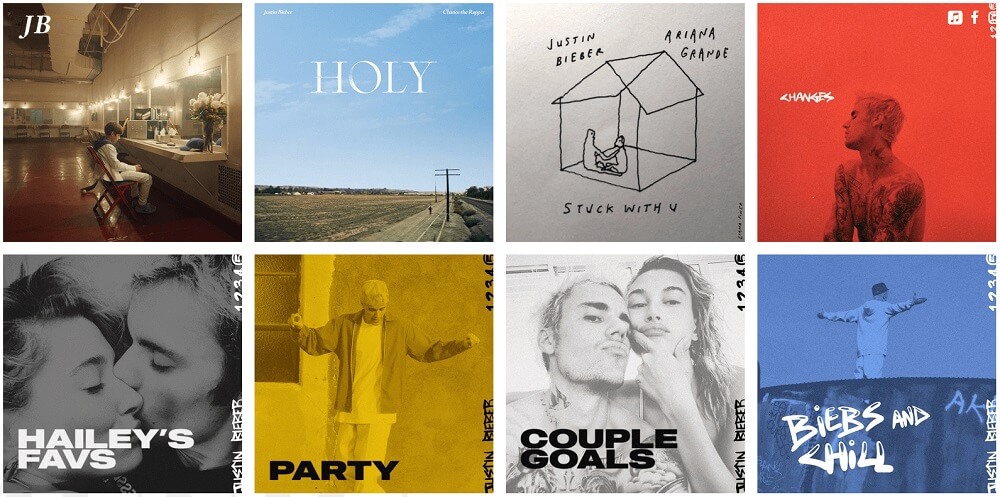 How to Download Justin Bieber Albums/Songs to MP3
In order to be able to download Justin Bieber latest songs or any other thing from YouTube, you need to have a tool capable of doing the job. iTubeGo is one such tool and is available for both Windows and Mac computers and it can be used to download media from any website on the internet.
Download songs along with the lyrics.
Download unlimited multiple videos, entire playlists, and albums in one go.
Offers a choice of more than 20 audio and video formats.
Supports highest quality 320kbps Mp3 download and up to 8k video download.
Supports all the websites host video and audio content.
# Download Justin Bieber Albums in One Go
Let's now see how you can use iTubeGo YouTube Downloader to download Justin Bieber songs or albums.
Step 1

Install the tool – iTubeGo YouTube Downloader

First of all, you need to download and install the iTubeGo YouTube Downloader on your computer.
Step 2

Get the Justin Bieber Album/Playlist's URL

Now get the URL of the playlist for Justin Bieber's album you want to download. We have given the links for the most famous albums by Justin Bieber below, you can use them.

Step 3

Set Download Parameters

Launch iTubeGo program and open the Preferences window. Set the Download type to Audio and the required bitrate. In the case, iTubeGo gives you other output format option, you can change that in "Download then Convert to" section.
Step 4

Enter the Justin Bieber Playlist URL

Click on the Paste URL button and the software will read the URL from your clipboard and will provide a list containing all the songs in the particular playlist. Now, you'll have to select the songs or select the "Skip Downloaded" option to exclude the already downloaded songs from the downloading. Here, you can also check the download settings, and then, click the Download button to start downloading the playlist.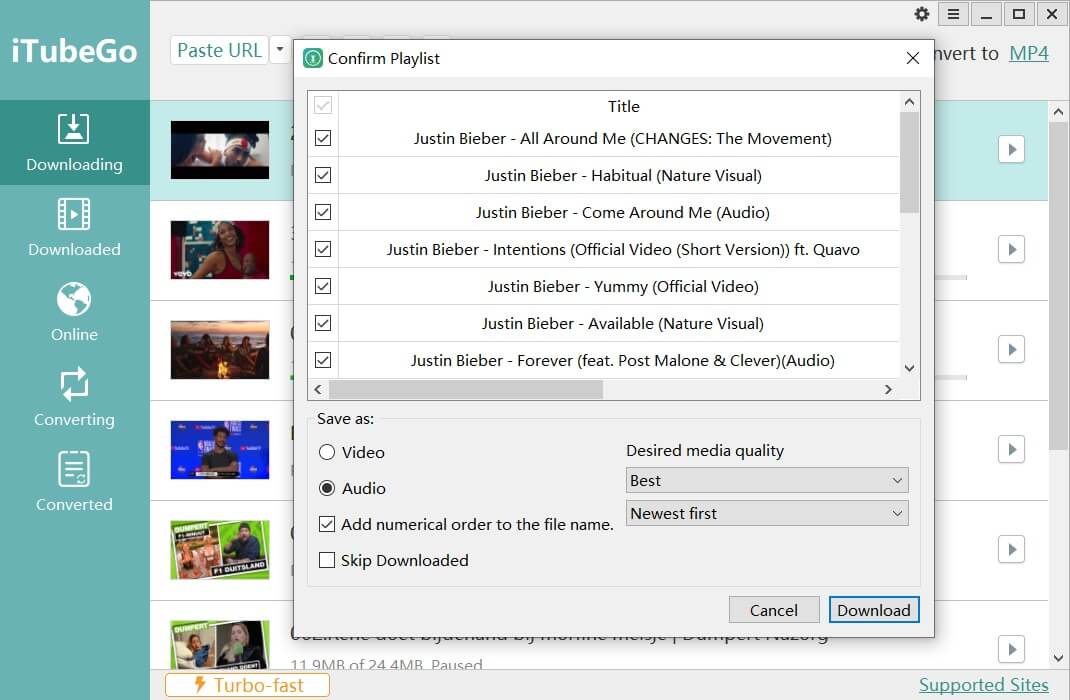 Step 5

Download Justin Bieber Albums in One Go

Once the songs have been downloaded, go to the Downloaded section of the iTubeGo YouTube Downloader to access the songs in the Justin Bieber album.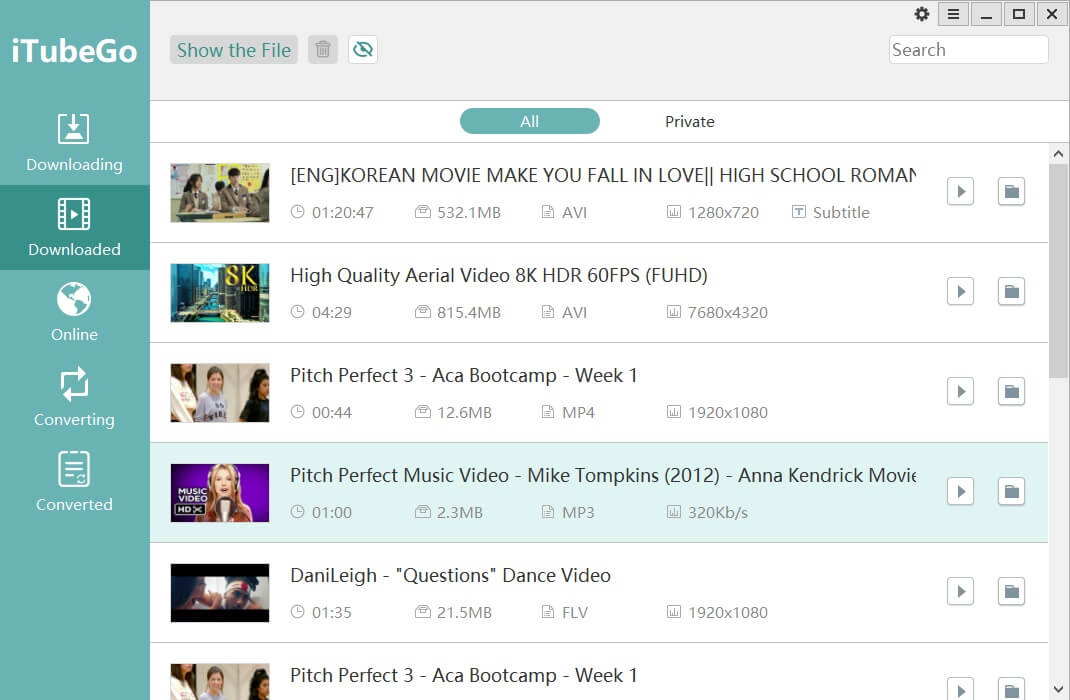 # Download Justin Bieber Latest Songs
If you want to download single songs from Justin Bieber and not entire albums, iTubeGo can do that too. Here's the "How" part.
Step 1

Get URL of the Justin Bieber Song

Assuming you have downloaded and installed iTubeGo YouTube Downloader, start the process by searching for the song in a web browser and copying its URL.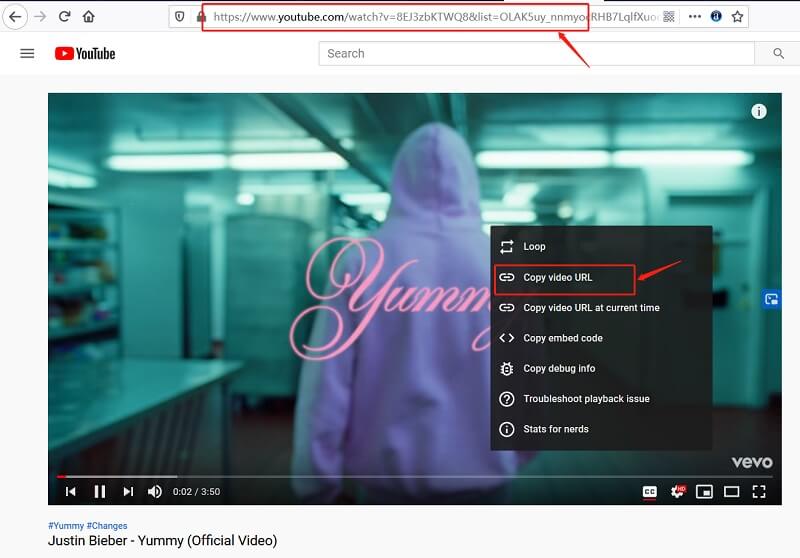 Step 2

Configure Output Format and Quality

This step is almost the same as described above. Just set the audio format and quality. If you want to download the lyrics, you can select to do so here.
Step 3

Enter the Single Song URL

Simply click on the Paste URL button to enter the URL. If you want to download multiple YouTube urls, click on the arrow beside the Paste URL button and add the URLs separated by a comma.
Step 4

Locate the Downloaded Songs' Files

Once the program successfully downloads the Justin Bieber songs, you can access the music files from the Downloaded section of the software.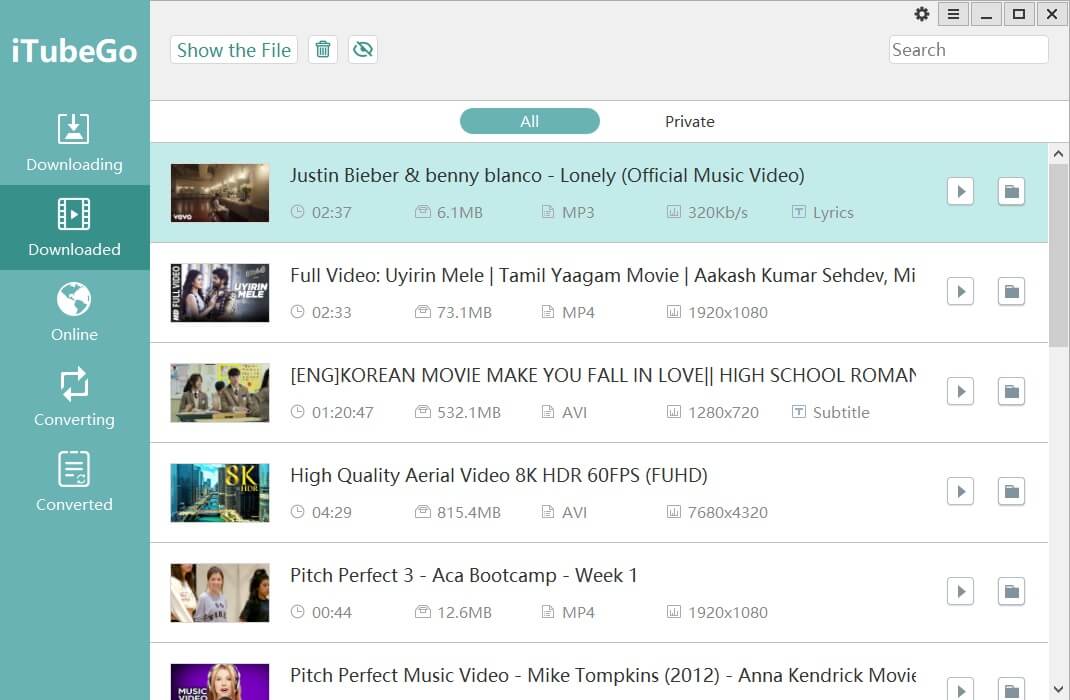 Justin Bieber's Albums You Might Like
Bieber started making music when he was just 12 and has released a lot of albums. All of them are great pieces of music, without any doubt, but some are definitely better than the others. Here are some of the best albums ever produced by the Canadian youngster.
Top Songs of Justin Bieber 2020
Justin Bieber has been producing some superb music lately, but it seems like he has dedicated his quarantine time to music, judging from the songs he has released this year. Here are the best songs from Justin Bieber that came out this year.
Summing-up:
Justin Bieber is one of the most glorified musicians of this era and he does produce some very good music. You can access all of his work on YouTube, but you cannot download it from there. If you want to download Justin Bieber songs on your computer, you need to have a video download tool. iTubeGo is the tool we recommend for this task. It can be used to download Justin Bieber albums in one command or you can also download individual songs using it. The download process is simple and straight forward. iTubeGo YouTube Downloader is simply your all-in-one media download and conversion tool.
(Click to rate this post)
Generally rated 4.5 (215 participated)