Halloween is just around the corner and we know that you want to make it as scary as possible like always. Any Halloween party cannot be scary without sound effects. While you can find plenty of scary sound effects on the internet, particularly on YouTube, the trouble is that you cannot save them to your computer or phone to play offline. You can obviously not let a faulty internet connection destroy your Halloween, so we'll tell you how to download scary sounds. The scary sound effects download method we are about to tell you will enable you to download scary sounds MP3 on your Windows or Mac computers.
How to Download Scary Sound Effects for Halloween?
iTubeGo YouTube Downloader is a multipurpose media downloader designed to work with Windows as well as Mac. You can use it to download any audio or video content from more than 10,000 websites. It offers the flexibility of selecting from more than 20 formats. It also makes it possible to download videos, playlist in batches. It is fast and comes with lifetime support.
Steps to Use iTubeGo to Download Scary Sounds from YouTube
Step 1

Install the Latest Version of iTubeGo Software on Desktop

You can download the iTubeGo software from the iTubeGo website. It is available for both Windows and Mac. Download the respective file and run it to install the software on your computer. You can download it from the links below:
Step 2

Get URL of the Scary Sound

After having installed the software, open YouTube in a webs browser and go to the spooky sound you want to download. Copy the URL of the sound from the address bar of the browser. This URL will be used to download the sound.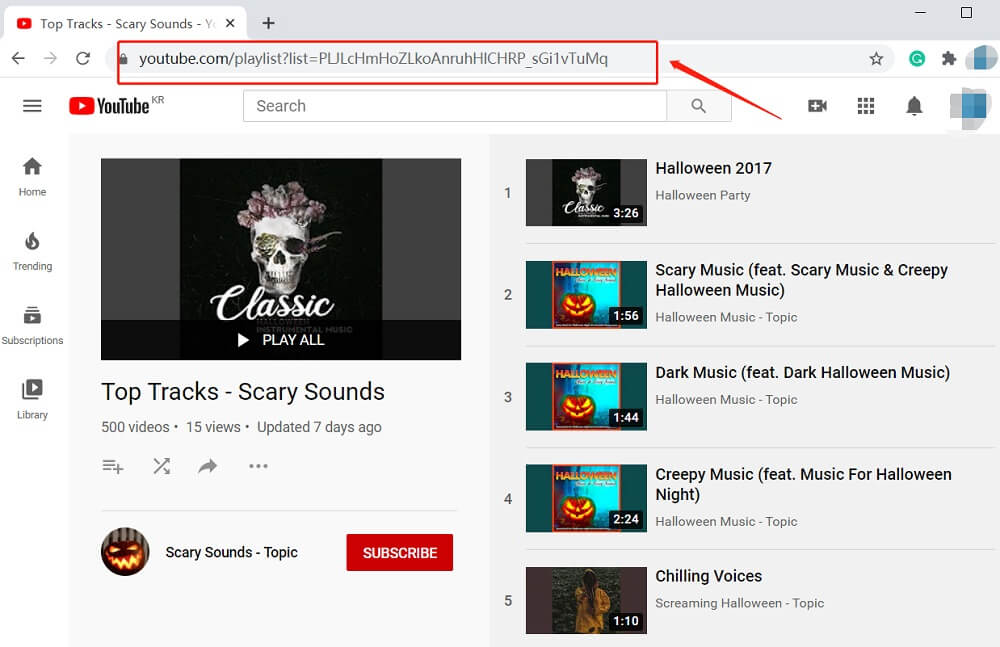 Step 3

Select Download Settings

Now run the iTubeGo YouTube Downloader you just installed and go to the tab marked "Preferences." Here you can select the quality and download type i.e. video or audio. Set the Download type as Audio and the required bitrate in the Quality option. You can also change the audio format in the "Download then Convert to" tab, which was preset as MP3 by default.
Step 4

Paste the Copied Scary Sound Effect's URL

Once you have set the preferences according to your requirement, click on the "Paste URL" button, and the software will detect the URL and initiate the download.
Step 5

Download the Scary Sound Effect on PC

After the download is complete, you can find the downloaded file at the destination location on your PC or simply access it from the "Downloaded" section of the software.
Where to Find Royalty Free Scary Sound Effects?
While you can get pretty okay scary sound effects from YouTube, SoundCloud or other free websites, the level of Royalty sound effects cannot be matched. These sound effects are specially designed by artists and create a spooky atmosphere like no other can. The good news for you is that you can download these sound effects using iTubeGo YouTube Downloader. Here is our another detailed article about a list of free Royalty sound effects websites, read it and find the right site that best fit to your requirements.
To Conclude
One of the most important aspects of a really spooky Halloween party is scary music and sound effects. You can find these on YouTube and a number of other websites online, but it is very difficult to download them as MP3 to play offline. iTubeGo YouTube downloader is the best tool that can help you in downloading these sounds on your Windows or Mac computer without much trouble. You can also download these scary sound effects from a number of other websites including that offer free royalty sound effects. No matter what the website is, iTubeGo can help you download scary sound effects with various output format and quality options.
(Click to rate this post)
Generally rated 4.5 (215 participated)