In the age of internet, being viral and becoming a celebrity is no longer a difficult now. Thanks to the short video apps and social media sharing. TikTok is also a short-form video sharing platform whose popularity has spread like a drug among the youth. Not only youngsters, basically a lot of Internet users from all age groups look obsessed with TikTok. And the reason behind the popularity of these videos is the music they based on. People who are interested in TikTok music download have to look for some useful ways, considering the fact these unique musical parodies aren't anywhere else.
Why is TikTok Music Needed to be Downloaded?
Sometimes it happens that a user likes a video on TikTok, or the music of that video pleases him, and he is fascinated. So, he wants to enjoy this fascinating music again and again. He wants to download and save the video or music in his gadget (PC/ phone), instead of having difficulty in listening to it again.
In this article, we are going to state the best ways to Download Music from TikTok on Computer/Phone.
How to Download Music from TikTok by Desktop Software
iTubeGo YouTube Downloader is a desktop based program that can be used for grabbing videos and music from TikTok, YouTube, and 10,000 other online websites. This TikTok music downloader software is too much useful, as it supports all major audio and video formats. With its flawless converting functionality, it can also extracts the audio from the video in high-quality and can save it into your pc in just one click.
Silent Features
Can download your desired music from any TikTok video in multiple formats, including MP3, M4A, MKA, WAV, AAC, FLAC, AIFF, and OGG.
Can download complete playlists from the video and music sharing platforms.
Can download subtitles of the videos in SRT format.
It has ten times faster downloading speed and takes just a few minutes to complete your task.
iTubeGo Downloader is a 100% secure tool, which is already being used by the industry's top experts and professionals.
Procedure to Download TikTok Music or Song in MP3
Step 1

Download Latest Version of iTubeGo
Download the fresh version of this brilliant software from the official webpage of iTubeGo YouTube Downloader. After downloading gets completed, simply install the program into your computer.
Step 2

Copy the TikTok Video URL
Find your desired TikTok Video through web browser on your computer and copy its URL from the browser address field.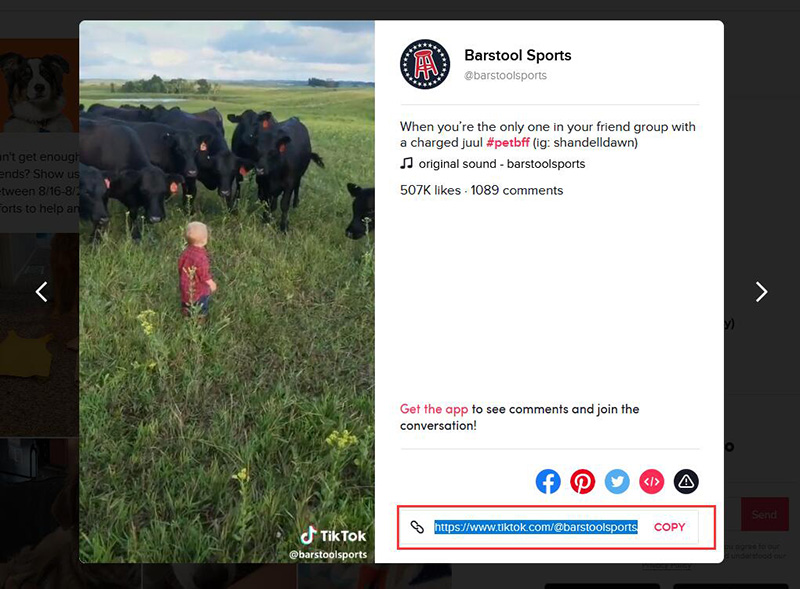 Step 3

Set the Output Format
Launch the installed program on your computer and straightly click the "Download then Convert to" button located at the top-right corner of the main interface. Here, select your output format to Mp3 (or any other audio format according to your choice). Then, go the "Preferences" section and select the Download Type as Audio and Quality/Bitrate from the provided options.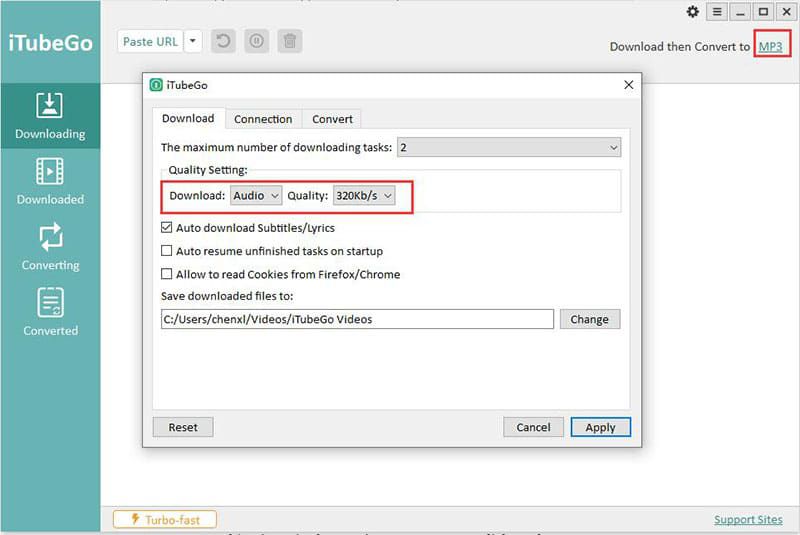 Step 4

Paste the Copied TikTok URL
Click the "Paste URL" button on the main interface and boom; downloading will start automatically.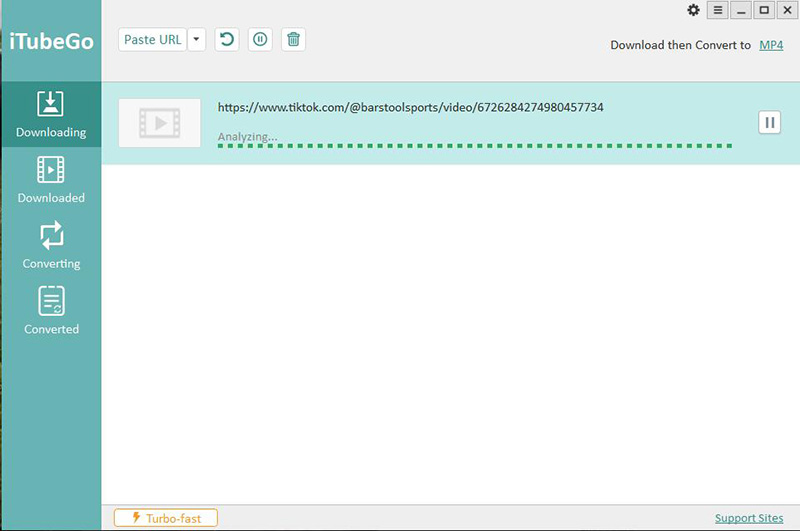 Step 5

Download TikTok MP3 Music
Once the TikTok music download process finishes, you can listen to your downloaded mp3 file by accessing this file in Downloaded section of the program.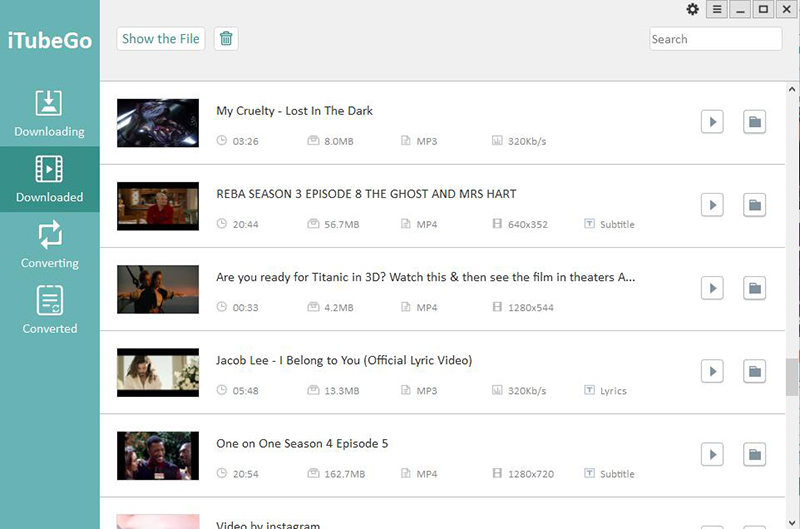 How to Download Music from TikTok by Online Tool
In case you are against installing any applications in your Computer or notebook, however, you also don't want to lose your favorite TikTok music to store. The best solution to your problem is to download TikTok music into your device with the aid of an online downloading service, just like ttdown Online Converter.
Ttdown can be considered the best online TikTok videos downloader due to its multi functionalities and user-friendly way of downloading. You can download a video up to 720p in mp4 and several other formats and resolutions. Moreover, ttdown.org can also download only audio from the TikTok videos and save them in mp3 format. Its notable feature is its compatibility with almost all web browsers.
How to Download TikTok Music Using ttdown
Step 1

Open the Particular TikTok Video and Copy its Link
In the first step, you will browse the TikTok website and choose your required video. Copy the link of the TikTok video by just right-clicking on the browser address bar.
Step 2

Paste the Copied TikTok Video Link into Online Downloader
Now, go to ttdown.org and paste the copied video link into the search box and click on the "GO" button.
Step 3

Select MP3 Download
Complete video information will be shown in front of you, this is the most important part, and you will see a green button with the words "download mp3" on the screen. Right-click on that and click "save link as."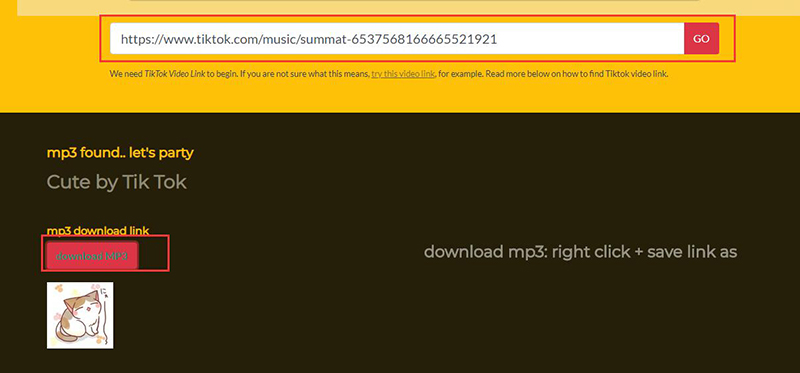 How to Download Music From TikTok On Android
There are very massive requirements for downloading videos or extracting audios from the TikTok videos nowadays. To this end, several types of solutions have been provided for different Internet users. For Android users, iTubeGo Android app is also available on the official website, which is as useful as Desktop Software. This app is also fast and super easy to use, you can directly download TikTok music into your android phone effortlessly.
How to Download TikTok Music Using iTubeGo for Android
Step 1

Download and Install iTubeGo for Android
Download and install the iTubeGo for Android from its official webpage in your android device.
Step 2

Locate TikTok Video or Copy its URL
As we've already discussed that iTubeGo Android App comes with a built-in browser, so open iTubeGo App and go to TikTok website using built-in browser and located the particular video. Now, simply press the red-colored "Download" button located below the video.
In the case, you've copied the Video URL from the TikTok App; the link will automatically be processed upon opening the iTubeGo for Android App. After that, it will provide video details with a Download button.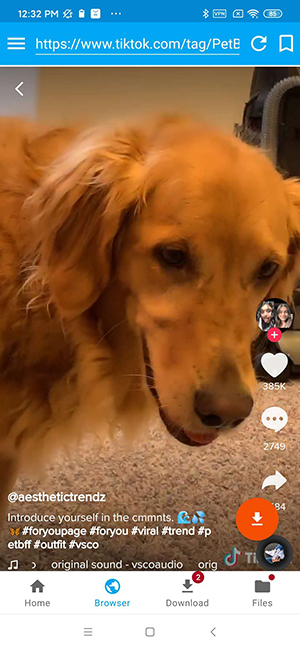 Step 3

Select the Download Format
After pressing the Download button, you'll be provided with several download options to choose from. Set the Download type as Audio and also the required bitrate in the Quality option.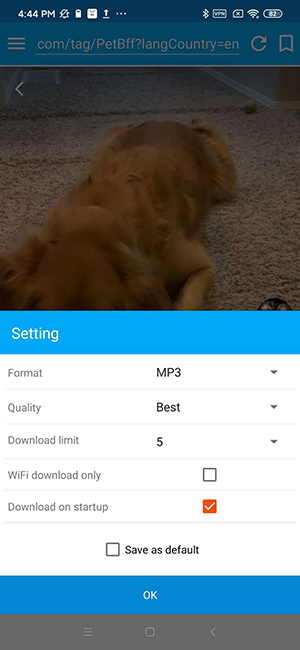 Step 4

Download TikTok Music on Your Android Device
Finally, press the "OK" button, which will initiate the downloading process of TikTok music file on your Android device. You can conveniently access all the downloaded media in the Files section of the iTubeGo for Android App.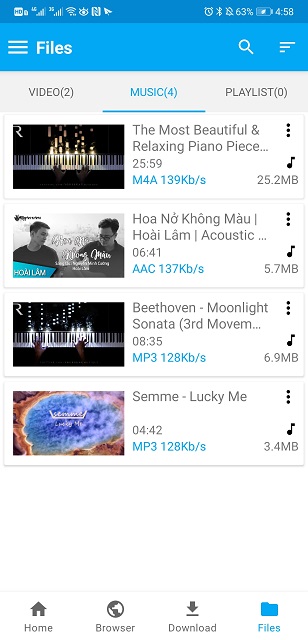 How to Download Music from TikTok on iPhone
The way to download TikTok videos is a little different for iPhone users. But how can we ignore our readers who want to download their favorite videos from TikTok? So the step by step procedure for downloading TikTok music on iPhone involving a file managing App called "Documents by Readdle" is listed below.
Step-by-step Guide to Download TikTok Music on iPhone
Step 1

Install App Named "Documents by Readdle" from App Store
In the first step, download the "Documents by Readdle" from the app store and install it into your device.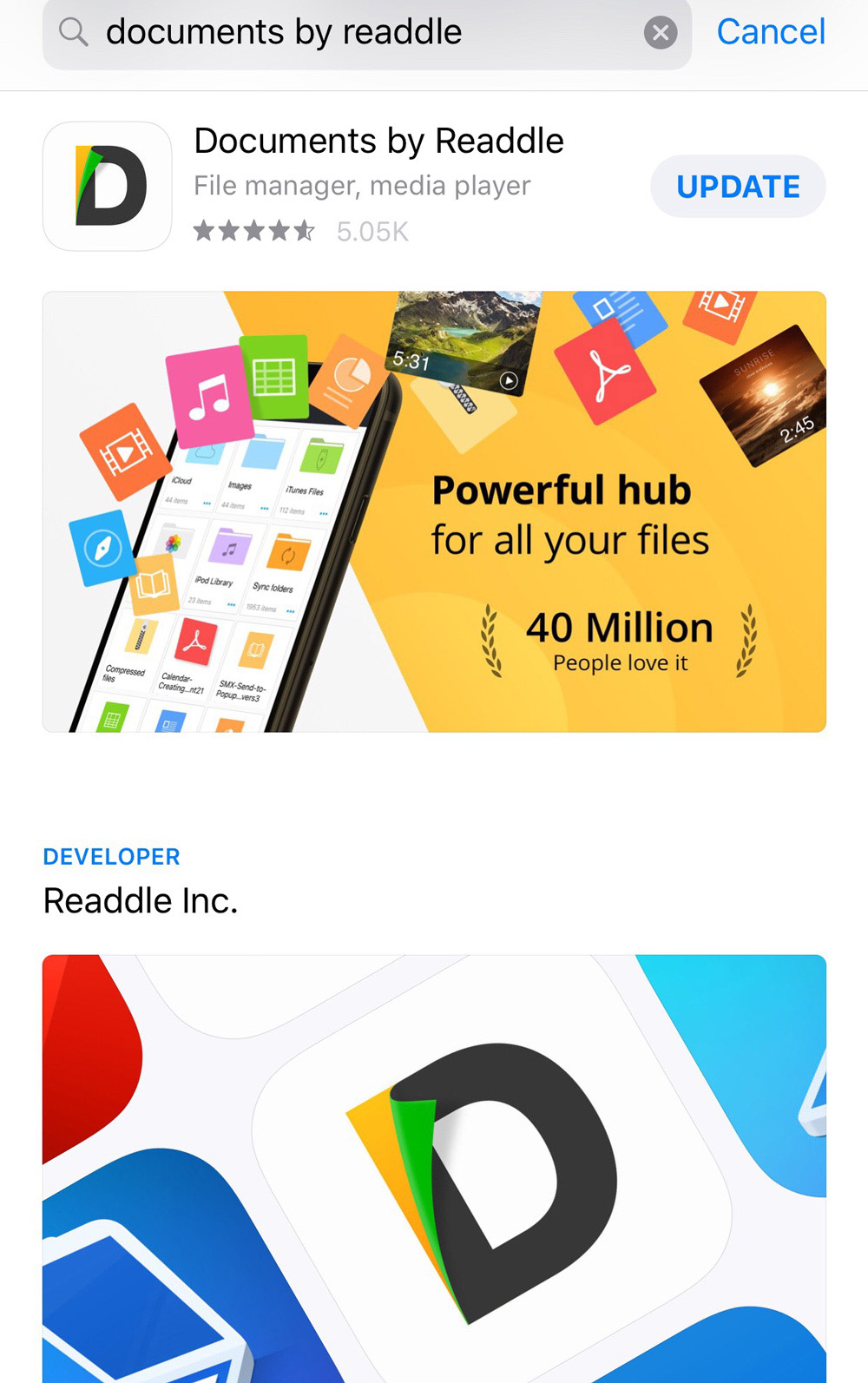 Step 2

Launch Documents by Readdle and Go to Online Downloader Webpage
Now, Launch the Documents by Readdle App and press the browser-like located at the bottom right corner to open the App's web browser. With the help of its browser, visit the ttdown.org webpage for online downloading TikTok music.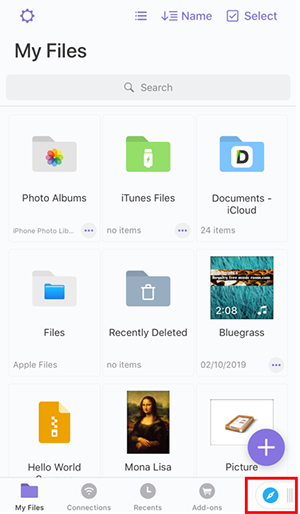 Step 3

Copy the Video Link Via Web Browser or TikTok App
In this step, open your iPhone's web copy the TikTok video link, same as described earlier or copy the required TikTok video URL using TikTok App. If you're using TikTok App, then open the particular video and press the Share option. Here, you'll see a Copy Link option, simply press it to copy the TikTok video URL.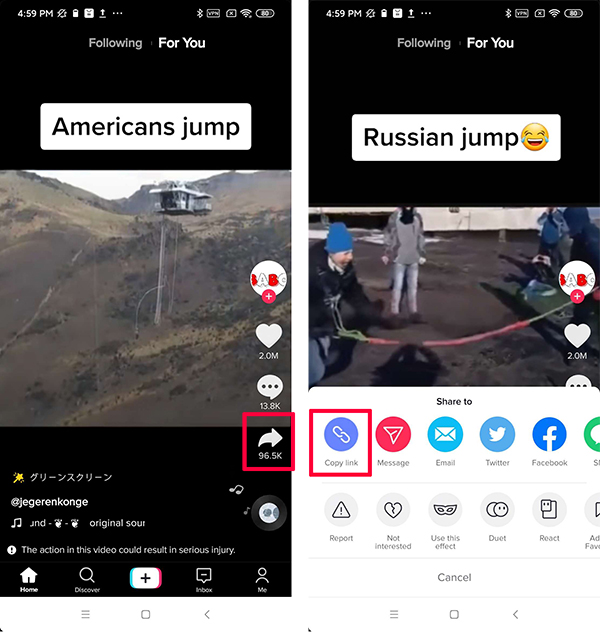 Step 4

Download TikTok Video in MP3 Music Format
Now come again to Documents by Readdle App and paste the copied link into the search box of the ttdown online downloader. Press the "GO" button, after which, select the "download mp3" to start converting and downloading the TikTok video into mp3 format.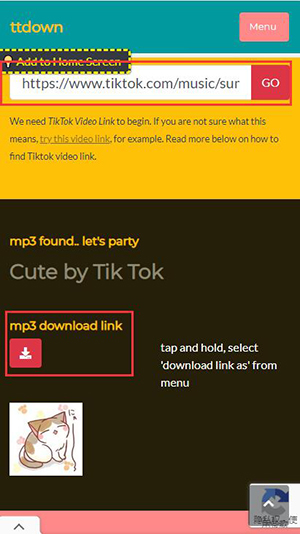 Step 5

Move Downloaded MP3 TikTok Music to Camera Roll
After completion of the download, you've to move the downloaded mp3 file to your Camera Roll. For that, again on the main interface of Documents by Readdle App go to the Documents tab, where you'll find the downloaded TikTok music. Press the three-doted button on the bottom of the file's thumbnail. Then, select the "Move" and "Photos" options respectively to move the downloaded TikTok music file to the Camera Roll of your iPhone. If you face any problem while transferring the files to camera roll, the problem might be the disabled access to Photo Apps. In this, enable the access from the Settings of your iPhone.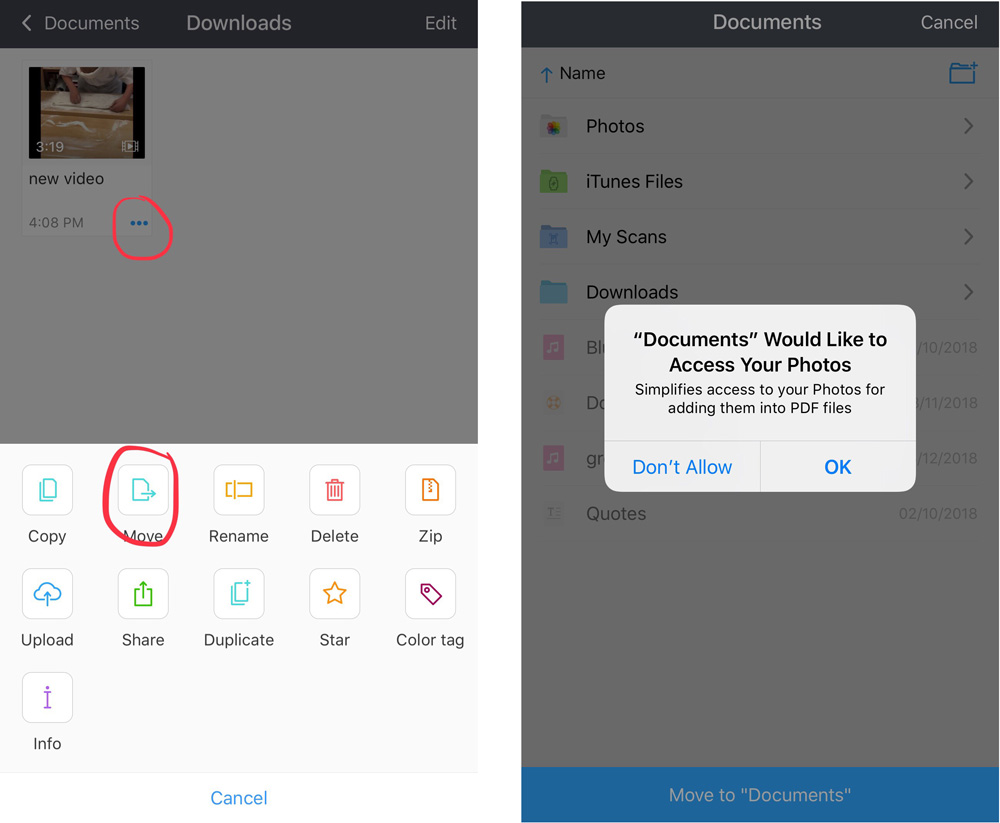 To Conclude
In summary, You may have noticed that iTubeGo is the best choice for TikTok music download downloading or even downloading videos and music from more than 10,000 websites on the internet. It is faster and also better than any video or audio downloader in terms of features and convenience.
(Click to rate this post)
Generally rated 4.5 (215 participated)