BTS aka Bangtan Boys is a boys band from South Korea that has seven members. BTS songs are known for their music as well as their meaningful lyrics. Most of the work of BTS is available on YouTube and other online media hosting websites like Spotify and Soundcloud. This article has everything that you need for BTS Songs Download MP4 and BTS Songs MP3 download. After going through this text, you will be able to download BTS songs from YouTube, SoundCloud or other sites.

Download BTS All Songs in 1-Click
If you are a big fan of BTS and want to download all the songs of the band, you need iTubeGo as your assistant. iTubeGo YouTube downloader is basically a software that can solve all your media download problems.The tool supports more than 10,000 websites and can capture video, audio, and playlists from URLs.
Steps for BTS Songs Download with iTubeGo
Let's see how to use iTubeGo to download BTS mp3 songs or download Mp4 videos from YouTube.
Step 1

Install iTubeGo Program on Your Computer

Get the iTubeGo YouTube Downloader application and run it on your computer.
Step 2

Get the Link of the BTS Songs

Here is a playlist of all BTS songs (link), you can copy this link to download all BTS songs at once. Or just search your favorite song on YouTube, SoundCloud or other streaming site, then copy the urls from web browser address bar.

Step 3

Set Download Format and Quality Option

Open iTubeGo YouTube Downloade, head over to the Preferences. Here select the Download format as mp3/mp4 and the Quality option.You can change the audio format on the "Download then Convert to" section.
Step 4

Enter the Copied BTS Song/Playlist URL

Once everything is ready, just click on the Paste URL button to start downloading. As you're downloading the complete BTS playlist , the program will provide a list containing all the BTS songs. Click the Download button to start the process.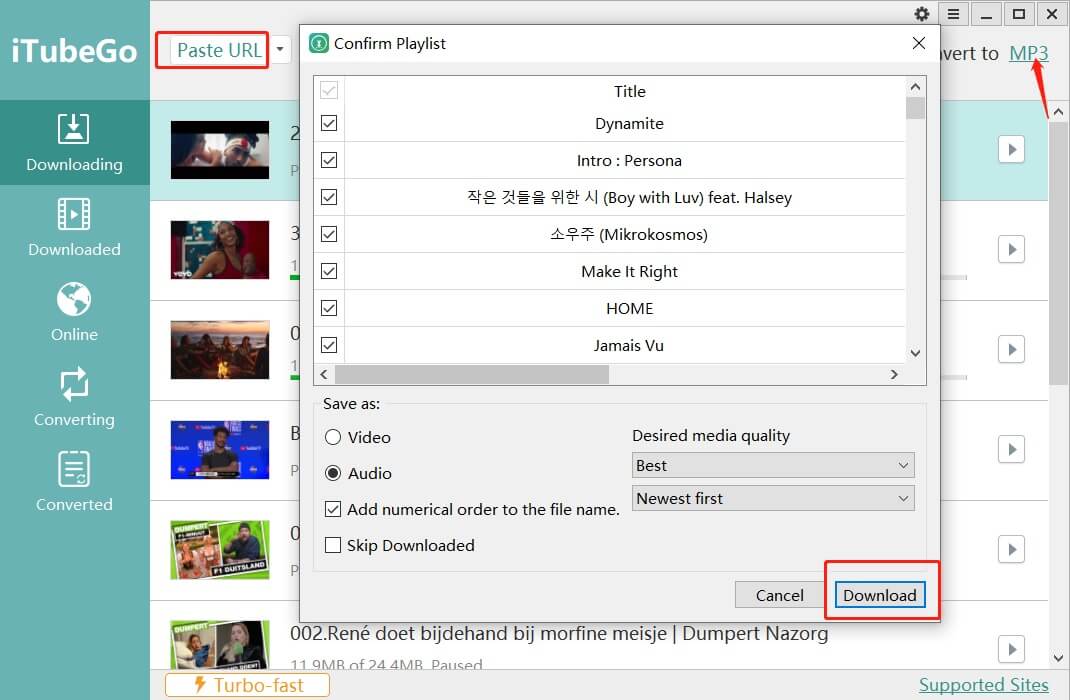 Step 5

Download BTS Complete Playlist

After the process gets completed, you can access them in the Downloaded section of the iTubeGo YouTube Downloader.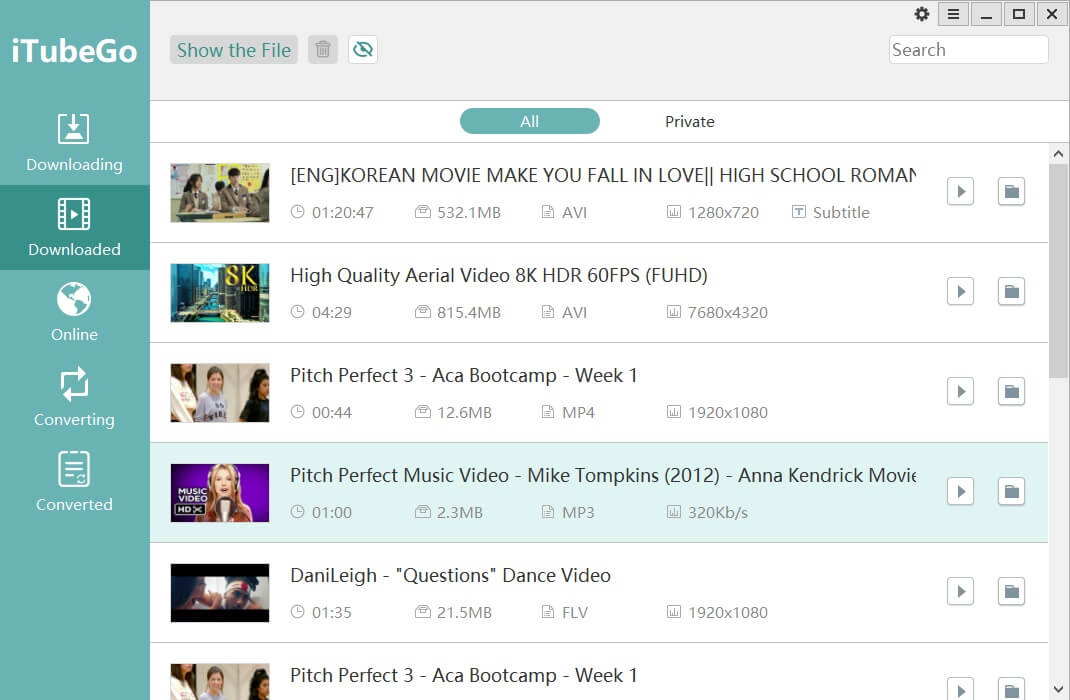 Top BTS Songs on YouTube 2020
Here are the top BTS songs that you can access right now on YouTube.
About BTS
BTS, short for Bangtan Sonyeondan is also known by the name of Bangtan Boys. It is a band consisting of seven members, based in South Korea. The band's foundation was laid back in 2013 and the boys debuted in 2013 under Big Hit Entertainment. The members of the band are RM, Jin, Suga, J-Hope, Jimin, V, and Jungkook and these boys write, compose, and produce all their content by themselves. The content of the songs of BTS is mainly about social and personal commentary. They often pursue the themes of mental health, school-age troubles, self-love, loss, and individualism. The band has released a lot of albums and has been featured in a lot of concerts all over the world.
In Conclusion
BTS is a Korean band and is probably as famous as Korea herself. The band has a fan-following in millions from around the world and has produced some masterpieces over the last decade. For BTS songs download, we've provided the most efficient way, using which, you can download the every single song or mp4 music video released by the band in one go. So, just get the above-mentioned link to a playlist that contains all of the BTS songs and download them all together using iTubeGo.
(Click to rate this post)
Generally rated 4.5 (215 participated)