In today's world, there are many places online where you can find your favorite music but there are a few places, like Bandcamp, that are actually different from the rest. Bandcamp is an online music website that makes it easy for you to directly connect with the artists you love. You can stream music from your favorite artists or can also buy songs at a price set by the particular artist. That's not all, here we'll also let you know that how you can download mp3 from Bandcamp and store them permanently on your devices.

Bandcamp is a platform, which provides great opportunities to the emerging artists, but at the same time, it also provides spectacular experience to the users. Some of the features that make Bandcamp a unique music platform are the following:
Bandcamp's simple yet awesome interface makes it easy for the users to navigate the website.
Unlike many other online websites, users can experience the seamless experience without the distractions of ads, pop-ups, and any other links to external profiles.
Unlimited Streaming on Free Mobile Apps:
Bandcamp offers great compatibility with all types of devices. You can access or stream your Bandcamp purchases via free Bandcamp app. If you're an android user, you can find the app on Google Play Store, or if you're using iOS device, then you can easily find the Bandcamp app on App Store.
You don't have to navigate your favorite music again and again, as you can easily keep track of all the content by adding them in a Wishlist.
Bandcamp shows all the recent activities of the artists you follow. In this way, you can instantly listen to all their picks and new releases.
Share Your Collection with Others:
On Bandcamp, you get a very different page that you can customize in a way you want, and can share your impeccable taste with the world.
As you've seen that Bandcamp is a very unique platform to be connected with your favorite artists and listen to their music. Next we're going to unfold a Bandcamp to mp3 downloader and discover its amazing features, which make it best among the rest!
iTubeGo Downloader – Best Music Downloader
iTubeGo YouTube Downloader is an unparalleled downloading software that enables you to download music from Bandcamp and converts it into mp3 format so that you can store it into your devices permanently. Its unique features, powerful performance, and user-friendly interface make it the best choice to download and convert Bandcamp to mp3 format.
Salient Features
Now, coming up next are some of the most-prominent features, collectively, that provides a unique and seamless experience to the iTubeGo's users.
Download MP3 Music from 10,000+ Websites
The boundaries of iTubeGo YouTube Downloader is not limited to YouTube or Bandcamp. It can download mp3 music on PC from more than 10,000 online video and music streaming websites like Facebook, Instagram, SoundCloud, MixCloud, and including all the big names.
Support High-Quality 320kbps MP3 Music Downloading
iTubeGo YouTube Downloader supports and allow you to get high-quality 320kbps mp3 music from Bandcamp and other online websites. It ensures the best experience by not affecting the original audio quality of the files.
10 Times Faster Downloading Speed:
No other downloading software can truly beat the performance of iTubeGo YouTube Downloader. It operates and downloads videos and music at 10 times faster speed than any other downloading solution available in the market.
Now you don't have to download files one by one, as iTubeGo YouTube Downloader allows you to enter multiple audio or video URLs in the downloader and let them download to your computer in batches. It will collectively download your music and saves you a lot of time.
Download 4K & Full HD Videos
As iTubeGo YouTube Downloader is a complete downloading solution, it is not restricted to download music only. It also download 4K video from youtube, or the other high-quality videos, such as Full HD videos.
Manage Downloaded Media with File Manager
iTubeGo YouTube Downloader comes with a built-in file manager, which allows you to manage all the downloaded media without the need to leave the software.
Installing iTubeGo YouTube Downloader
You can simply download this software from the official webpage of the iTubeGo YouTube Downloader. After downloading the installation file, you need to install the software on your computer. iTubeGo offers separate versions for both Windows and Mac Operating System. The following are the downloading links for both versions:
Steps to Download Bandcamp to Mp3 Using iTubeGo
After downloading and installing the iTubeGo YouTube Downloader into your computer, you have to follow these easy steps in order to download mp3 from Bandcamp.
Step 1 Copy the Bandcamp Song URL
First of all, you need to copy the URL of the song that you want to download using the iTubeGo YouTube Downloader. For this, log in to your Bandcamp account and look for the song that you're looking to download, then simply copy it's URL from the browser address bar, or click the "share" button.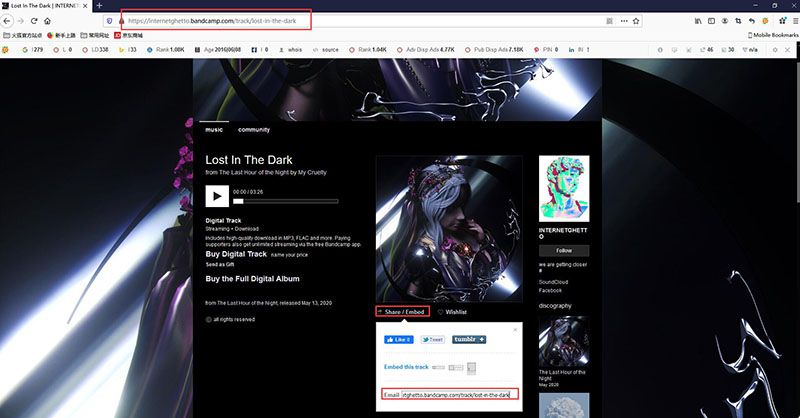 (Click to rate this post)
Generally rated 4.5 (215 participated)